12 Reasons Why You Need a Landyachtz Dinghy
Words by David Rajewski
The Landyachtz Dinghy is a marvel of tiny skateboard fun. It's such a rad board and good for just about everything. We think every skateboarder should own a Dinghy.
Not convinced? Here are 12 reasons why you needed to have one yesterday. Let's jump right in.
The new 2020 Dinghy line up
---
Reason #12 - Flip Tricks
Unlike most cruisers out there, the Dinghy can be ridden like a dedicated trick board. Flip tricks, ollies, and manuals are cake. Curbs? Cracks? No problem, just tre flip that sh*t.
---
Reason #11 - The Build
The Landyachtz Dinghy deck is built using basic 8 ply maple construction techniques. In terms of building skateboards, this is tried and true gold. It's not the lightest material out there, but at only 28.5" (72.39 cm), it's tiny enough for no one to notice. Wheel wells cut into the deck match perfectly with the Landyachtz Fatty Hawgs 63mm/78a for optimal carving clearance.
Bought separately, these parts are over $150.
The trucks used are Polar Bear 105mm in either black or silver (depending on the model). Silver is pretty standard looking, but won't get paint chips like the black. Black is matte finish and looks solid right out of the box. We found the black paint thin enough to not hinder bushing performance. The 105mm darts quickly into turns, exactly what you want in a small commuter deck.
Landyachtz Bear Space Balls Bearings are built in style, so bearing spacers and speed rings are not needed. This makes changing the wheels super fast and easy. The addition of the Bear Space Balls round out this complete as a solid performance build.
---
Reason #10 - Marcus Bandy Rides One
Bandy is all about the longboard community. He's known best for Wheelbase Magazine and if you haven't scoped Wheelbase yet, you're behind the times my friend. Wheelbase made a great video showing how rad the Dinghy can be.
Oh and bonus, Devyn Roseman is featured in this video too. Besides being an all around rad dude, he helped us make this rad Sector 9 Skiddles video.
---
Reason #9 - She Wants the Dinghy
Chicks dig the Dinghy. The small compact size of the board is cute and cuddly, just like a puppy. And you know how them ladies love puppies. Show her your hot stuff by showing her your Dinghy. You can thank us later. Go get 'em player.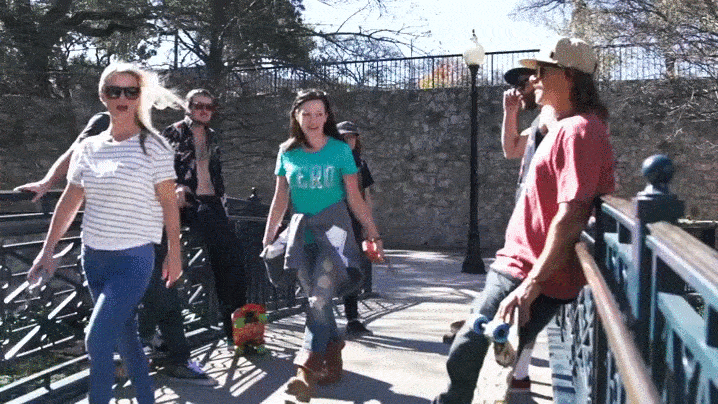 Billy Bones lady lurking.
---
Reason #8 - Trunk Companion
The Dinghy fits in a ton of places, but possibly the most convenient is the trunk of your car. Toss it in and forget it, until the dire moment it's needed. We've had to use it more than once when we've run out of gas...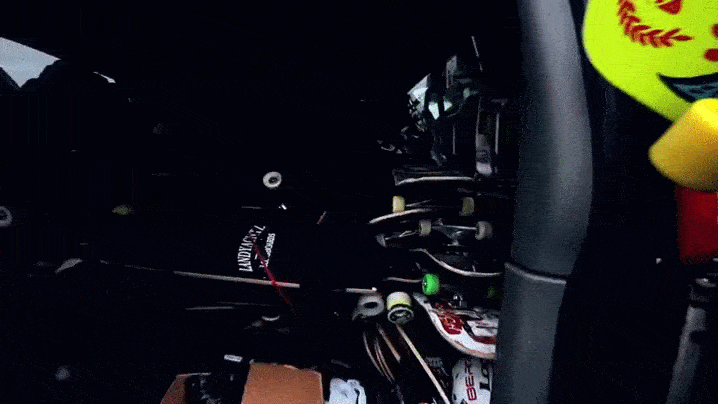 ---
Reason #7 - Ride All Terrain
With 63mm/78a Hawg Wheels, the Dinghy can ride over all kinds of surfaces. Cracks, dirt, sand, and rocks are much easier to roll over with this ideal set up. You'll be smooth cruising wherever the road takes you.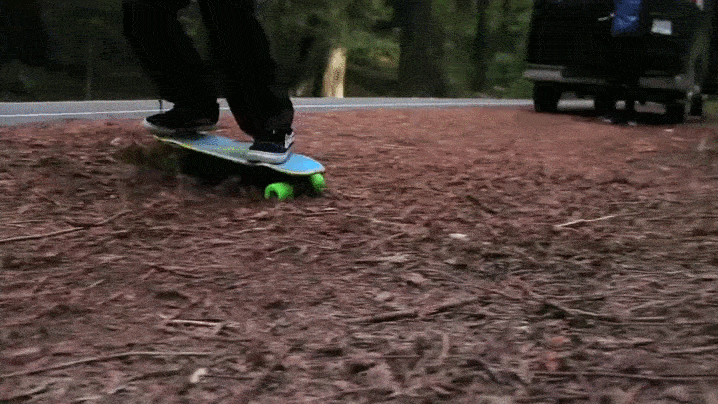 Hawgs 63mm/78a shred all kinds of terrain.
---
Reason #6 - It's Not Plastic
Plastic had it's time in skateboarding history, but that time is over. Maple is stronger, more durable, and full of pop. It won't sag with use and you won't regret the kooky purchase as you dive deeper into the skate scene. Maple > Plastic. Period.
No thanks plastic. Stick to being a water bottle.
---
Reason #5 - Manuals for Days
Form meets function. With the small upturned nose and generous tail, the Dinghy excels at manuals and kick turns. Plus, who doesn't love to manual around town or campus while headed to some vague destination? We know we do. Life's all about the journey.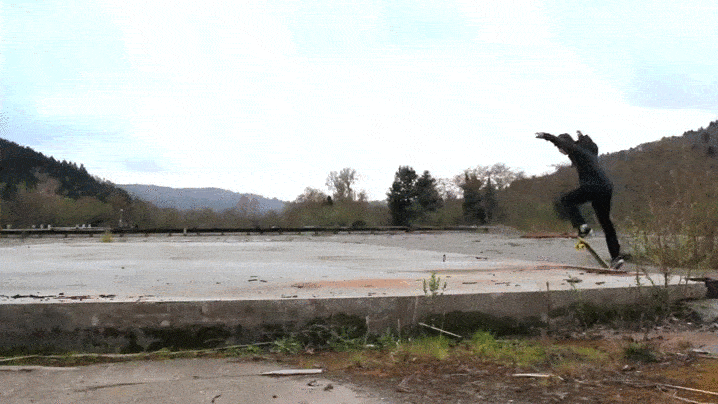 Hitting manuals on the nose.
---
Reason #4 - Get Coconuts
Stranded on a deserted island without food or water? Armed only with your Dingy? Don't worry, we've all been there. Doubling as a boomerang, the Dinghy can be thrown into trees to retrieve coconuts. Wilson would be proud.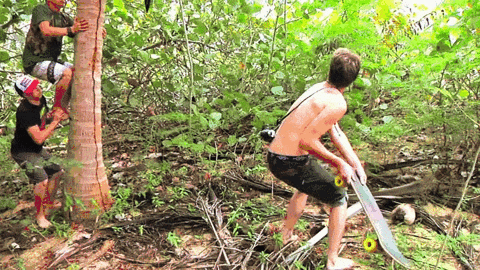 ---
Reason #3 - Skate Parks
Few things in this world are more fun than hitting up the park with buddies. The Dinghy is once again there for you in your time of need. The short wheelbase creates the perfect amount of sketchy to be insanely fun.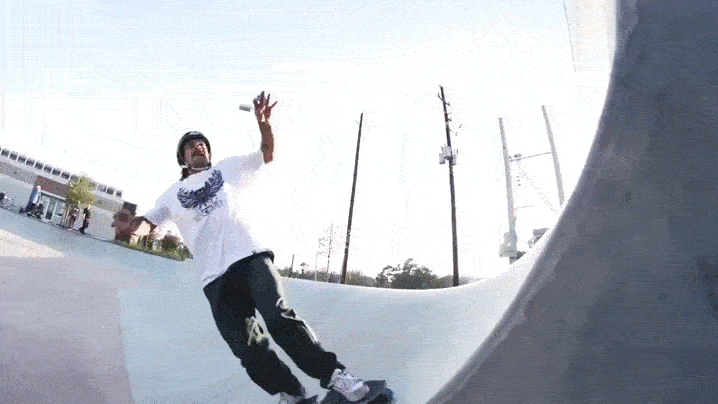 ---
Reason #2 - 50/50 Grinds
You may think 105mm trucks are too narrow to grind on. You may think wrong. The Dinghy is awesome to 50-50. Thanks to Devyn for the charming example.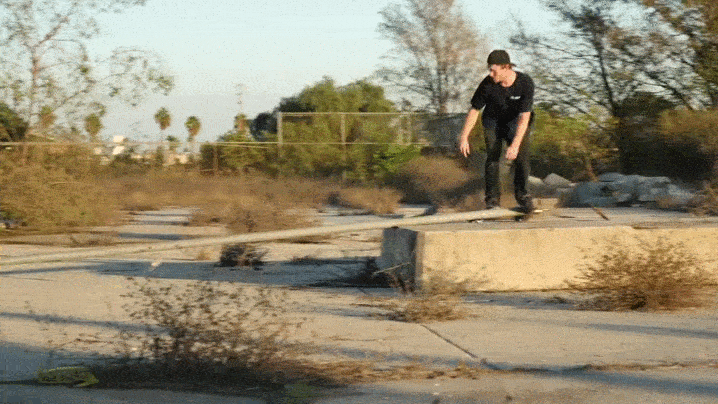 ---
Reason #1 - Price
There are a ton of awesome things about the Dinghy, it's hard to know what to end on. Cost is a great place though. At Stoked's $121.94 price point, why wouldn't you?
There are no compromises on the components used. Everything is from Landyachtz. Bought separately, the parts are around $150, give or take (Trucks $40, Bearings $20, Deck $50, Wheels $35, Risers $3, Hardware $3)
You'll be hard pressed to find anything this inexpensive and this fun.
We're not just saying that because we want you to buy one. Well, we do want you to buy one, but yeah, it's true :)
---
We'll Just Leave This Here
We're glad you picked this page to check out. Questions, comments, concerns? Hit us up at help@stokedrideshop.com.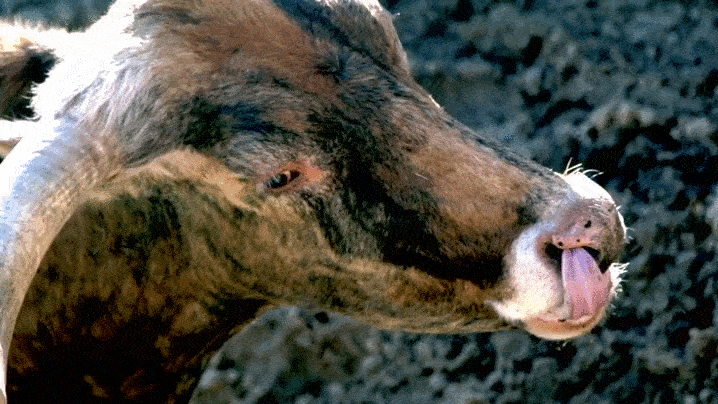 8 comments