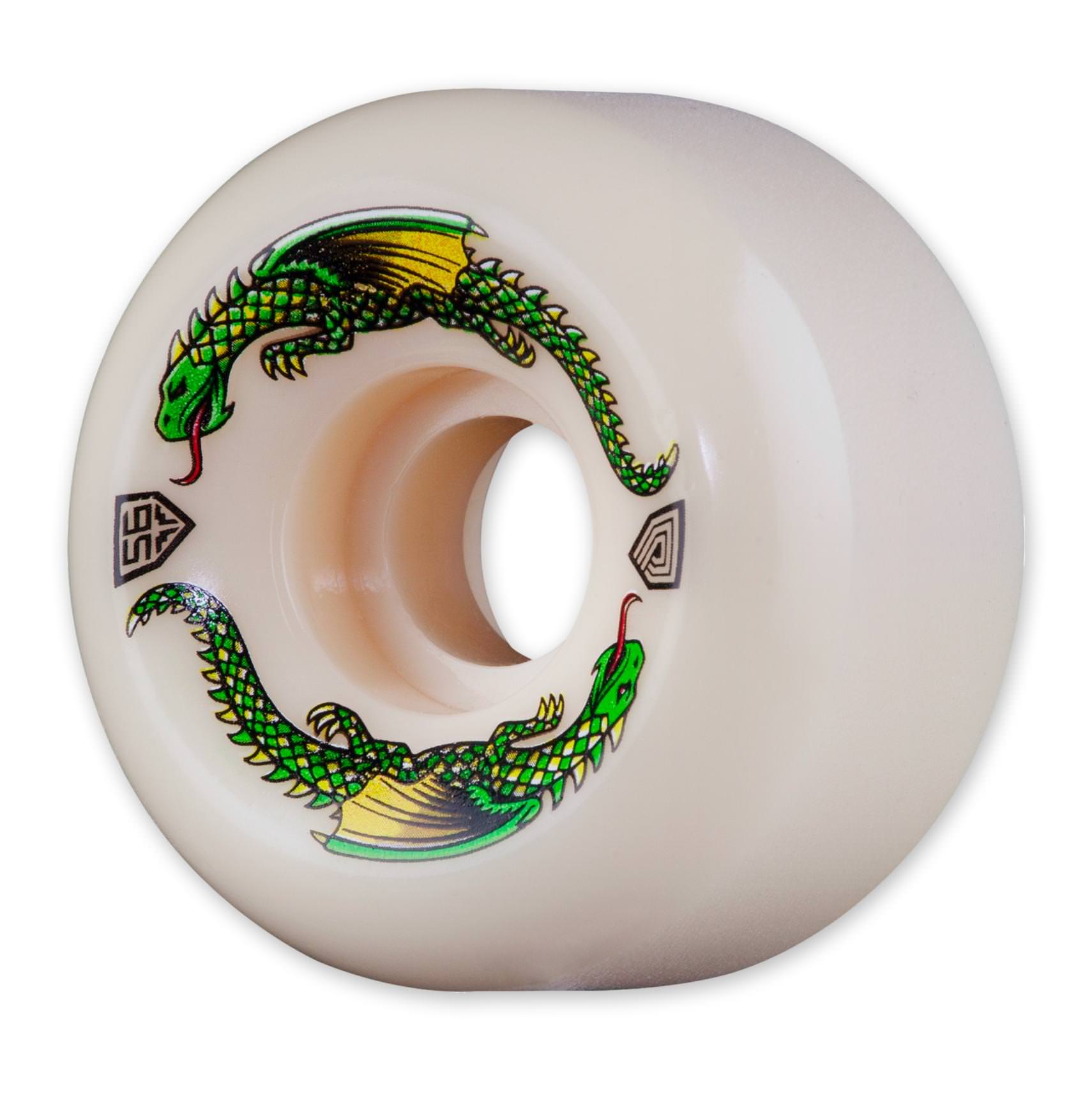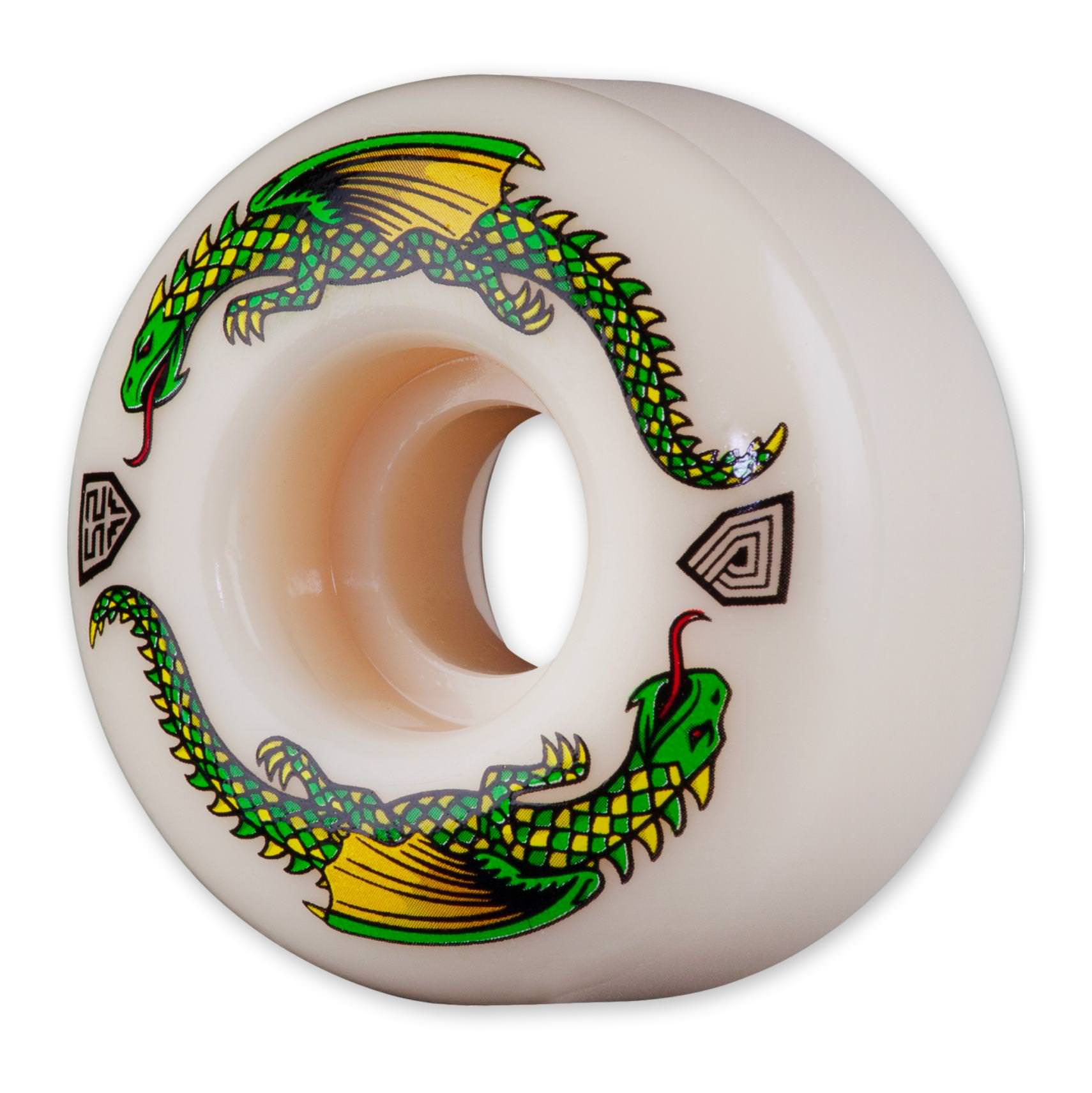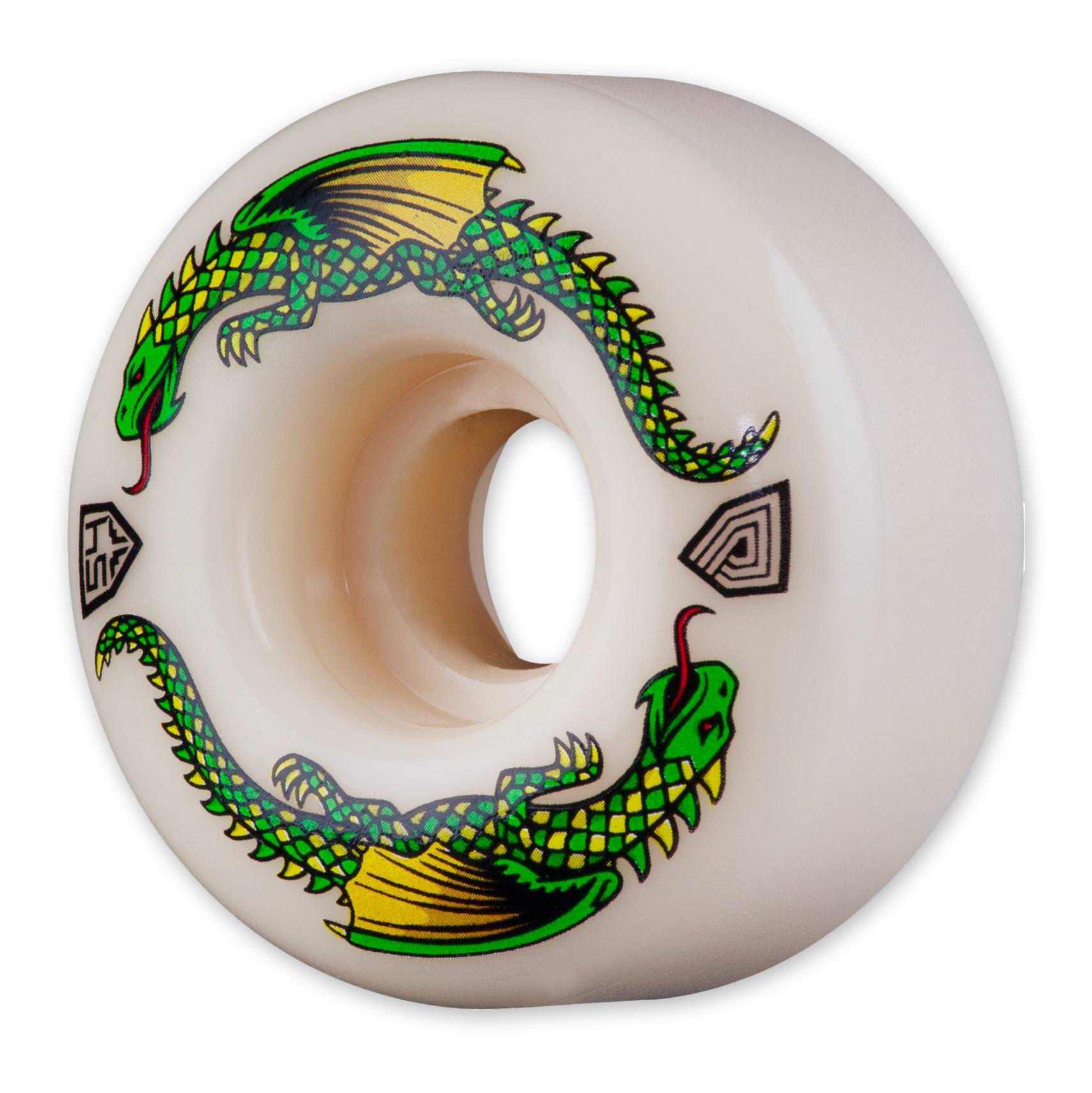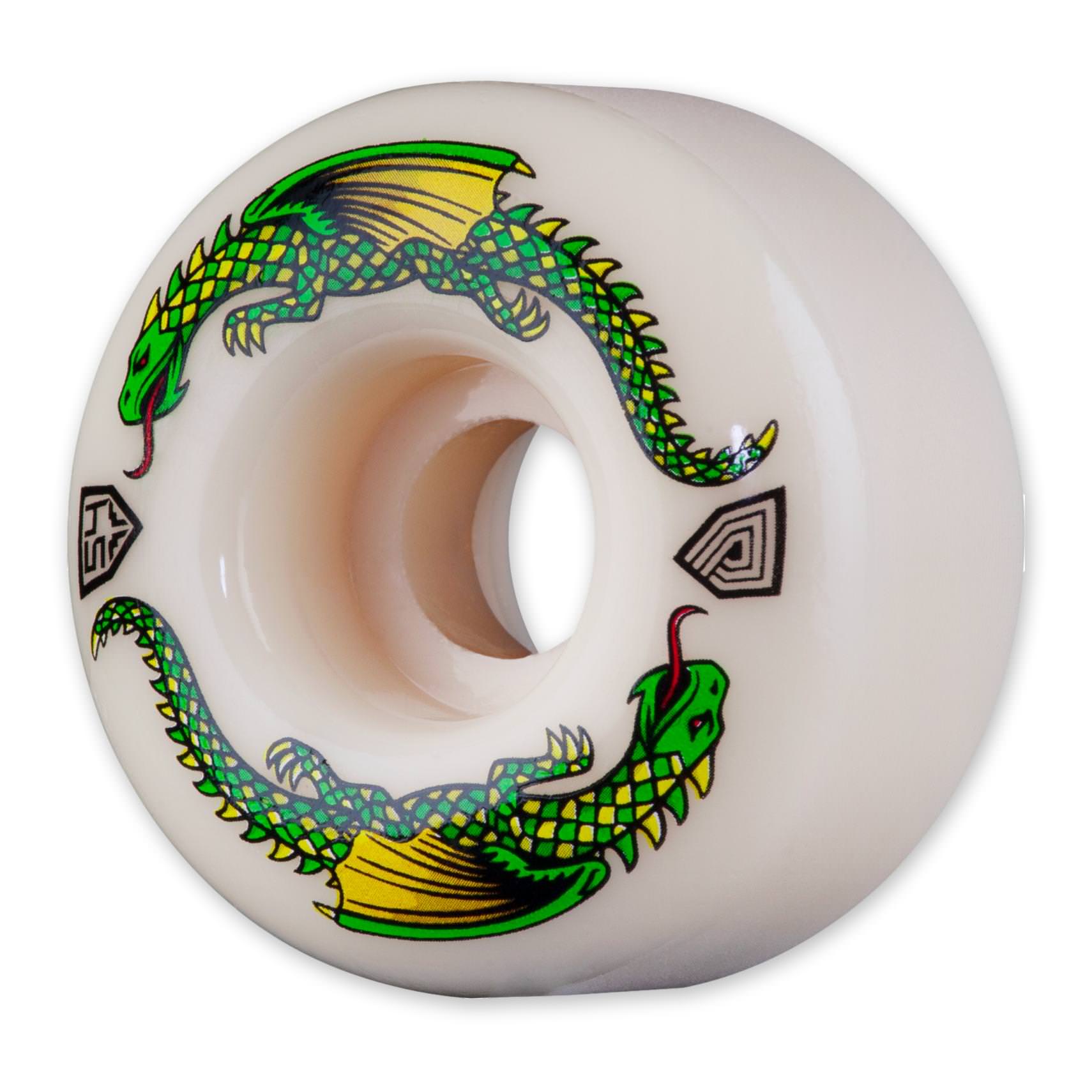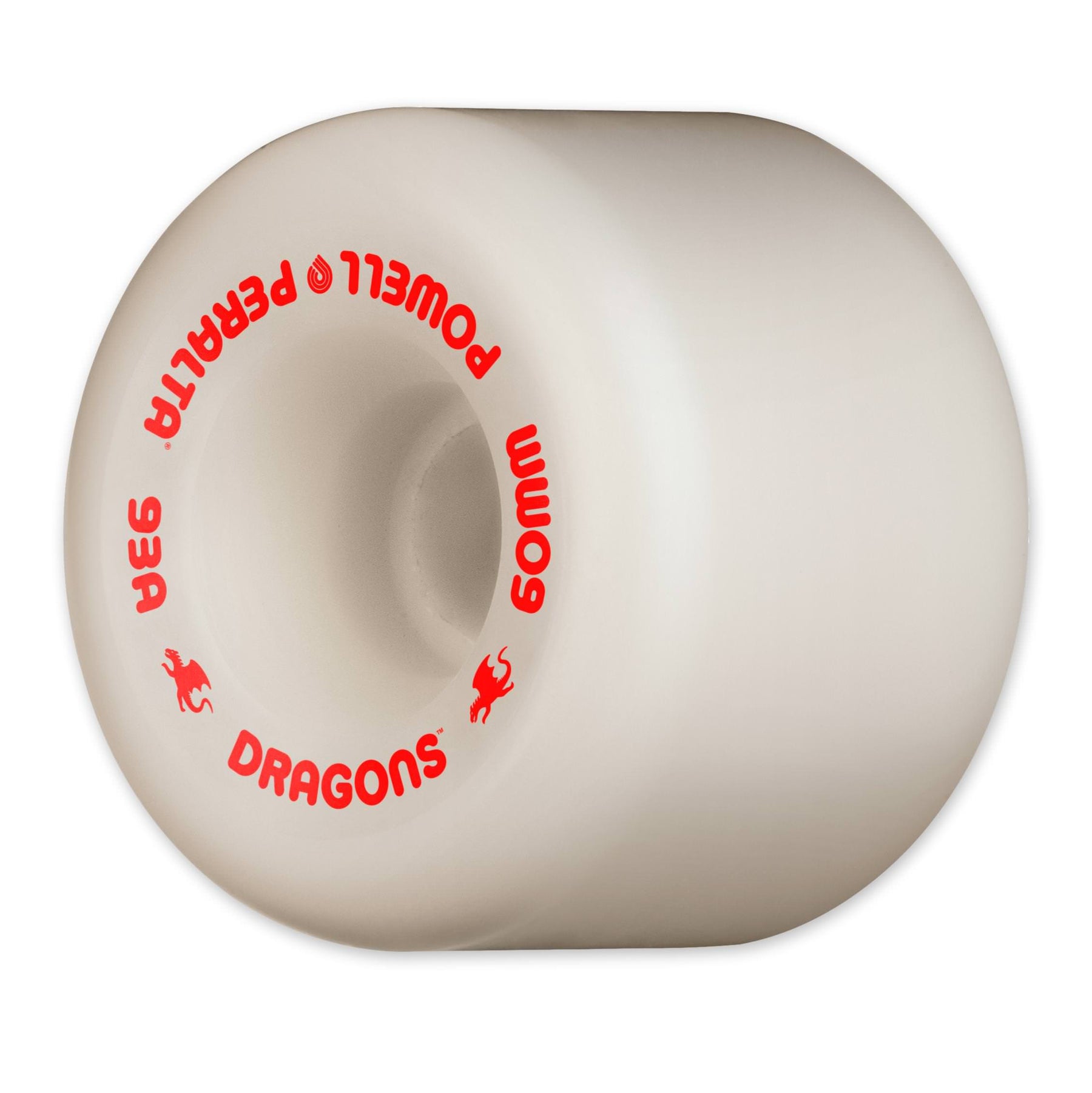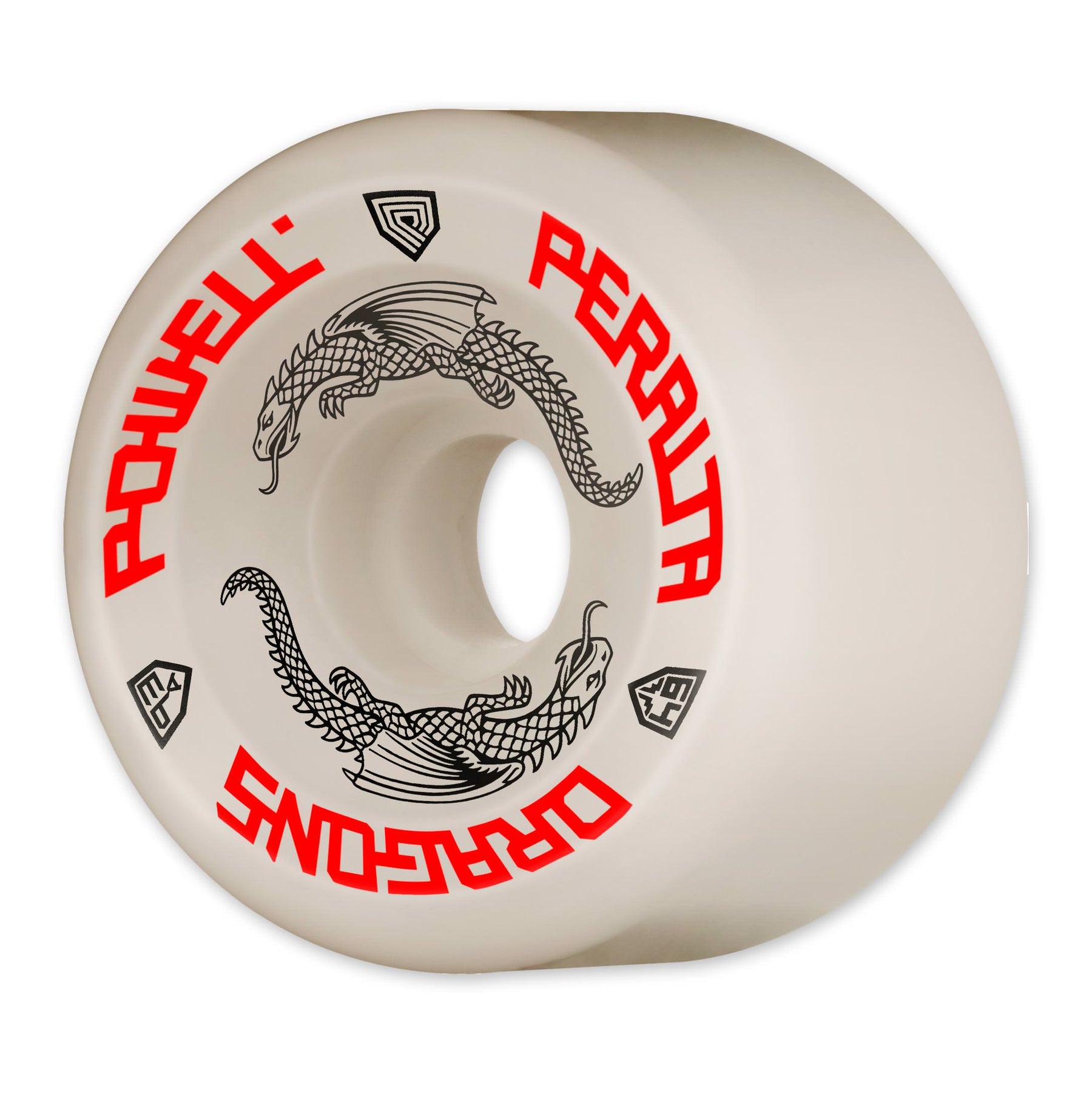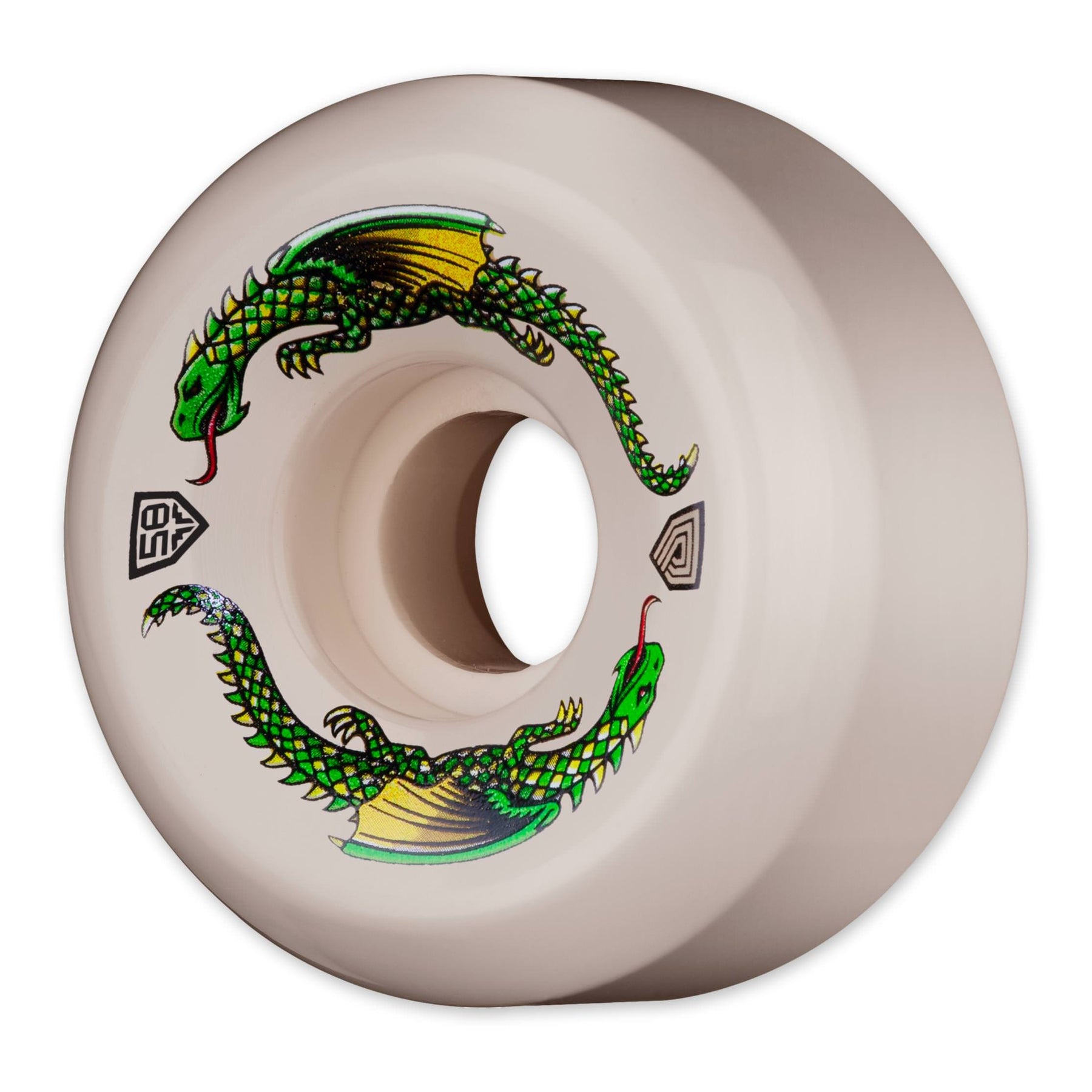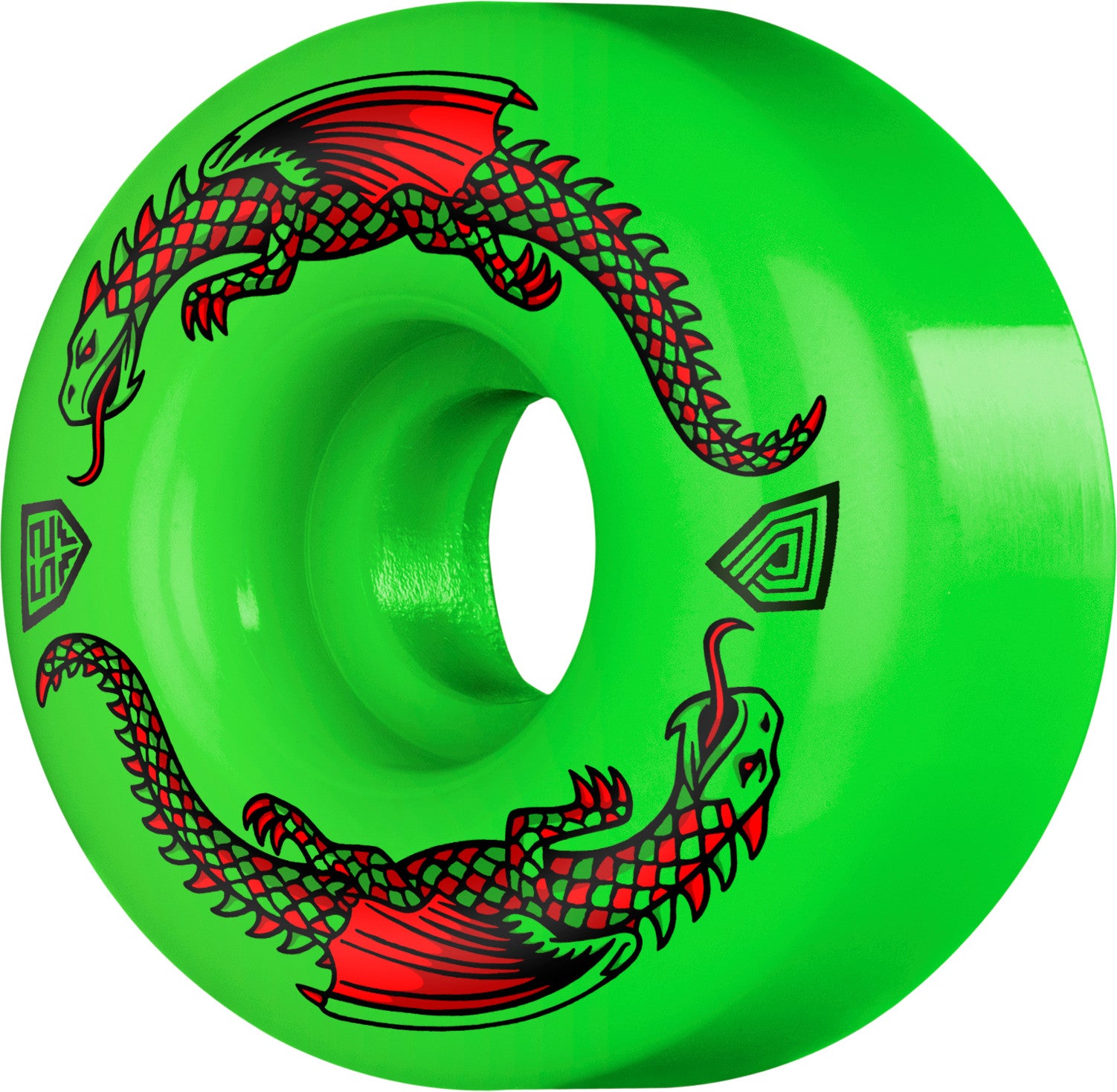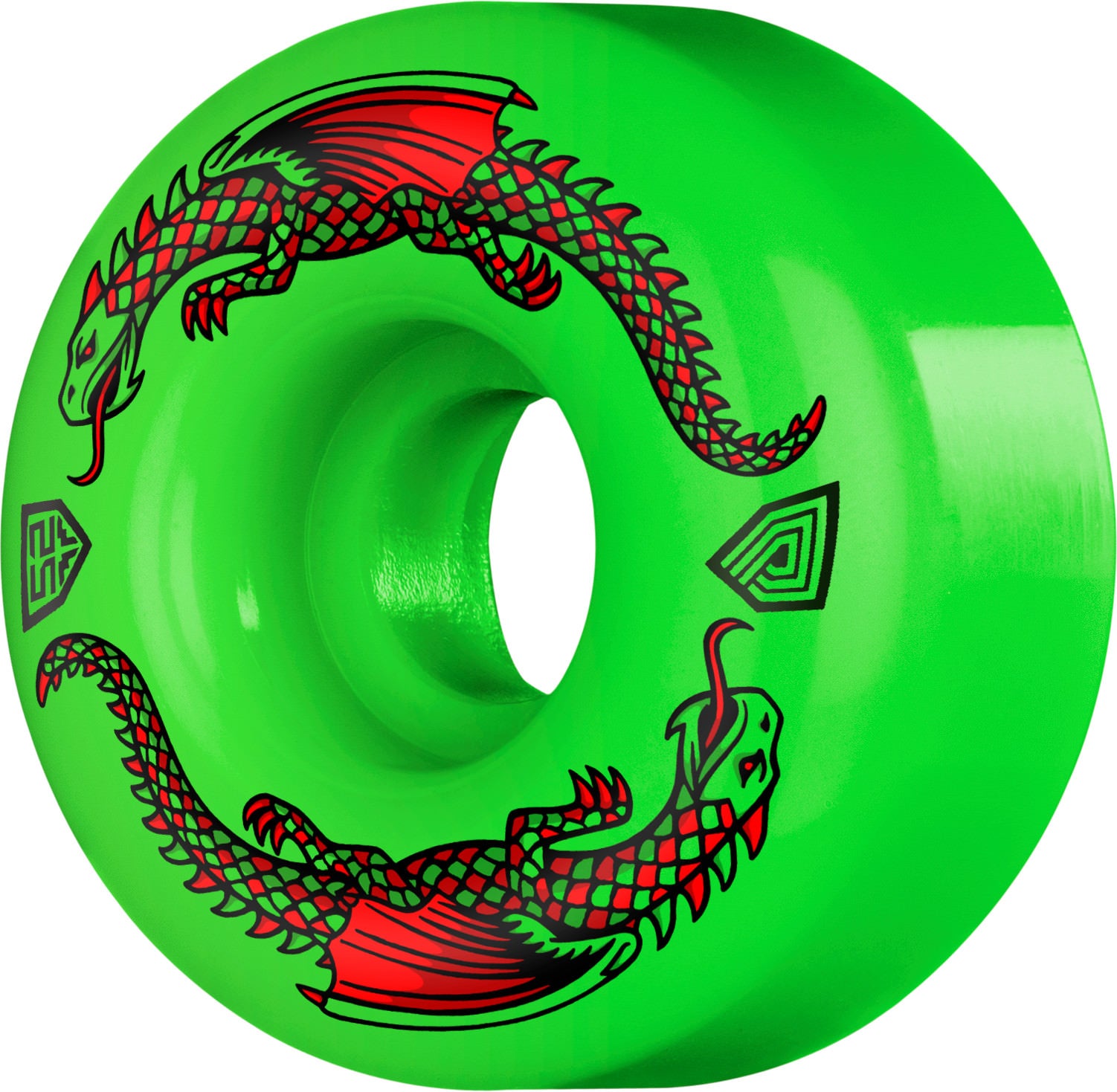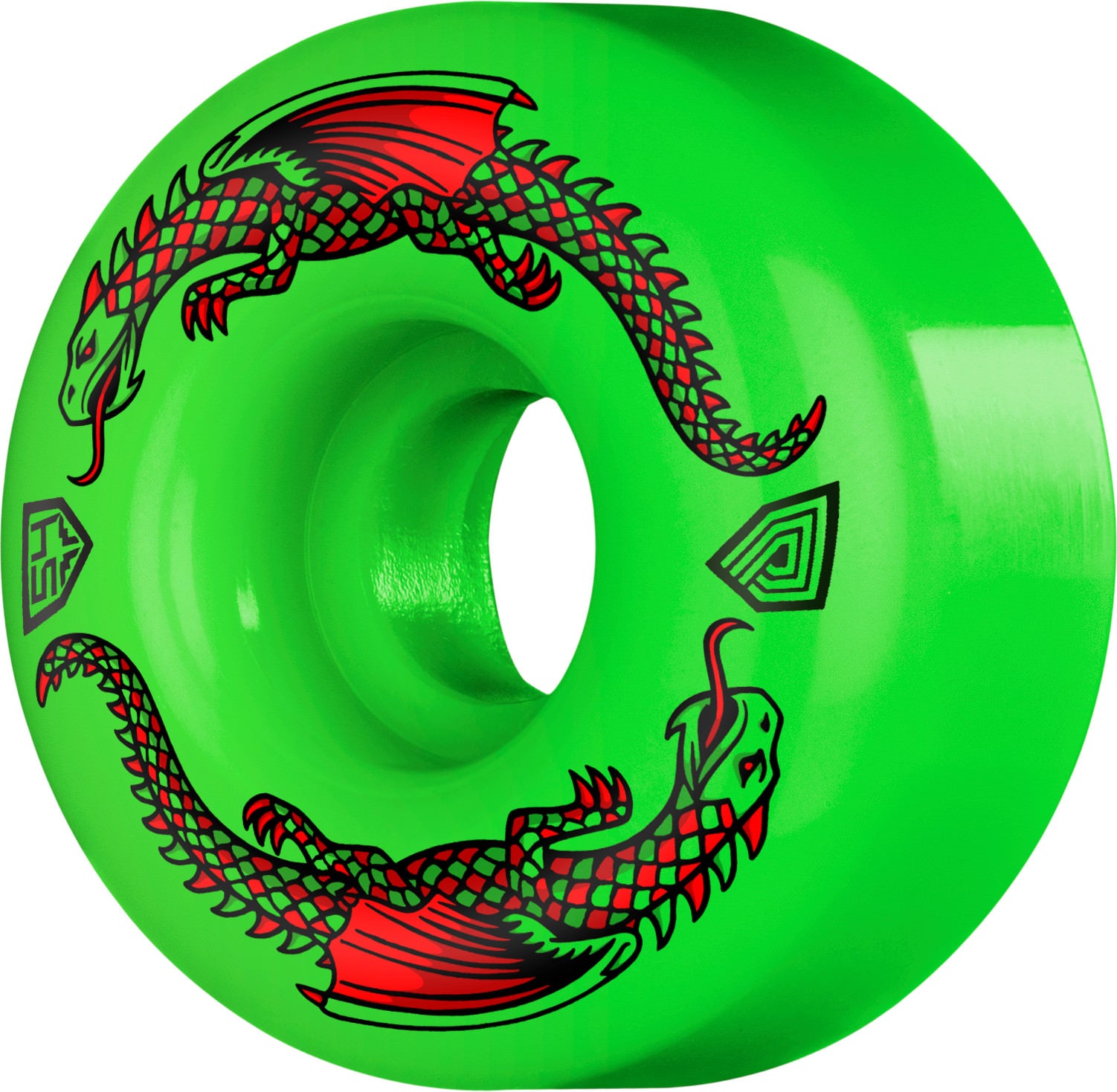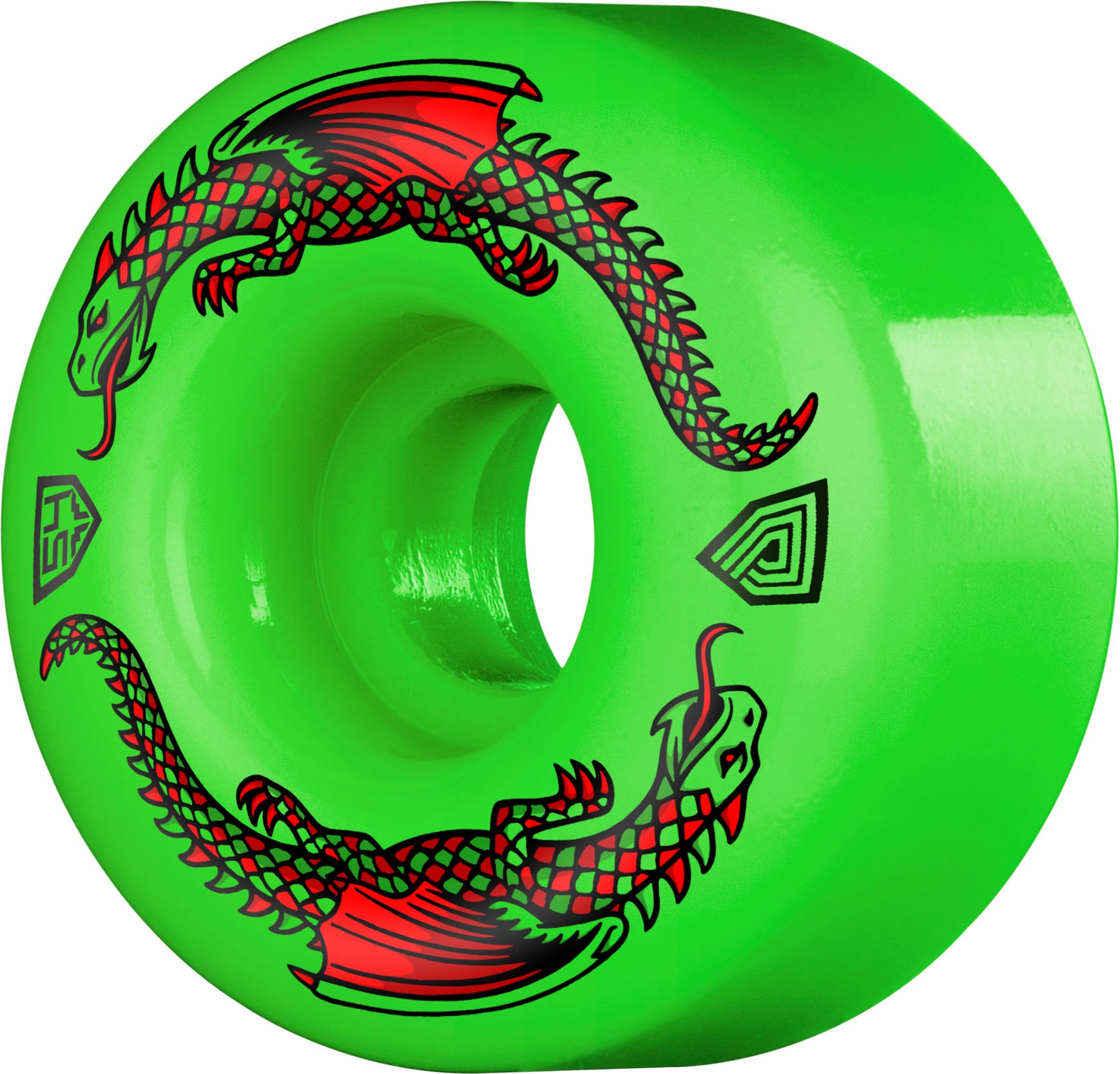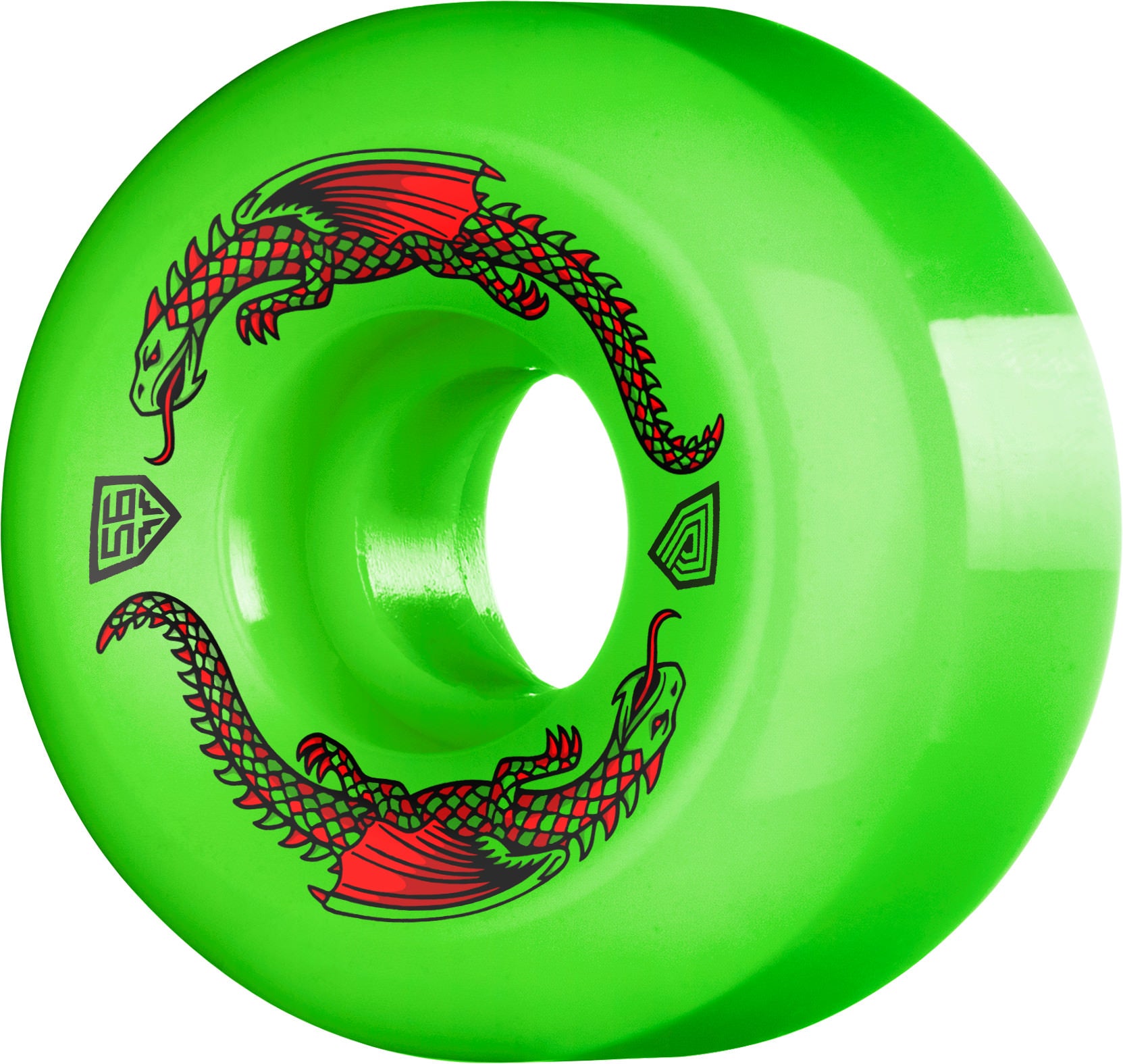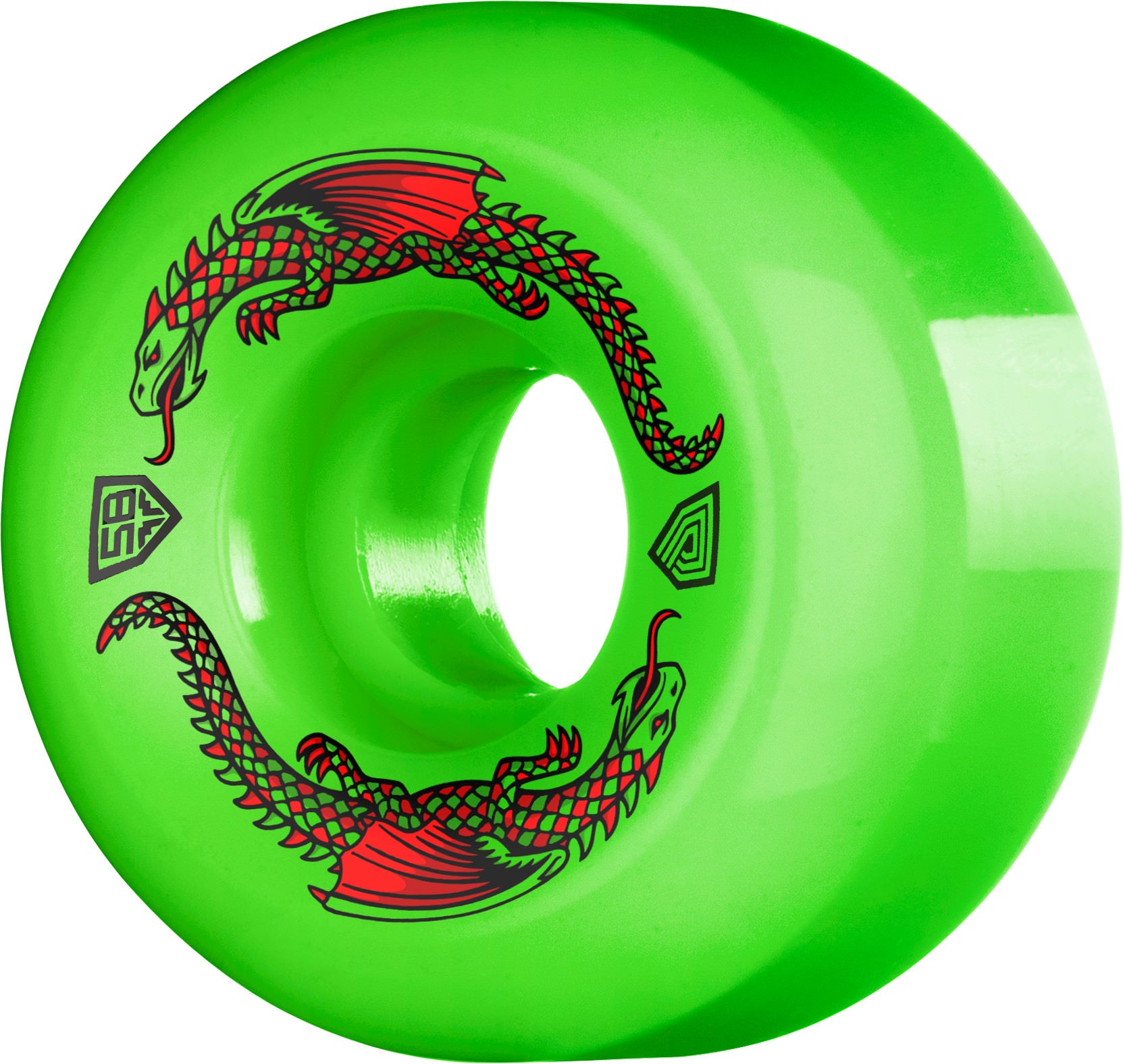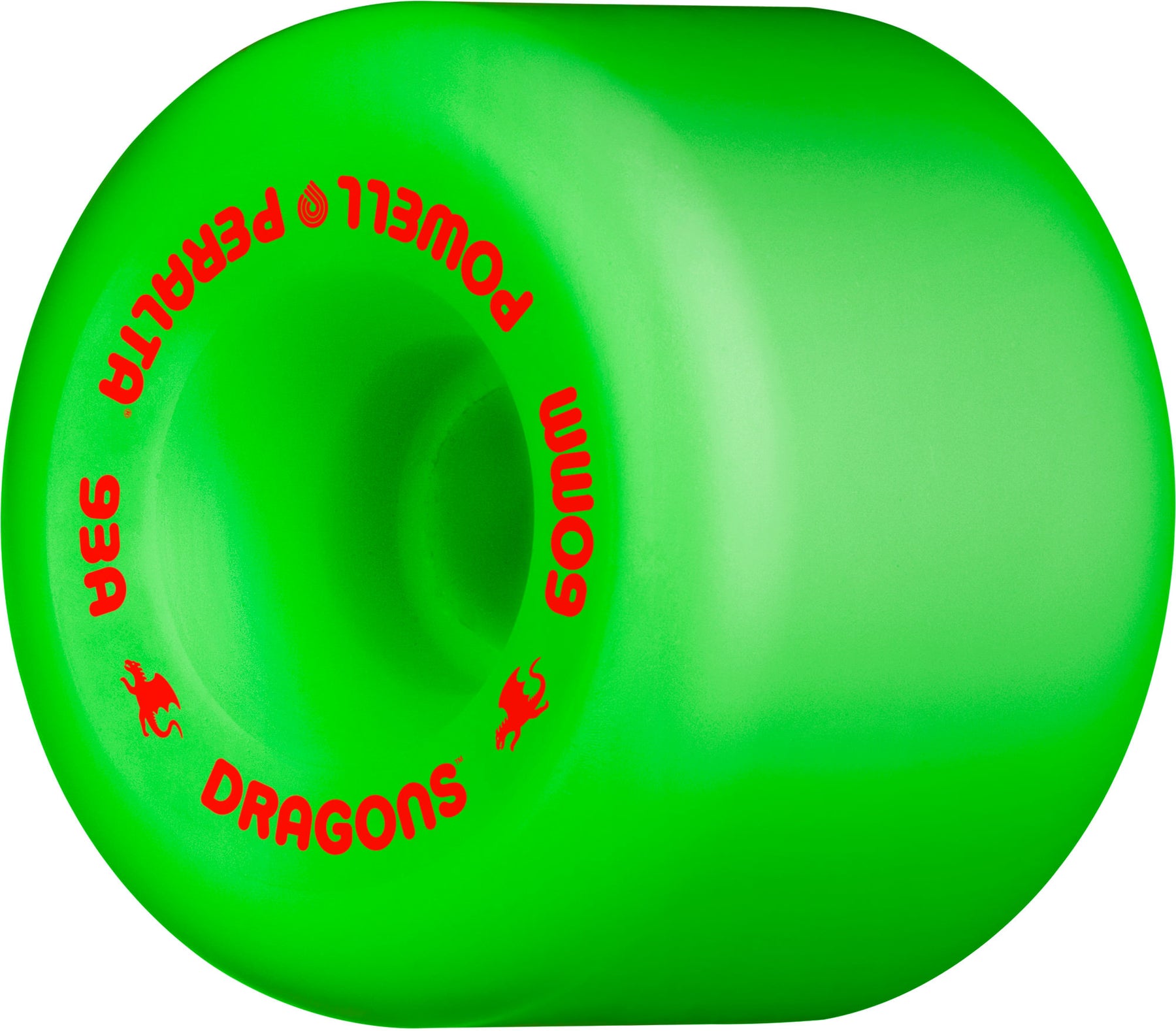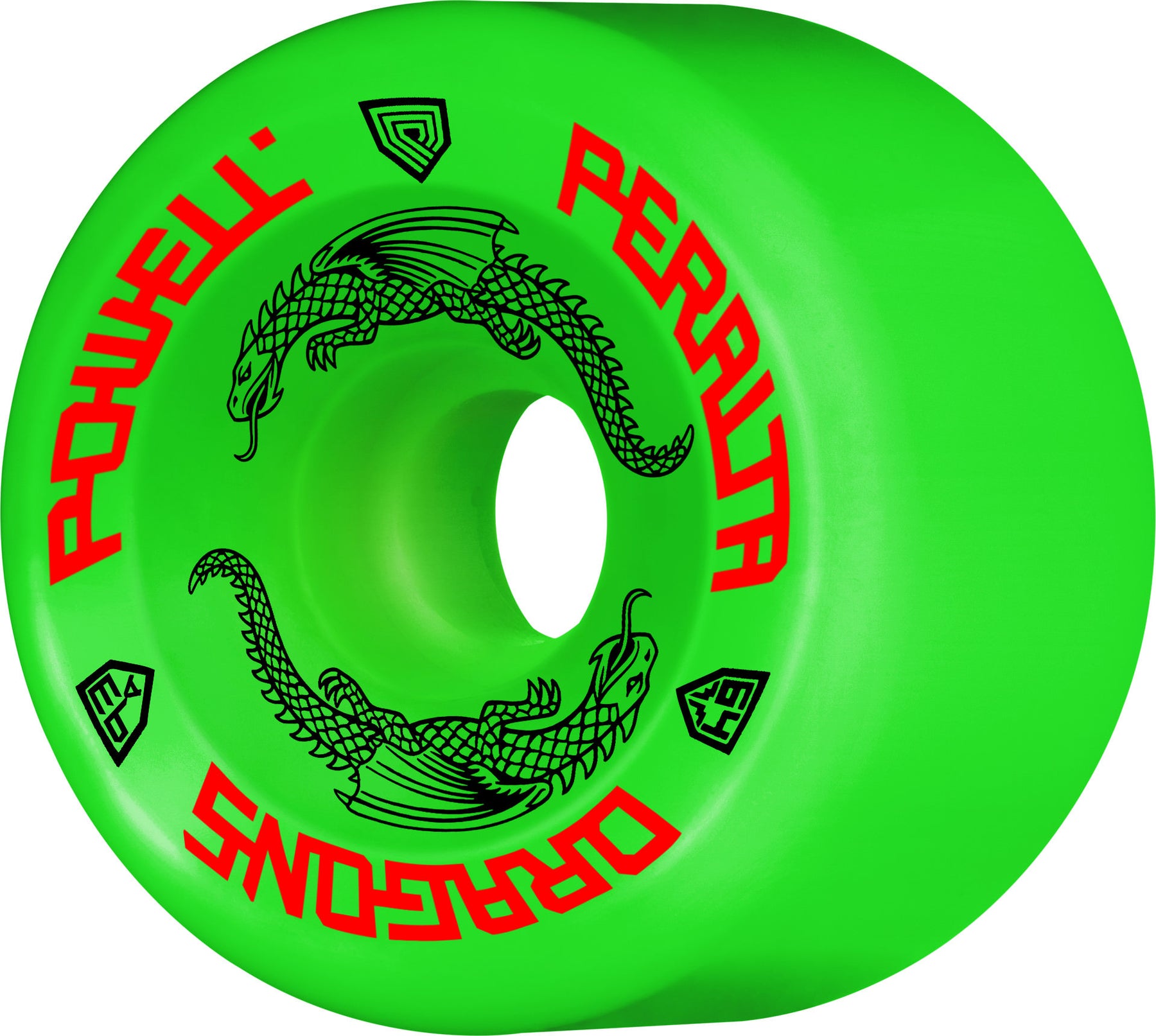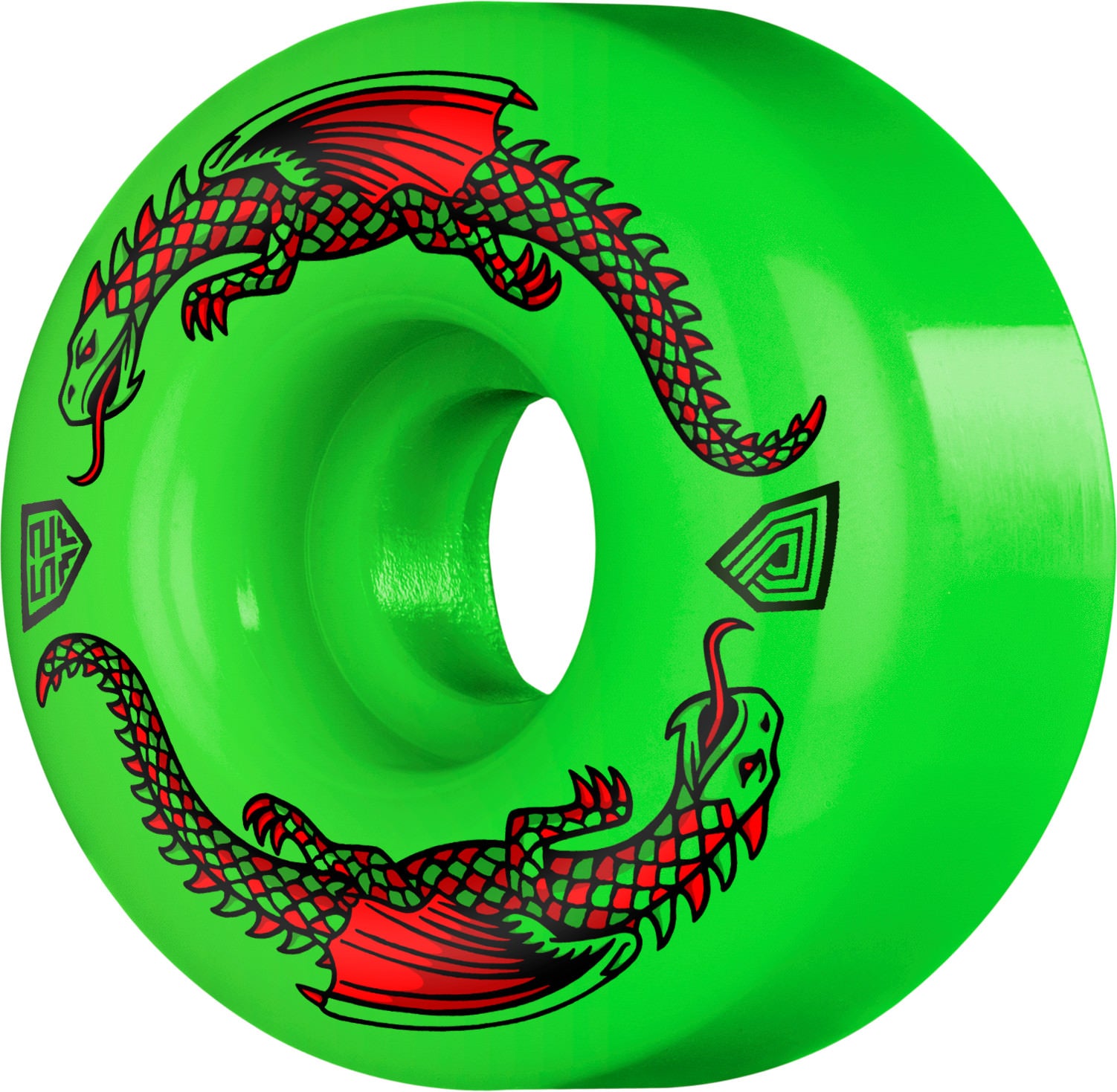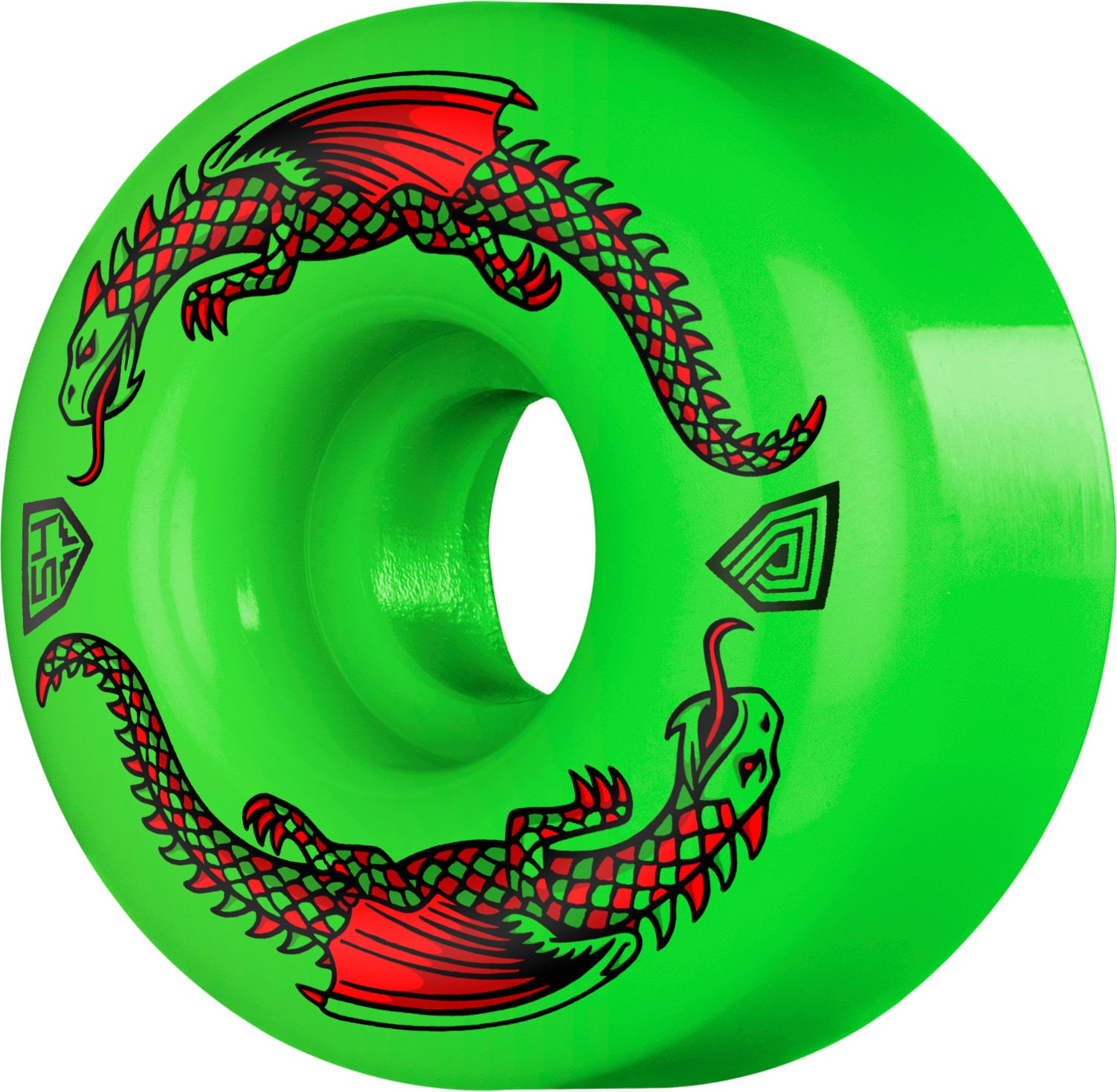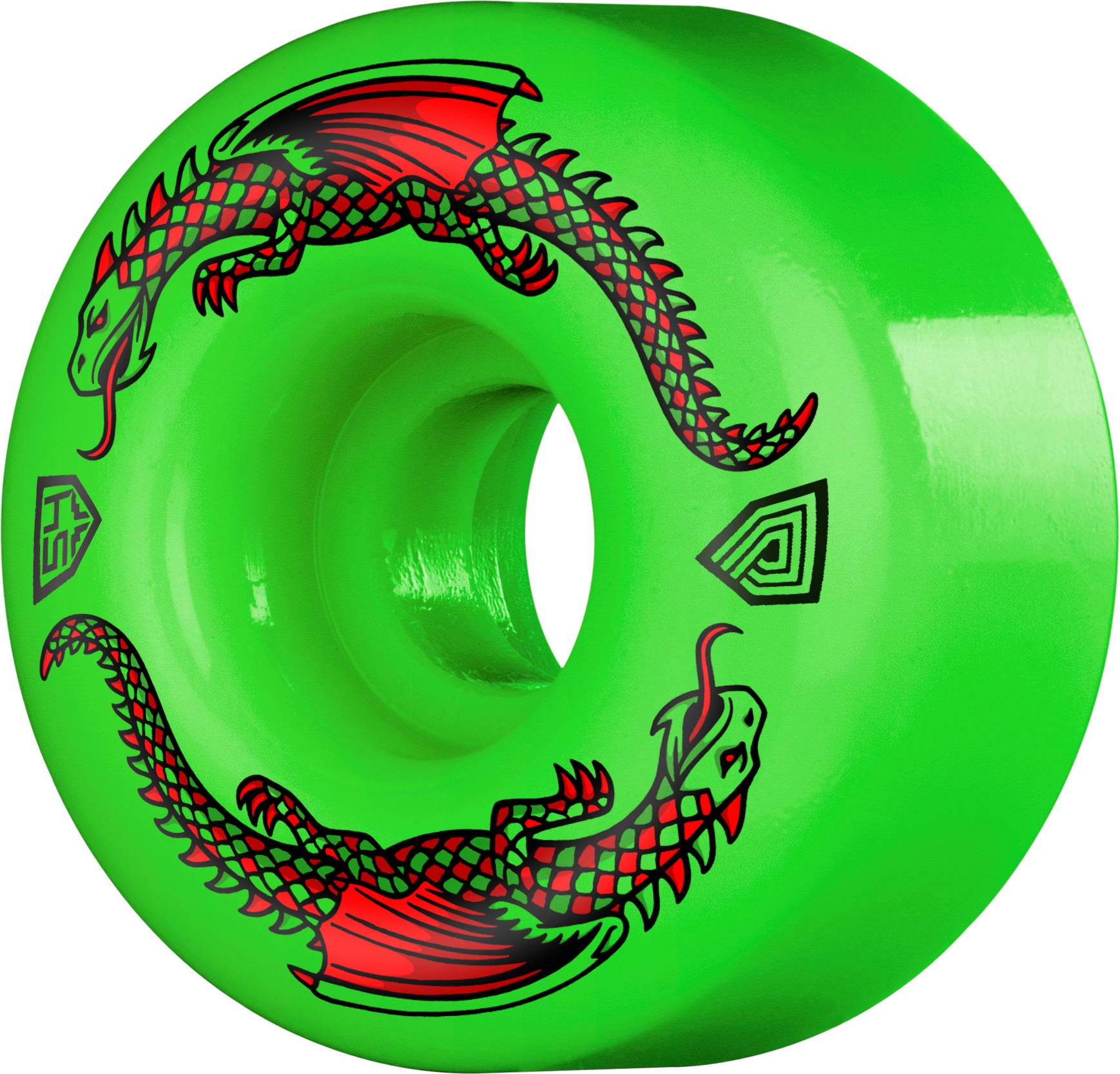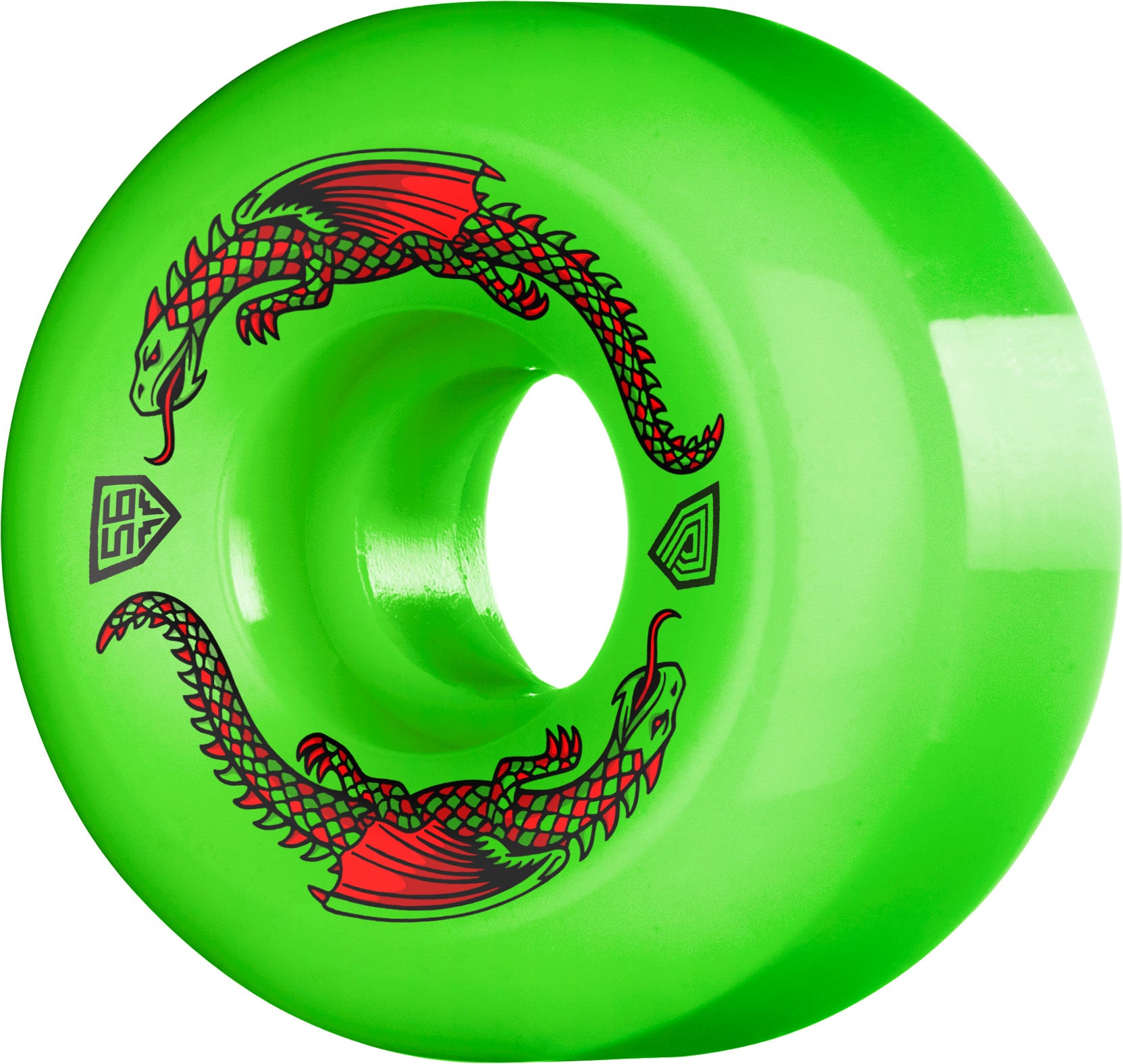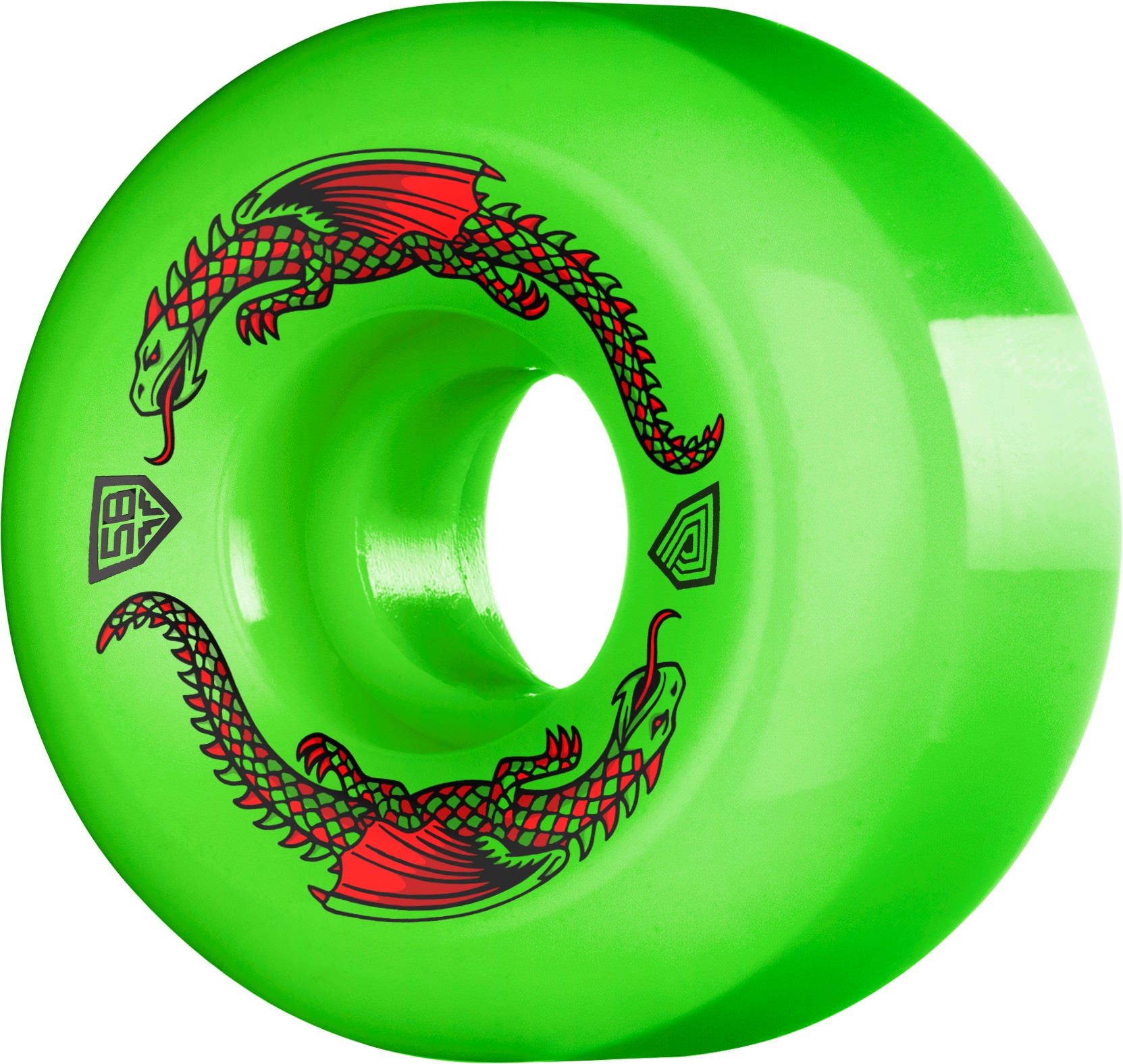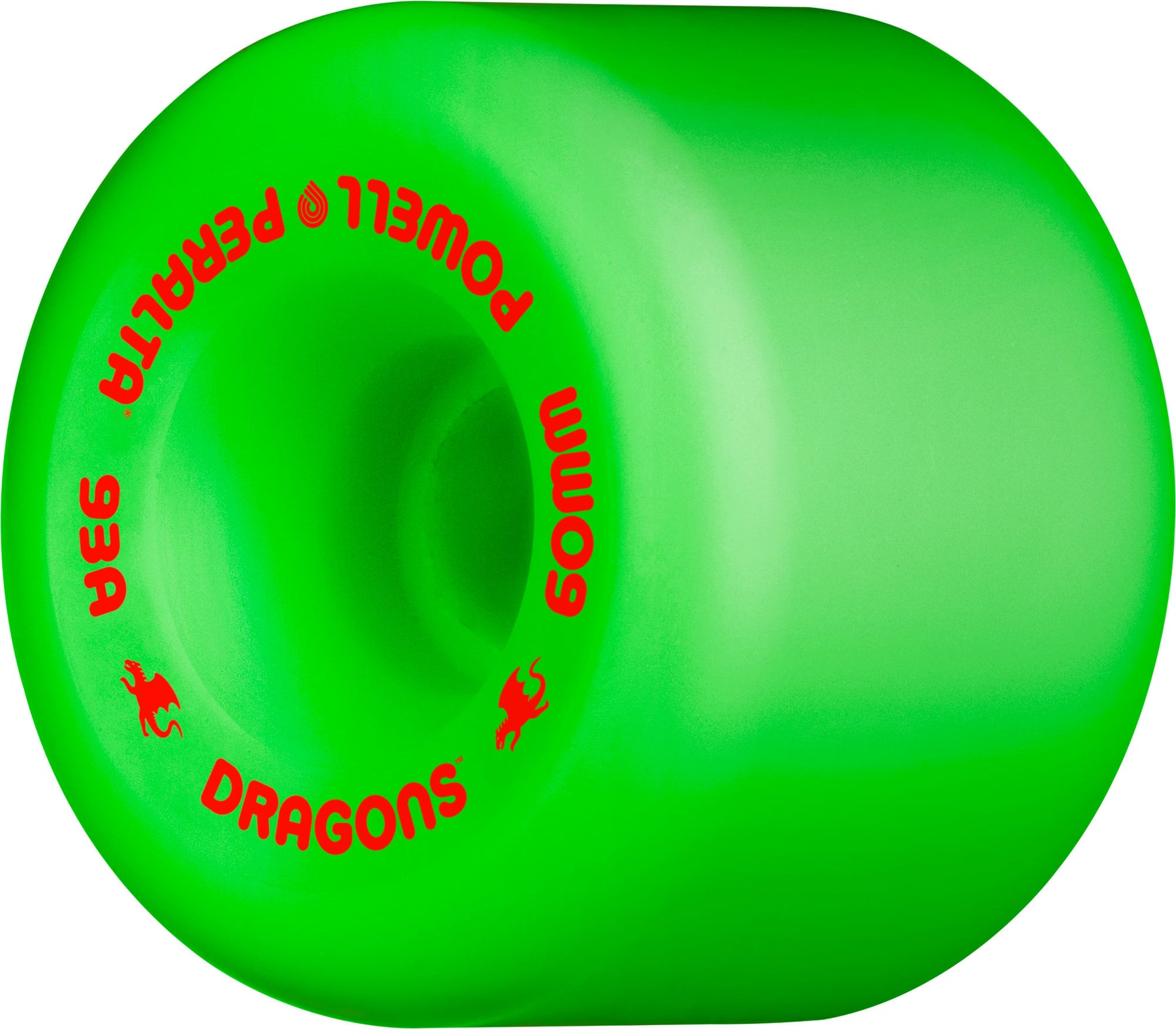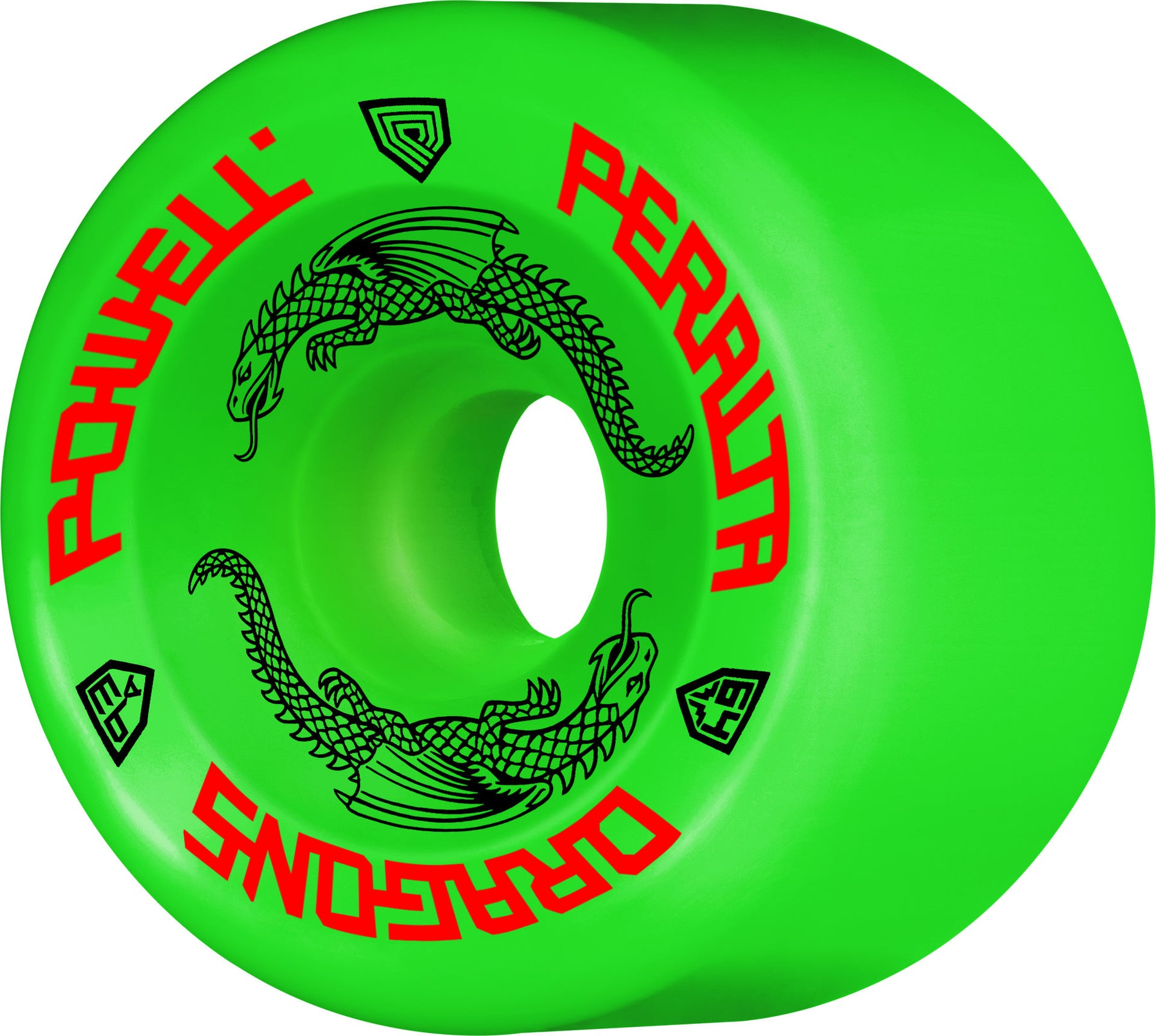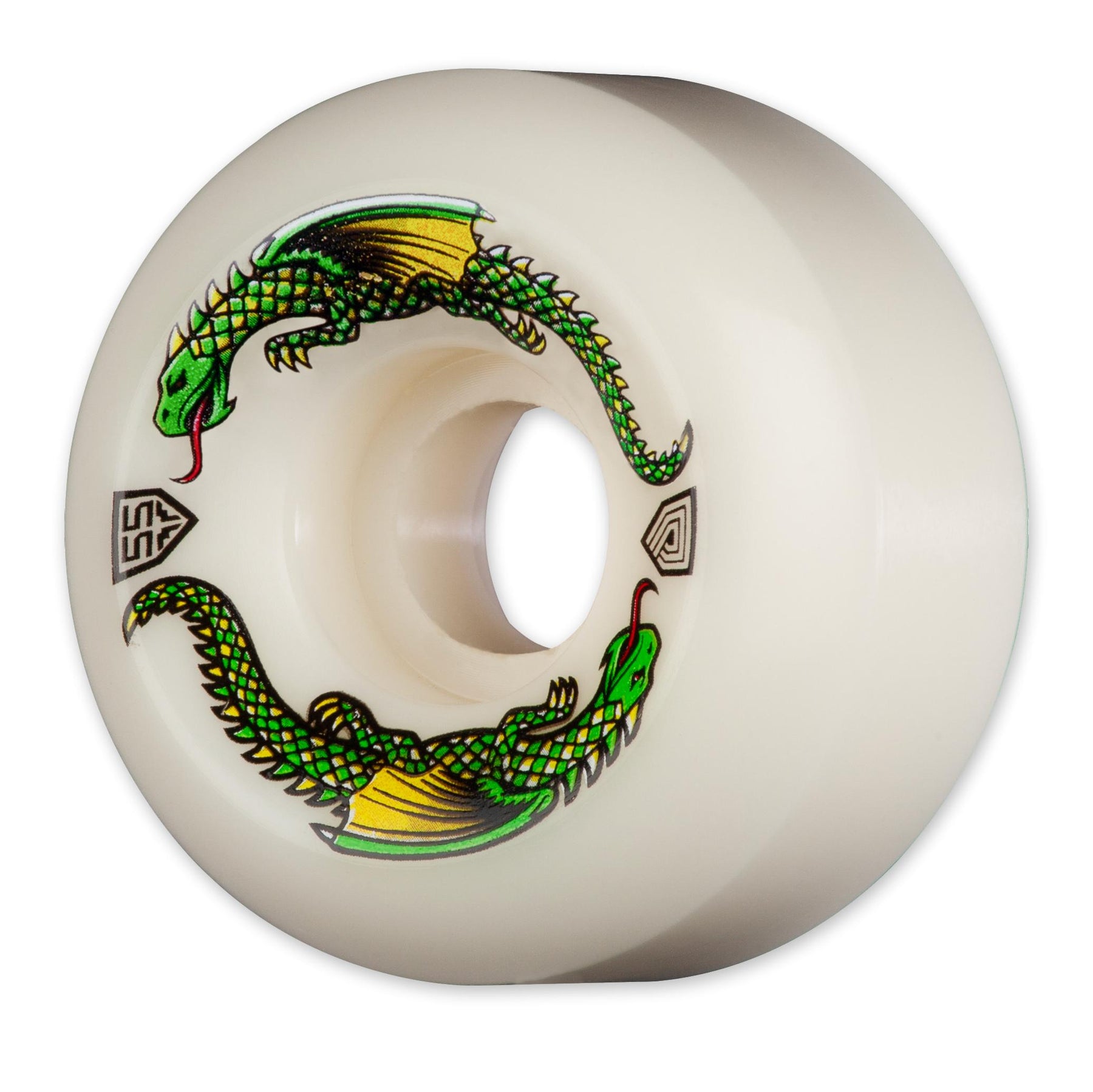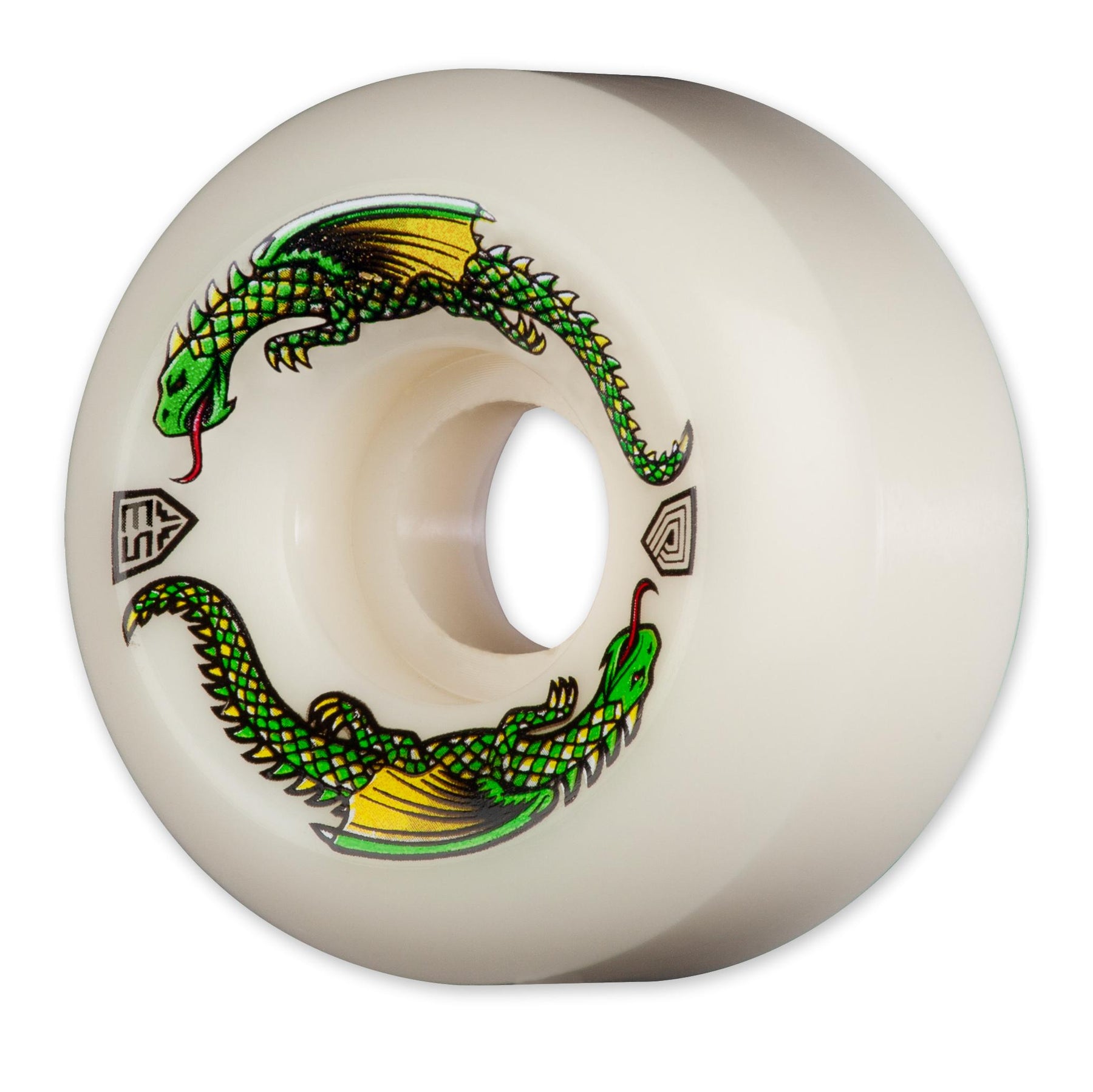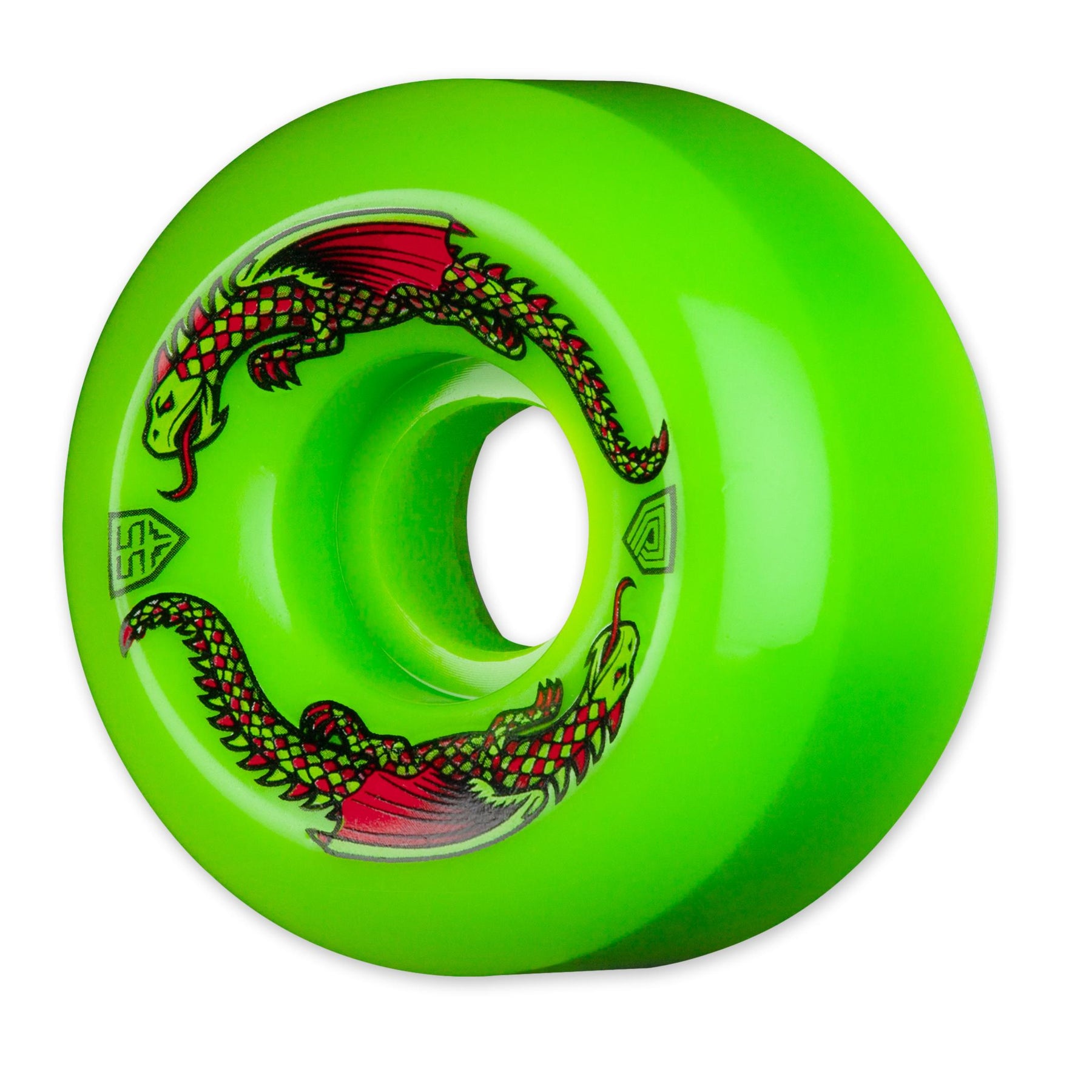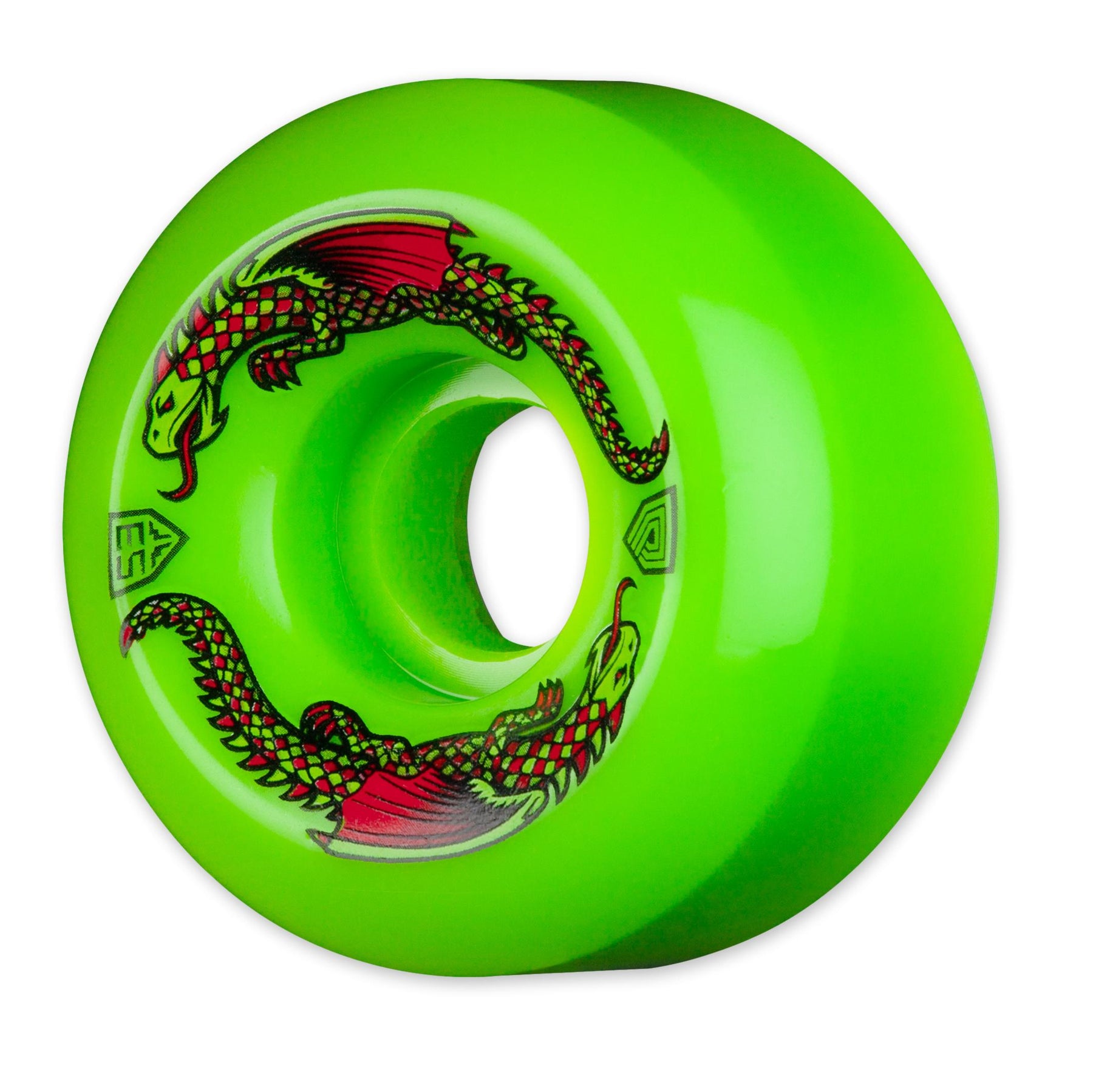 Powell-Peralta Dragon Formula Green Dragon Skateboard Wheels (4 Wheels)
In stock - Ships immediately
🚚💨 Free 3-Day Shipping within the USA
Soft + Fast + Rebound
Hard wheels are great because they are fast and they slide great. Soft wheels are great because they cruise well on rough ground. You had to choose one or the other... Until now.
Powell's new Dragon Formula 93a Wheels slide well, ride smooth, ride fast, and lock in. They have been declared the best wheels by many top skaters already.
Be warned, once you try these, they may ruin all other wheels forever.
Ultra Premium Urethane for Park and Street Skateboarding
The amazing new Dragon Formula™ (DF) Urethane used to create these wheels is another industry leading innovation from Powell Peralta. DF-93A Dragon wheels will not only roll over rough terrain, but also grip and slide like 99A and 101A wheels do, so that you can do all your normal tricks and more on the greater range of skate terrains made skateable by its softer 93A hardness.
Speed
Dragons are very fast because DF-93A is super high rebound, an industry leading 18-20% higher than hard wheels. This higher rebound means you won't lose speed in bowls or parks the way you would with an ordinary 93A wheel, and you will roll much smoother and faster on rough streets and sidewalks…even in places you used to have to walk your board.
Grip & Slide
Dragons slide on both rough and smooth terrains, and also grip when you need it. This is because Dragon Formula is not just an ordinary mid-90's wheel formula. It has been developed over a ten year period to optimize and fine tune it to perfection. No other wheel can do what these Dragons can.
Durability
Dragon Formula is not only smooth, fast and slidable, it is also durable. The slidability comes from its unique blend of high performance materials by making the urethane weak so it will slide as the urethane wears away, not creating flats spots. Dragons are very long lasting so they are not only better skating, they are a great value too.
What Size Should I Buy?
Powell is offering 4 different sizes, so it can be tricky to know which one to try first. If you are doing more of that old school type of skateboarding, we recommend going with the largest 56mm Dragon Wheels. If you are doing lots of flat and freestyle, we recommend going with the 52mm. For park skaters, we recommend going with the 54mm.
There are two widths for 54mm, so get 32mm for the most typical skateboard wheel and the 34mm if you want a bit of extra grip.
Don't overthink it too much though, all four sizes are awesome and you'll enjoy all of them!
How do Dragon Formula compare to Spitfire Formula Four or Bones STF?
Powell Dragon Formula is brand new and unlike anything else currently on the market. That is why the hype train is real right now. Beginners and pros alike threw these on their complete skateboards and lost their minds. Skate shops are selling out fast, so get yours from Stoked Ride Shop today!
Designed for: 
Park | Street | Freestyle | Vert
Specifications
Diameter

: 52mm / 54mm / 55mm / 56mm / 58mm / 60mm / 64mm

Durometer

: 93a

Width

: 31mm / 32mm / 34mm / 36mm / 33mm / 44mm / 42mm

Contact Patch Surface

: Smooth

Lip Type

: Rounded

Core Position

: Centerset

Special Features

: Designed with pro rider Andy Anderson to make the highest performance oriented street/park wheel on the market.
RETURN POLICY
We offer hassle-free returns within 30 days on brand new, resellable, and unused products without restocking fees.
In most cases, return shipping will be your responsibility. We can offer return labels for a fee upon request. 
Pre-paid return shipping label have a flat fee depending on the type of product you are returning: 
Wheels/trucks/bearings/etc - $7.99
Completes/decks - $16.99
Large completes/decks (over 34") - $21.99
Returns that are used, opened, or damaged are subject to a restocking fee. Products that are bought as used, open box, or mystery are final sale. 
PRICE MATCH POLICY
Stoked is confident that we provide the best products at the best prices. We price match/beat verifiably in stock products, including shipping fees. 
Please note that we cannot price match invoices, screenshots, past orders, eBay auctions, Craigslists posts, or any other unverifiable price. We have to be able to purchase the product from the approved store at the time of checking the price for the price match to apply. Price matching must also include any applicable shipping and other processing costs. 
USA SHIPPING
FREE for orders over $25 within the lower 48 states.
Affordable rates for AK, HI, and other territories.
INTERNATIONAL SHIPPING AND CUSTOMS FEES
We ship all over the world! When ordering from stokedrideshop.com, you are responsible for assuring the product can be lawfully imported to the destination.
To get a shipping rate for your country, add the items you wish to order to your cart and proceed to the "My Cart" page. Put in your address and select the shipping option that best applies to your needs.
The recipient/buyer is the importer of record and must comply with all applicable laws and regulations of the destination country. Customs delays can affect original delivery estimates.
Custom fees are not included in the price paid on stokedrideshop.com. Recipients of international shipments may be subject to import taxes, fees, and customs duties levied by the customs office of your shipping destination. Import Fees vary according to the customs regulations of the destination country.
If your country applies import fees to your order, you will be responsible for them. Check with your local post office or customs office of the destination country for more information.