If you aren't familiar with skateboarding vernacular, it may sound like your buddies are speaking a foreign language. But like anything, once you're familiar with the lingo it will become second nature and you'll find yourself throwing out skate slang on the regular.
Here are some of the most common skateboarding expressions and meanings. Study up!
---
Click a letter to jump to section:
A | B | C | D | E | F | G | H | I | J | K | L | M | N | O | P | Q | R | S | T | U | V | W | X | Y | Z  | #
---
A
---

ABD
Already been done.
Acid Drop
Refers to riding off a ledge while staying on your board and doing an ollie.
Air
Aka aerial. When a skater clears an obstacle with all wheels off the ground.
Amiright?
Literal translation: "Are we on the same page?" or "Do you catch my drift?" 
---
B
---
Credit: Josh Neuman Youtube
Bail
Fall off your board. 
Did you see that guy just bail? YEEEWWOO that hurt!
(Above)
Roadside (bushing)
What bushing are you running boardside?
Bomb (Bombing)
To ride down a hill fast.
That guy was bombing that hill so hard!
Brain Bucket
Helmet
Burly
Going big with a trick. 
That slide was burly!
---
C
---
Chip
When a piece of wood breaks off the deck. 
Complete
A fully built skateboard. It's got a deck, trucks, wheels, bearings, grip tape, and hardware. 
Dad
Name for people/something to be said.
Are you my dad? Thanks dad. Dad.
Credit: plantrider Youtube
Dialed/On Lock
When you can do a trick perfectly and repeatedly then you have it dialed.
Duro
Short for durometer, the rating of hardness for wheels and bushings.
What duro are you running in your set up?
---
E
---
Eat it / Ate it
To fall off your board and crash. 
Ahh he ate it good.
---
F
---
Face Plant
When you fall off the board and your face connects with the pavement. Ouch!
Fakie
Skating backwards (with your feet in their normal stance).
---
G
---
Gnar
Gnarly. Extreme. On a scale of 1-10 with 10 being extremely extreme and 1 being not so extreme, gnar would be an 11.
Gnar Bar
Variation of gnar.
---
H
---
Heelflip
Similar to a kickflip but reversed. Begin in the ollie position and then use your back flip to lift the board up as your jump.
High Side
When the wheels grip up mid slide and throw you off your board forward, down the hill. Dangerous and no fun. Easy fix: lean back more.
Hot Pocket
A sharp pain in the ankle that's the result of the foot being pushed upwards when landing. 
Hyped
When you're hyped about something=you're excited or pumped up.
---
J
---
Jetty Ledge
An out ledge. 
---
K
---
Knucks fo lucks
Nuff said. (We're actually not even sure what this means, it's just fun to say).
Kickflip
A basic trick that involves lifting the board 180 degrees from the ground by leaning back to raise the nose (can be done on a ramp or the ground).
---
L
---
Landing Bolts
When you land a trick perfectly.
Landy
Short for Landyachtz, a brand of skateboards.
Low Side
When the wheels slide out more than you expected and the board shoots out from you. Holes in ya pants. Easy fix: lean forward over the board more.
---
M
---
Make
When you land a trick you've been working on. Props!
Mobbing
Going fast, killing it, shredding like crazy.
That kid is mobbing!
---
N
---
Nollie
A reverse ollie.
Nose
The front part of a skateboard. 
---
O
---
Ollie
The first trick you should learn. It's a forward jumping trick that involves snapping the tail of the board off the ground, bringing your entire board into the air.
Otang
Short for Orangatang, Loaded's wheel brand.
---
P
---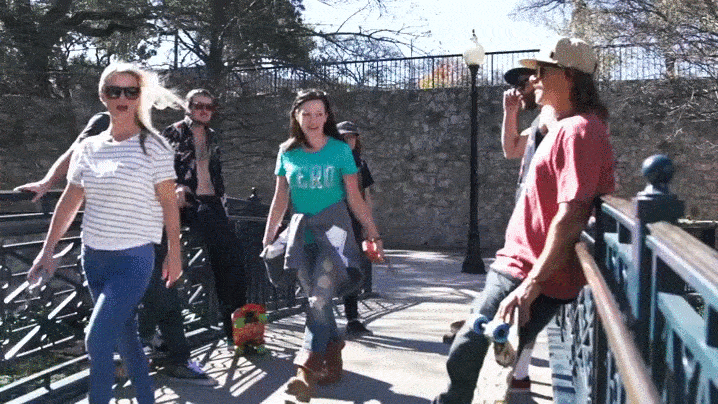 Poser
A non-skater pretending to be a skater. 
---
R
---
Roadside (bushing)
Refers to the bushing closest to the road and above the truck hanger. See also: Boardside (bushing)

What bushing are you running roadside?
---
S
---
Shralp
Similar to shred, may be used as a step up from shred.
Holy *@$# that dude was straight shralpping!
Shred
To skate in an outstandingly gnarly or sketchy circumstance that proves your skill as a skateboarder.
Shred Sled
Your longboard set up.
Grab your shred sled man, let's go bomb!
Sick
Cool. Rad. Awesome.
Sketchy
Not perfect. Think barely making a landing, a poorly constructed skate park, or executing a trick over a gap.
Snake
When at a skatepark, you typically take turns on the obstacles. The snake is the guy who drops in when it's not his turn.
Dude, that guy totally snaked me!
Steeze
Coolness. 
Look at that guy and all his steez.
Steezy (Steezey)
Coolness with a Y.
Stoked
To be intensely hyped about something. Also the name of yours truly.
Sumurfing
Smurf surfing.
Switch
Riding in the opposite direction, or opposite stance, than usual. If you're regular, it's riding goofy and vice versa.
---
T
---
Thane
Short for urethane, which is short for polyurethane. 
Thane is what wheels are made of. Did you see all that thane that guys slide lay down?
Credit: Fireball Supply Co.
Thane Lines
The awesome urethane lines longboard wheels make when riders do slides. Groms and pros alike measure their thane lines to see whose are biggest.
Throw Down
Doing a trick that puts it all out there. 
Did you see that guy throw down that heelside? It was awesome.
Trill
True and real. In other words "that was trill"= "that was cool"
---
Y
---
Yew
Used to show excitement.
"Yew! Sick kickflip!"
---
#'s
---
180
Half rotation.
360
Full rotation.
540
A 540 degree rotation in the air.
720
Two 360's (forwards or backwards).
900
Two and a half rotations. Major props if you can land this one!
Got any more to add? Post 'em below and we will periodically update this guide