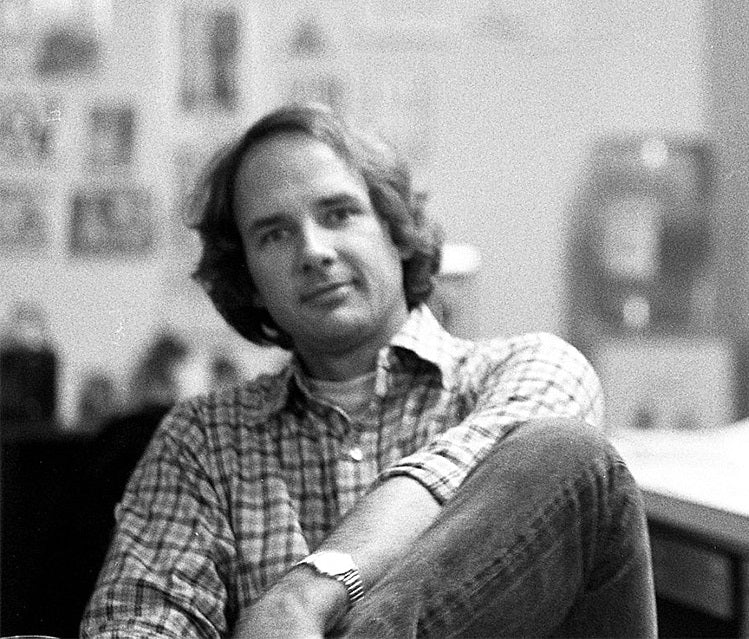 Founding
George Powell builds skateboards for his son in his garage and learns polyurethane is the new material being used in skateboard wheels.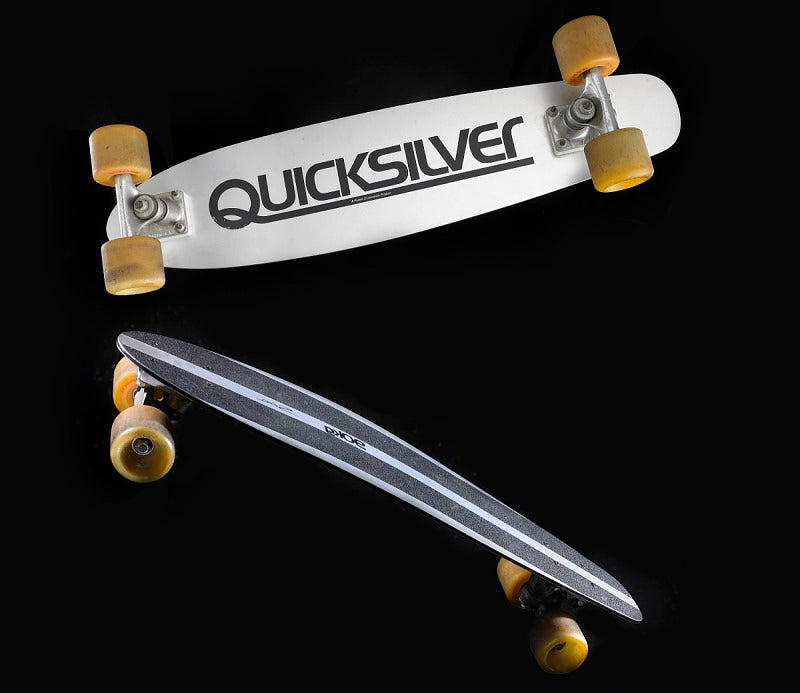 First Skateboards
Powell starts selling silver skateboards and called the brand "Quicksilver" (different from the now famous surf company)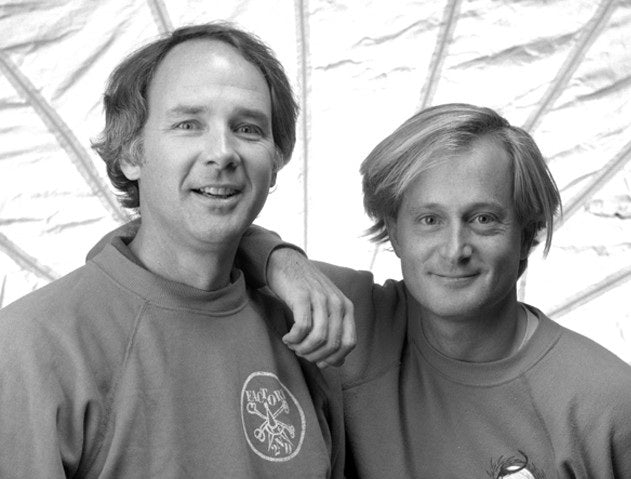 Peralta Joins
Stacey Peralta joins and the iconic brand Powell-Peralta is founded.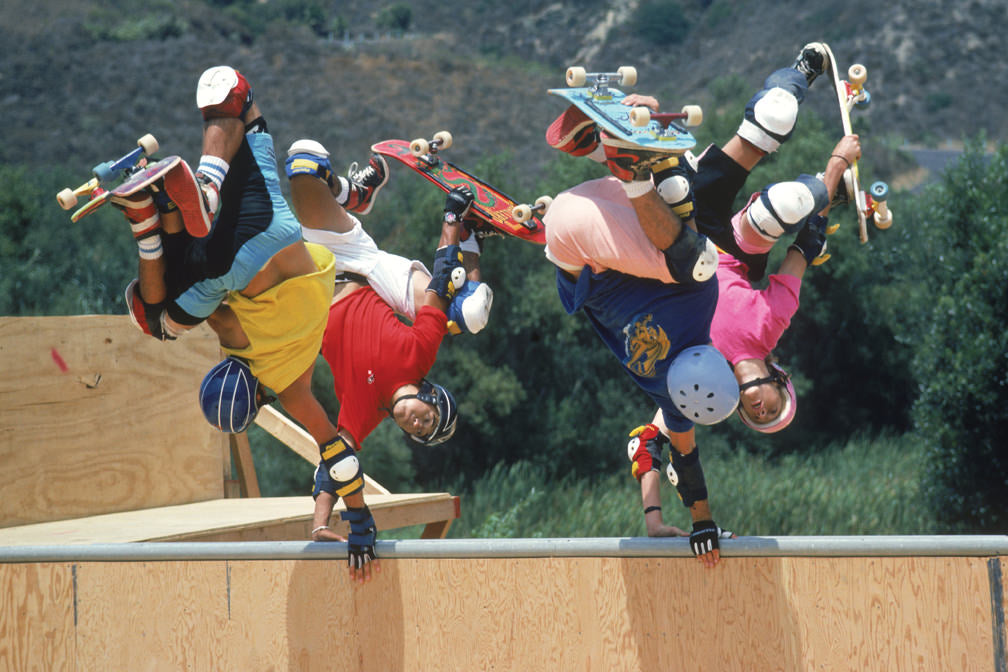 Bones Brigade
Powell-Peralta starts producing iconic skate videos with legendary team riders Tony Hawk, Mike McGill, Steve Caballero, Tommy Guerrero, Lance Mountain, and Rodney Mullen.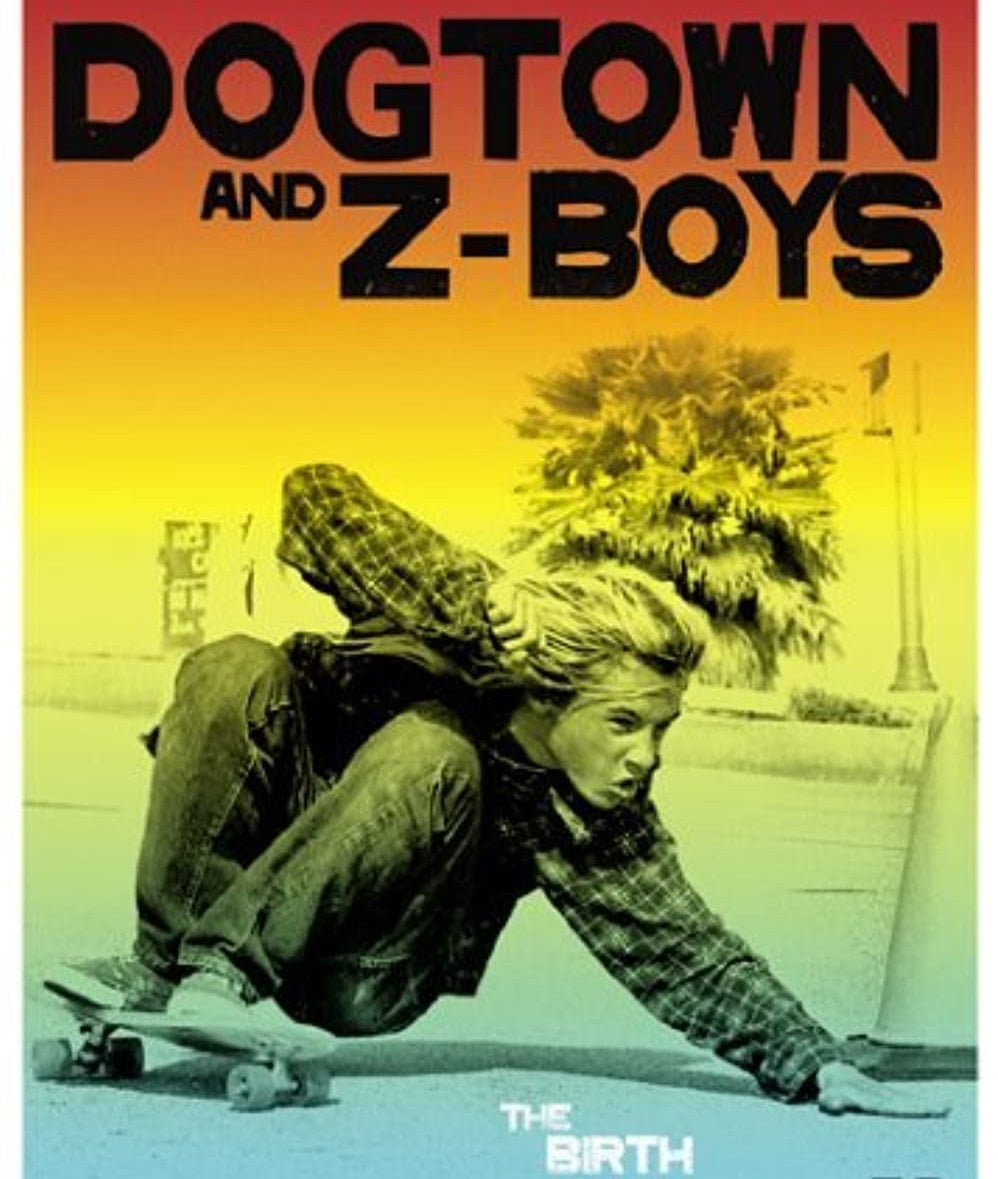 Stacy Leaves
A downturn in the skateboard market causes Stacy to leave and pursue filmmaking. Powell-Peralta is rebranded as Powell Corporation.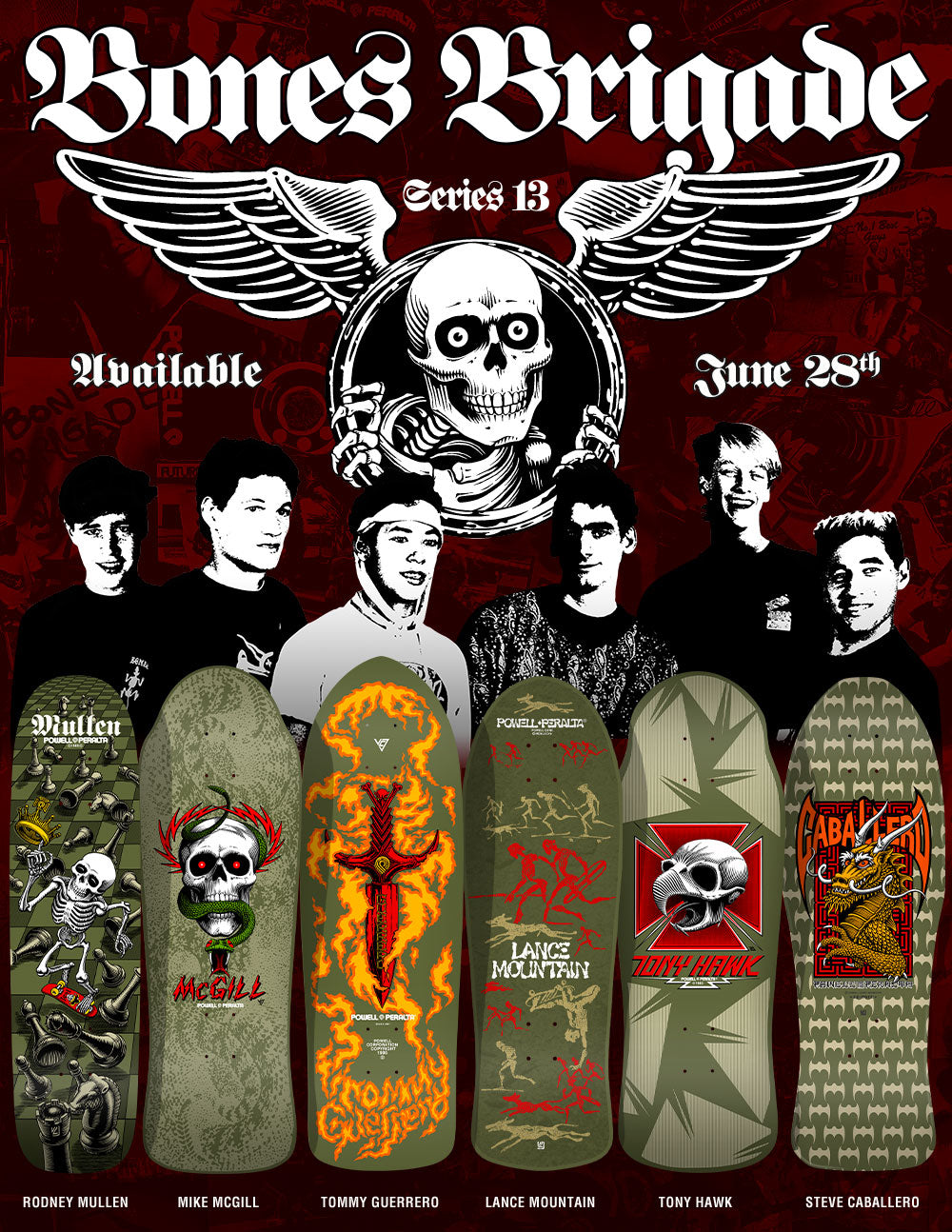 Powell Reissues
Powell works with Peralta to come out with reissue skate decks, which reintroduced the name Powell-Peralta to the scene.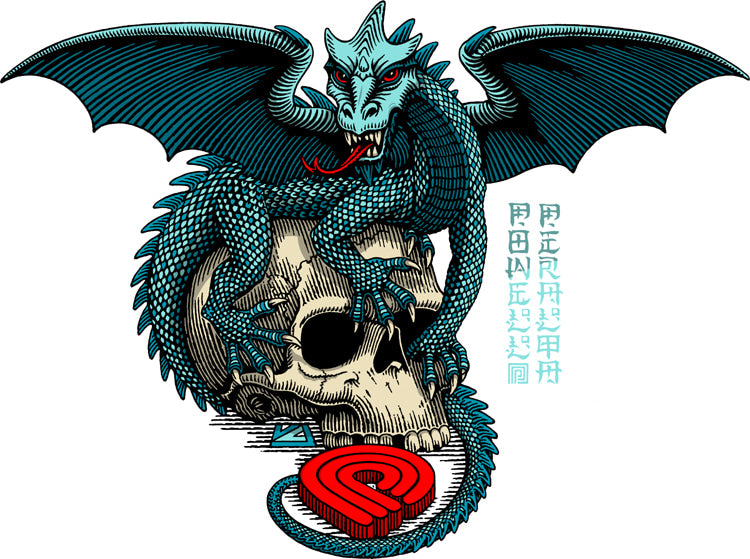 Artist VCJ Returns
Vernon Courtlandt Johnson, who did the iconic skateboard art of the 80s, returns to Powell to be their main artist.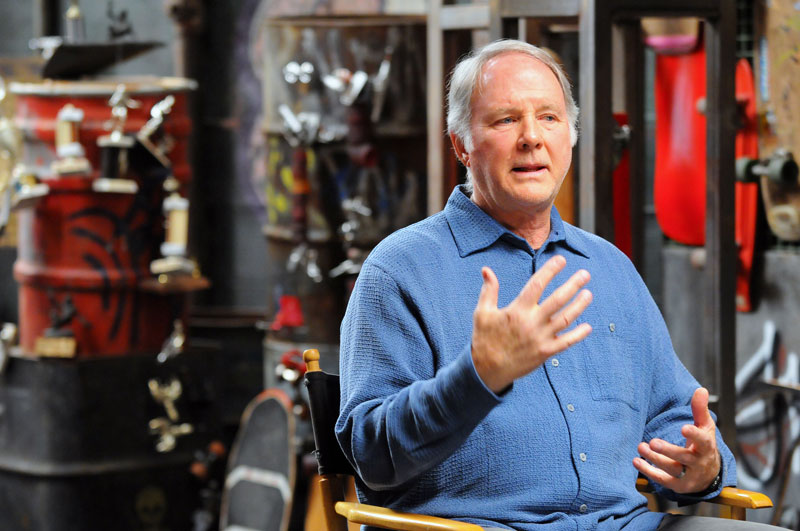 Legacy Continues
Powell continues to be an iconic brand with recognizable graphics and team riders from all around the world.
There are few, if any, skateboard companies in the world as timeless and time tested as Powell-Peralta.
Founded in the mid 1970s by George Powell, Powell-Peralta quickly rose to prominence with the most famous skate team in history, The Bones Brigade.
With members including Tony Hawk, Mike McGill, Steve Caballero, Tommy Guerrero, Lance Mountain, and Rodney Mullen it's no wonder this team and brand took off. The Search of Animal Chin as well as many other of the most iconic skate videos in history can be attributed to Stacy Peralta during his time at Powell-Peralta.
In addition to videography, Powell-Peralta has become known for their artwork. The iconic Powell-Peralta Ripper is one of the most recognizable skate logos today. Mike McGill Skull, Lance Mountain's Future Primitive, Rodriguez Skull, Caballero's Chinese Dragon, Tommy Guerrero's Flaming Sword, and Tony Hawk's Bird Skull are just a few of the iconic old school skateboard graphics that the world knows today. These graphics define Powell Peralta OG.
While everyone on Bones Brigade was/is a rad skateboarder, some other members include Steve Saiz, Per Welinder, Mike Vallely, Steve Steadham, and Bucky Lasek. These riders regularly get reissue boards made by Powell in various new colorways, often never to be seen again.
If your favorite skate shop *cough Stoked Ride Shop cough* has a reissue that you like, checkout on the spot. No telling when/if the boards will be available again.
In addition to skateboard decks, Powell-Peralta also started early making skateboard wheels. They have a few brands/models. One of the most popular is Rat Bones. Wheels often also dawn the legendary artwork including Powell-Peralta Skulls.
In the 1980s, Powell-Peralta introduced Bones Bearings. Later in the 1990s, Powell launched the brand Bones REDS with the specific purpose of giving skateboarders an affordable alternative to the Swiss made bearings.
Powell really seems to know how to pick riders. The introduction of Andy Anderson in 2019 with his pro Flight Deck has seen tremendous success. He also has his own T-shirt and griptape. Anderson is best known for his unique freestyle inspired tricks and always wearing a lid.
Growing up, myself and many of my skateboard friends thought the graphics were awesome. We all wanted the stickers and posters on our bedroom walls. I rocked the hot pink ripper shirt every chance I got.
The part of Powell-Peralta that impresses me most though is their ability to continue to persevere year after year. They've taken a little heat for being a "big corporation" and selling out when they branched out to sell to "other kinds" of skaters. We think this is silly. More sales leads to more innovation and better products for everyone.
George Powell is a trained engineer and you can see it in every ply of Powell-Peralta skateboards. They make exceptional product in their own factory. So few brands can claim that today. They will never ban this Powell-Peralta.