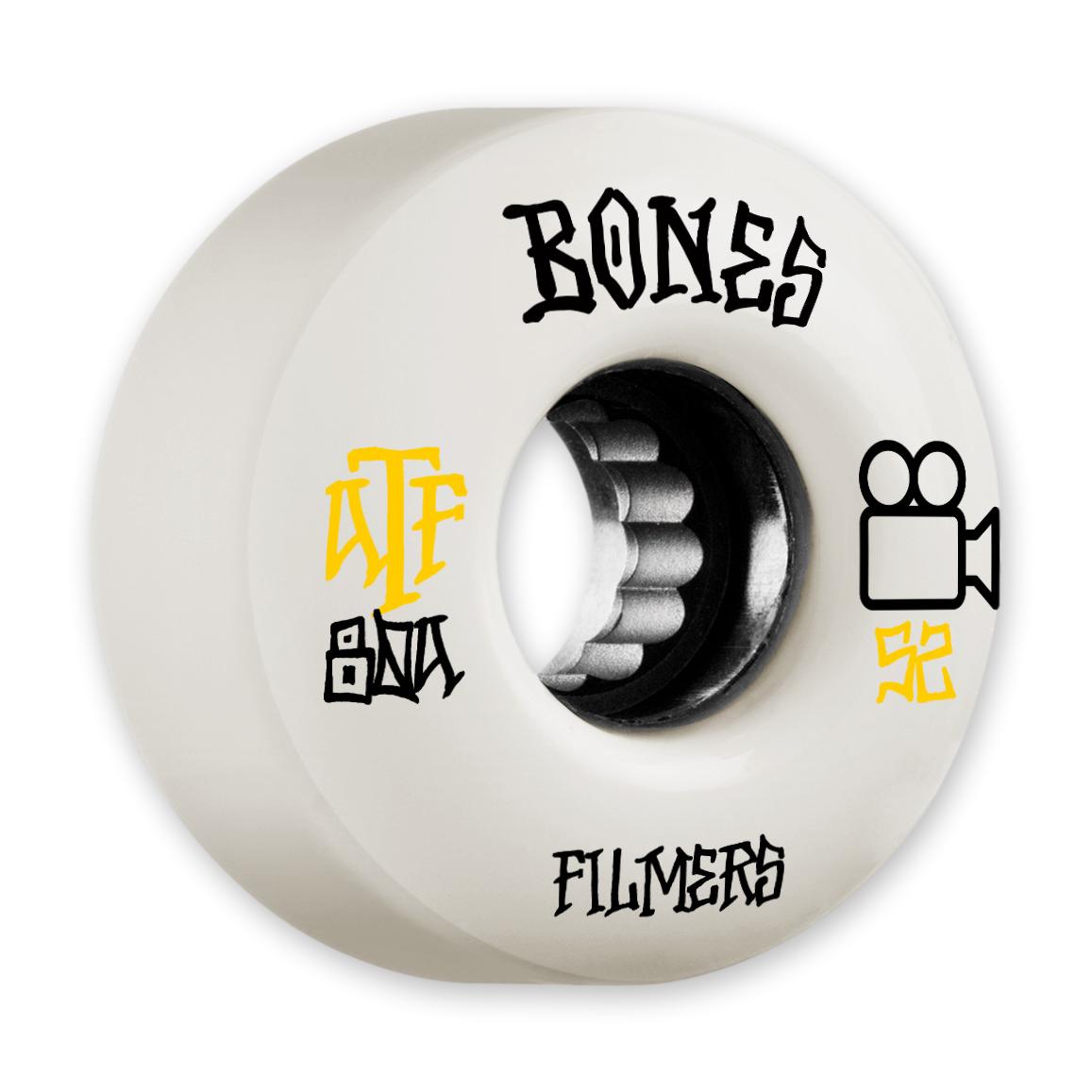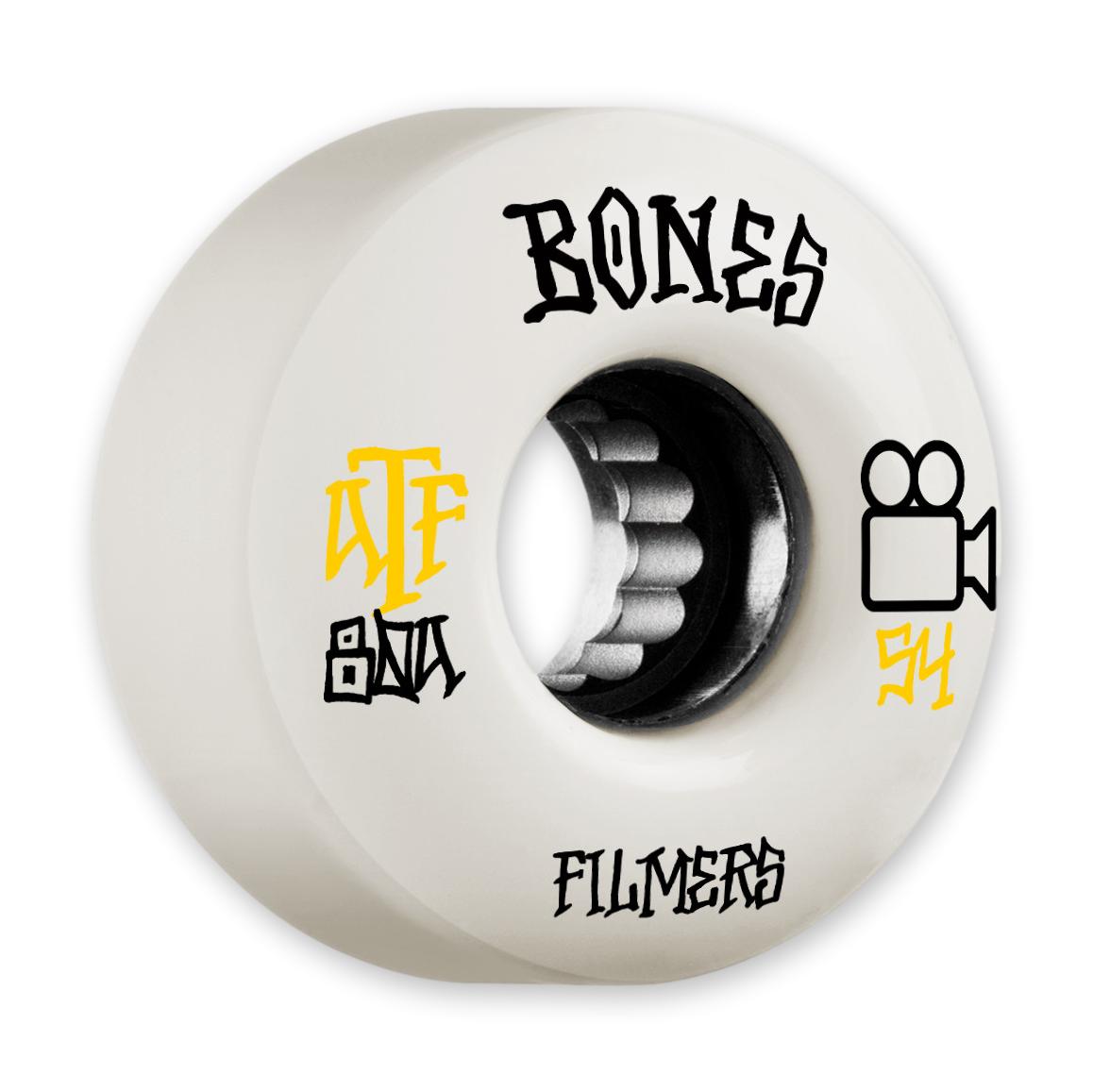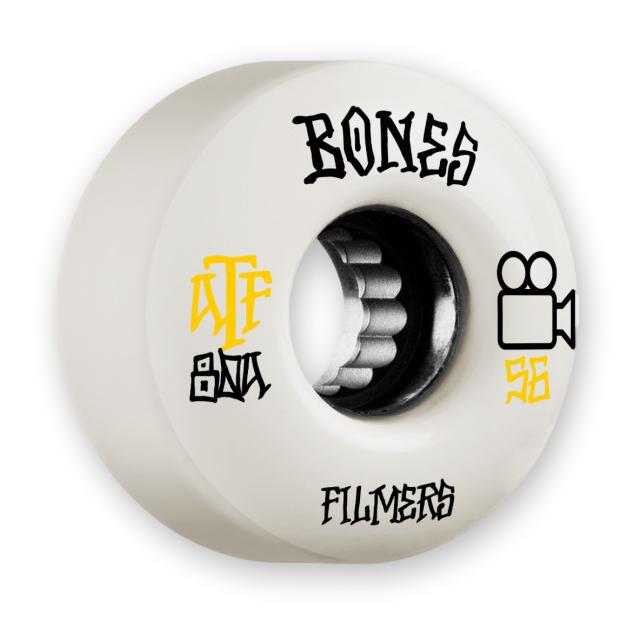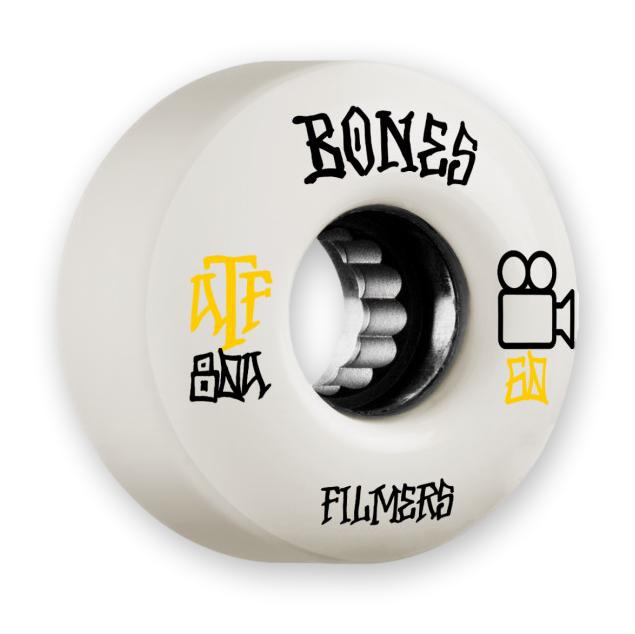 Bones Wheels Filmers Skateboard Wheels
🚚💨 Free 3-Day Shipping within the USA
The Ultimate In Street Stability

When it comes to the Bones Filmers, the name says it all. There is a reason they are the number one choice in skate wheels amongst those who prefer (or are forced to) hold a video camera for their buddies. The extra width, combined with the soft 80a durometer, and Bones' signature All Terrain Formula come together and provide a wheel that is stable at high speed and smooth rolling to get the cleanest footage possible.

A Soft Wheel For Handling The Hardest Of Conditions

By far the biggest standout feature of the Bones Filmers is going to be the plushy 80a durometer. These wheels will provide a significantly smoother ride for street and all-terrain skating. Not only do these bad boys maintain significant grip with the roads, but they still allow for powerslides and other similar tricks if so desired.

About The Shape

The filmers generally keep with the style of a standard skateboard wheel, with the exception that they are a tad bit wider. This added width will increase stability, especially at higher speeds, and allow for better hill bombing and grip around tight corners.
About All Terrain Formula™ (ATF)
All-Terrain Formula™ (ATF) wheels are poured in a special soft urethane we call All-Terrain Formula or (ATF). ATF wheels are excellent for rougher terrain so regardless of road quality, this revolutionary formula will roll you there quickly and smoothly.
Satisfaction Guaranteed
All BONES WHEELS manufactured products are warranted against manufacturing defects for the useful life of the product. If you feel your skateboard wheels, bushings, or other BONES WHEELS products were defective, you may send it back to us, freight prepaid. We will inspect it and let you know of our findings. If we decide your returned product was defective or failed to give reasonable service, we will replace that product with a similar, available product of the same or better quality and pay for the shipping back to you. You can send in multiple products to be inspected for your return. We will evaluate each product separate and will replace any and all products found to be defective.
About BONES WHEELS
Product Performance: Many skaters assume the performance and quality of skate wheels are all the same. A wheel is a wheel is a wheel, they might often say. That's actually not the case. In fact, very large differences exist between the raw materials, manufacturing process, quality control and performance of different wheel brands. Up until now though, a wheel's reputation has been a combination of market hype, market muscle, skater support and word of mouth. Bones wheels popularity is largely a result of superior quality, performance and durability.
Real Value: BONES may not be the lowest-priced wheel, but our abrasion test chart shows why Bones is the best value. After all, what good is a cheaper wheel if it flat spots the first day? BONES wheels offer the best combination of product performance, durability, quality, and customer service available today. In other words, you might be able to find a lower price, but never a better value.
Our Strength: All BONES WHEEL unique formulas are solely developed and produced in our own manufacturing plant located in Santa Barbara, CA. Using drastically different physical and engineering properties for each formula, BONES creates unique urethanes for specific applications of skateboarding.
Specifications:
Diameter: 52mm/54mm/56mm/60mm
Width: 32mm/33mm/34mm/36mm
Durometer: 80a
Formula: ATF
Suggested Use: All Terrain
Surface: Smooth
RETURN POLICY
We offer hassle-free returns within 30 days on brand new, resellable, and unused products without restocking fees.
In most cases, return shipping will be your responsibility. We can offer return labels for a fee upon request. 
Pre-paid return shipping label have a flat fee depending on the type of product you are returning: 
Wheels/trucks/bearings/etc - $7.99
Completes/decks - $16.99
Large completes/decks (over 34") - $21.99
Returns that are used, opened, or damaged are subject to a restocking fee. Products that are bought as used, open box, or mystery are final sale. 
PRICE MATCH POLICY
Stoked is confident that we provide the best products at the best prices. We price match/beat verifiably in stock products, including shipping fees. 
Please note that we cannot price match invoices, screenshots, past orders, eBay auctions, Craigslists posts, or any other unverifiable price. We have to be able to purchase the product from the approved store at the time of checking the price for the price match to apply. Price matching must also include any applicable shipping and other processing costs. 
USA SHIPPING
FREE for orders over $25 within the lower 48 states.
Affordable rates for AK, HI, and other territories.
INTERNATIONAL SHIPPING AND CUSTOMS FEES
We ship all over the world! When ordering from stokedrideshop.com, you are responsible for assuring the product can be lawfully imported to the destination.
To get a shipping rate for your country, add the items you wish to order to your cart and proceed to the "My Cart" page. Put in your address and select the shipping option that best applies to your needs.
The recipient/buyer is the importer of record and must comply with all applicable laws and regulations of the destination country. Customs delays can affect original delivery estimates.
Custom fees are not included in the price paid on stokedrideshop.com. Recipients of international shipments may be subject to import taxes, fees, and customs duties levied by the customs office of your shipping destination. Import Fees vary according to the customs regulations of the destination country.
If your country applies import fees to your order, you will be responsible for them. Check with your local post office or customs office of the destination country for more information.