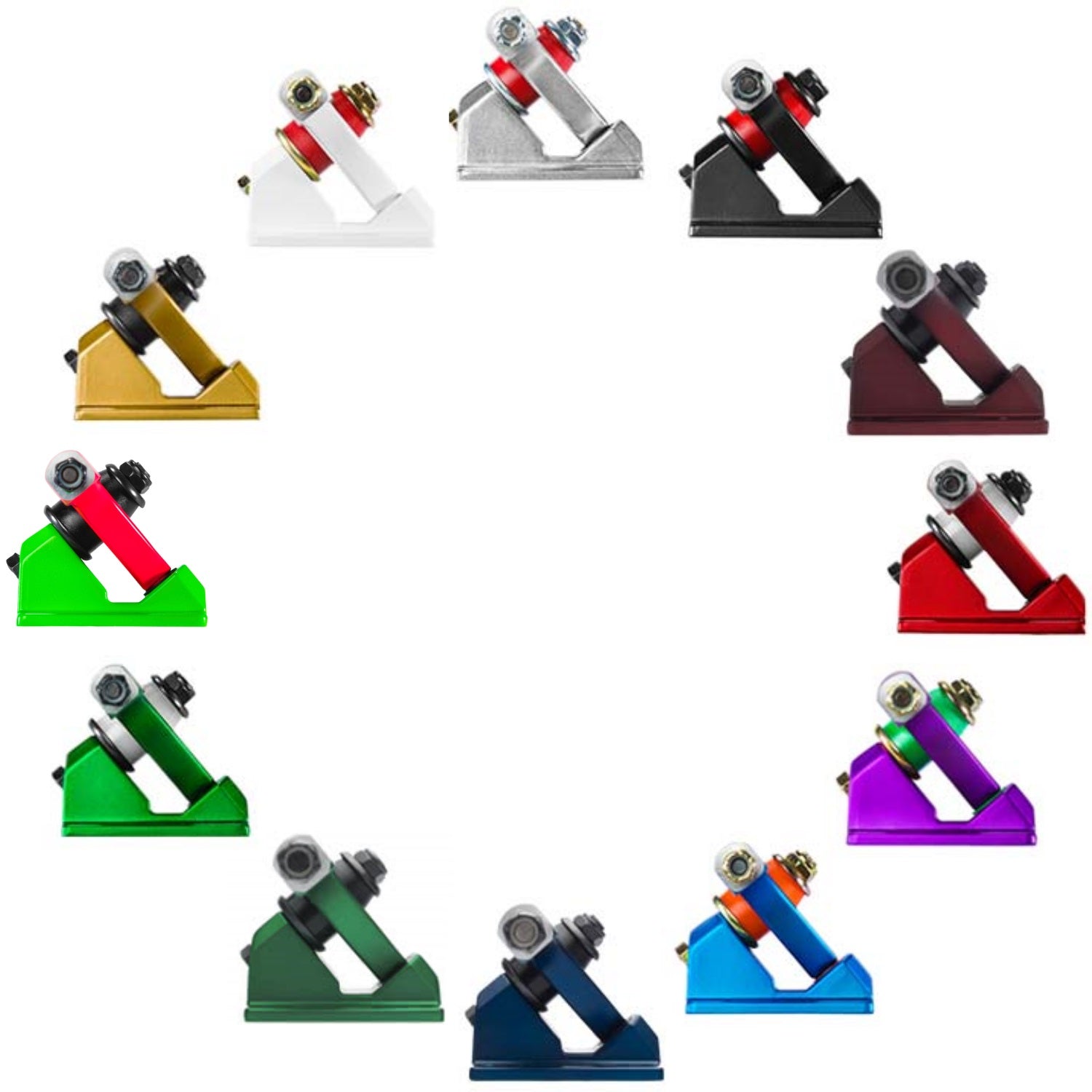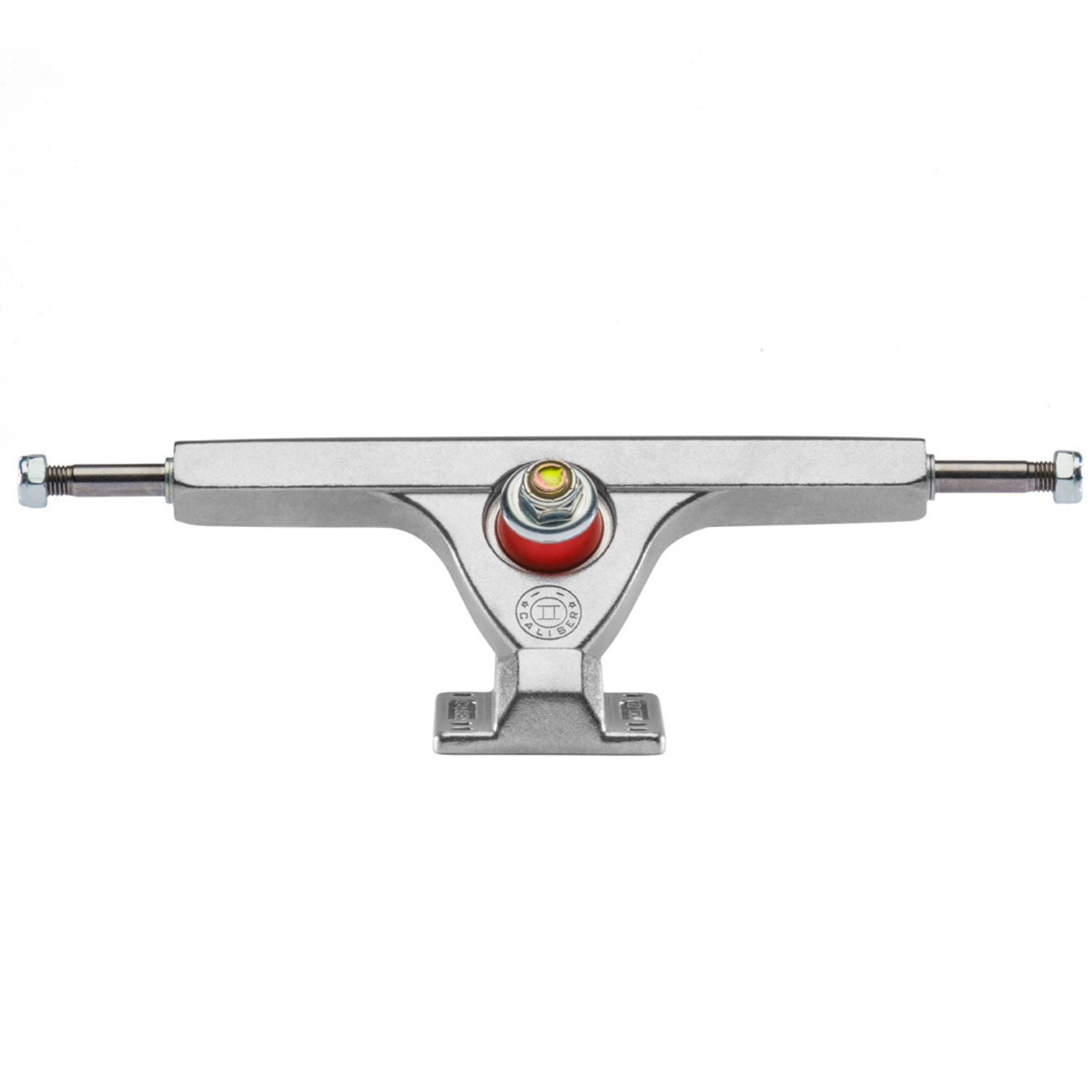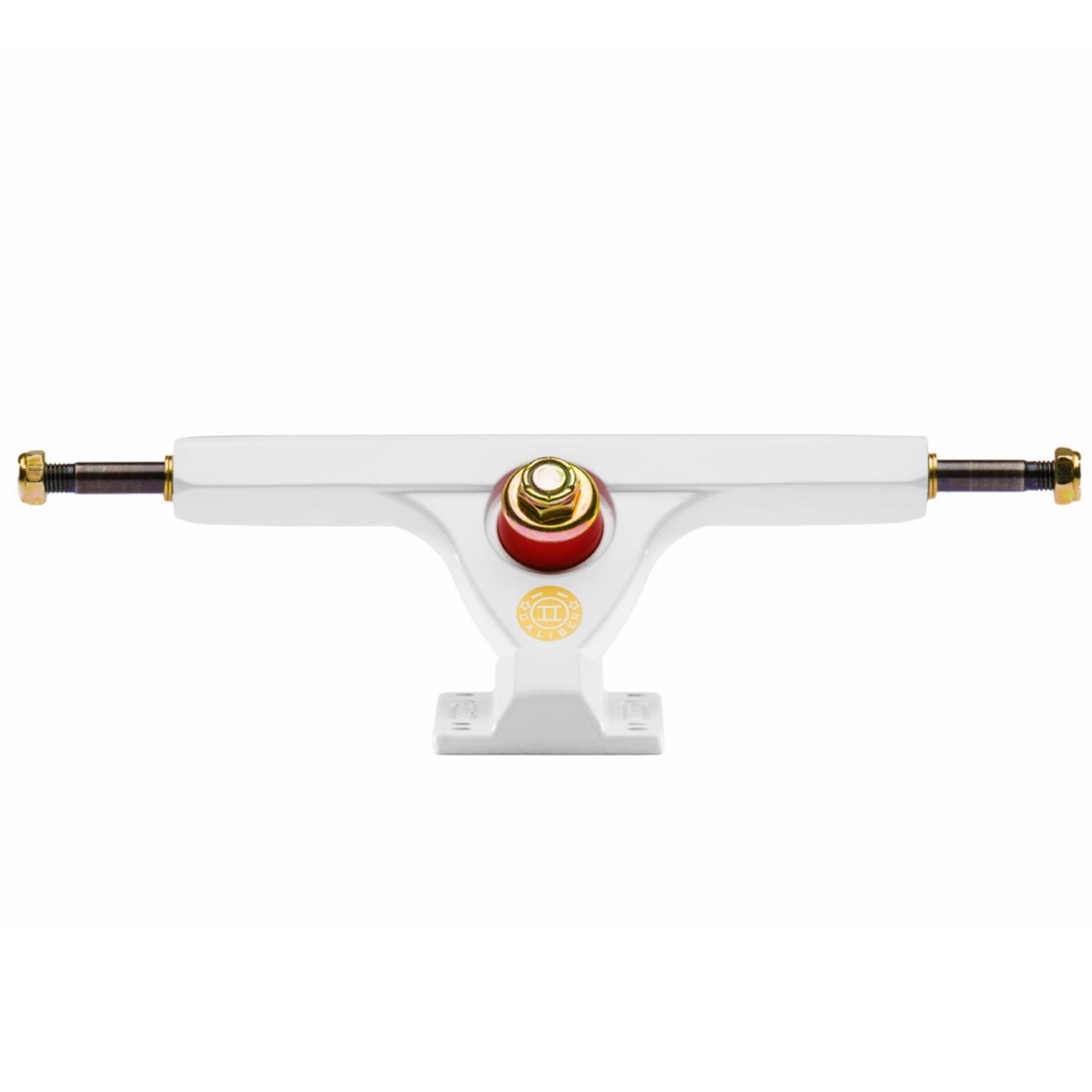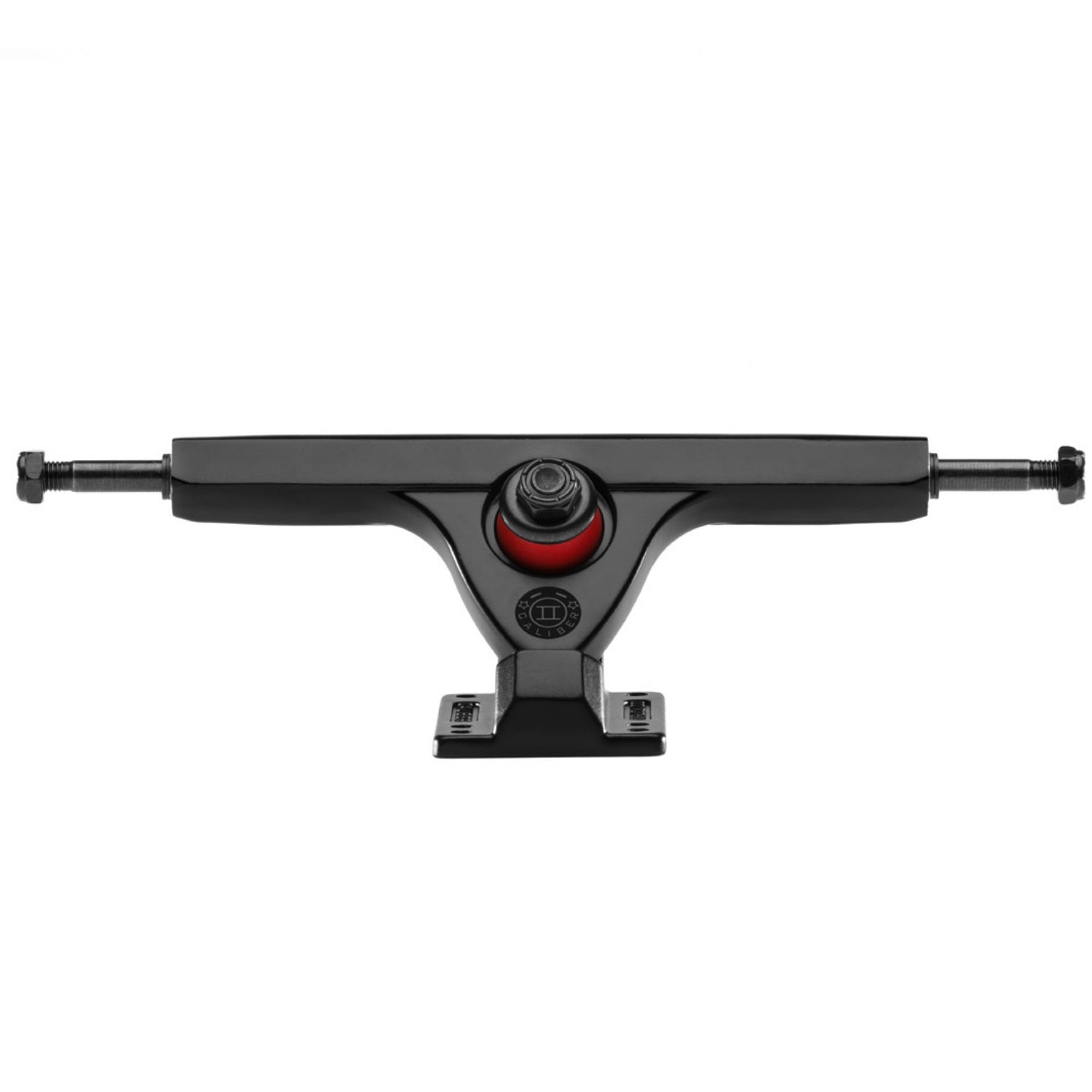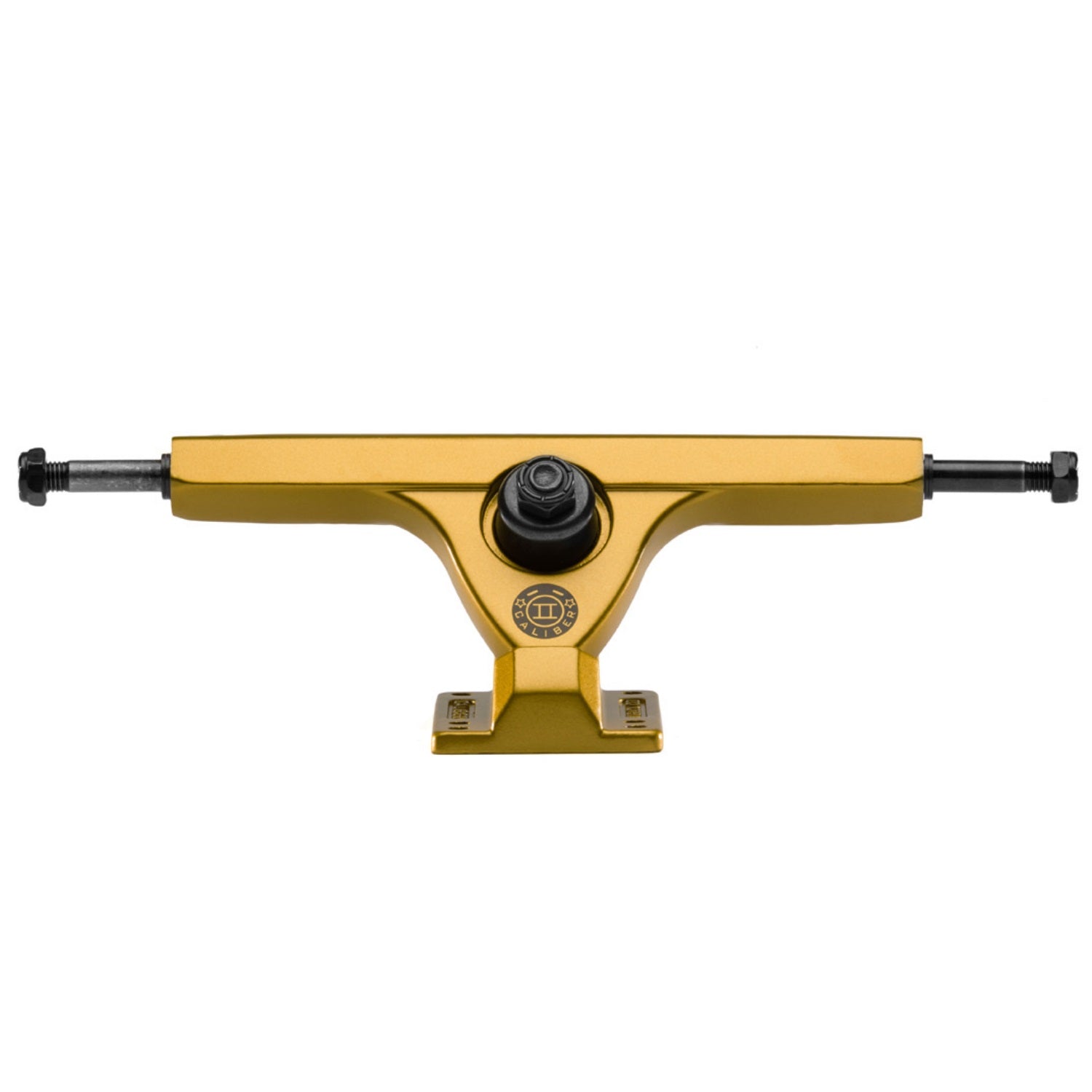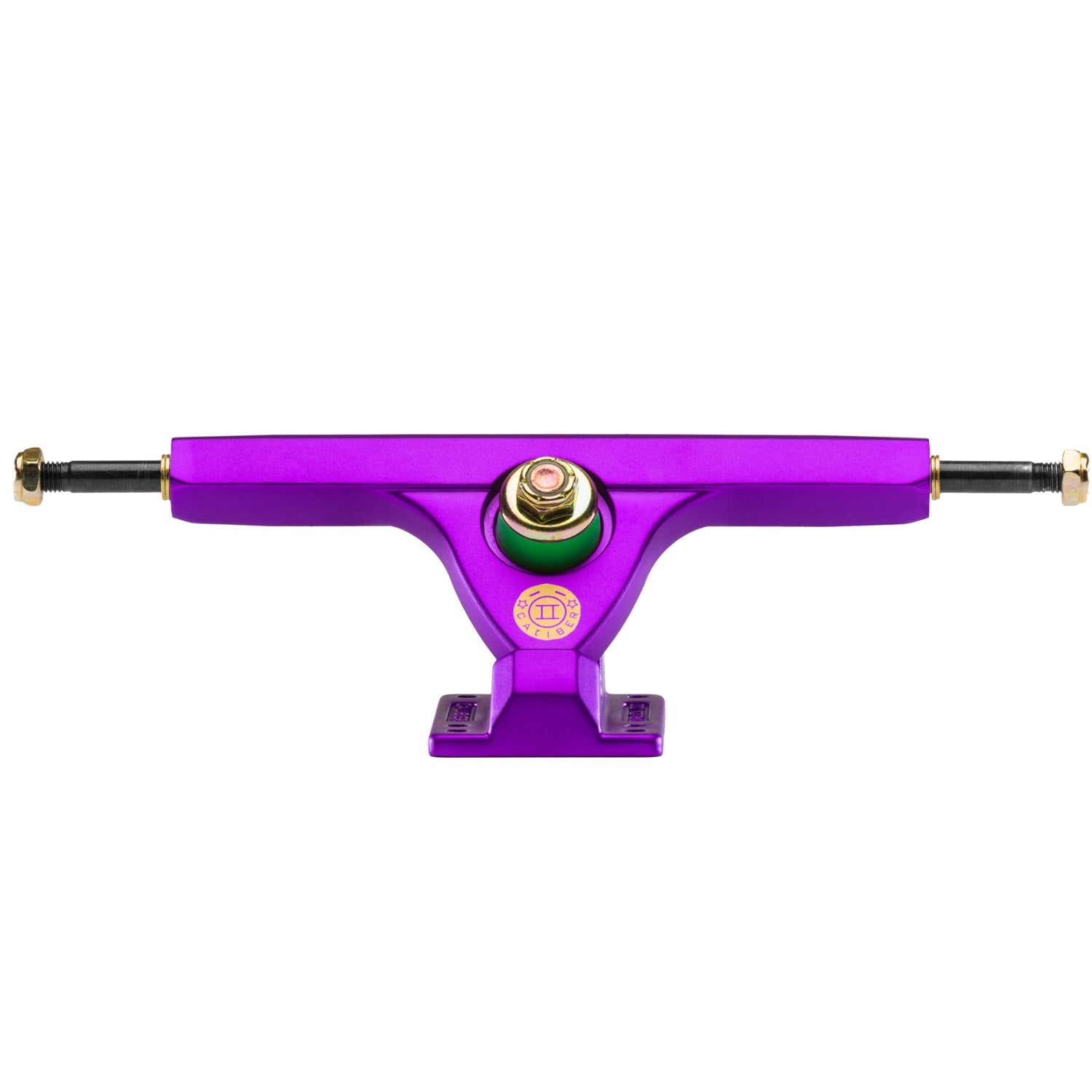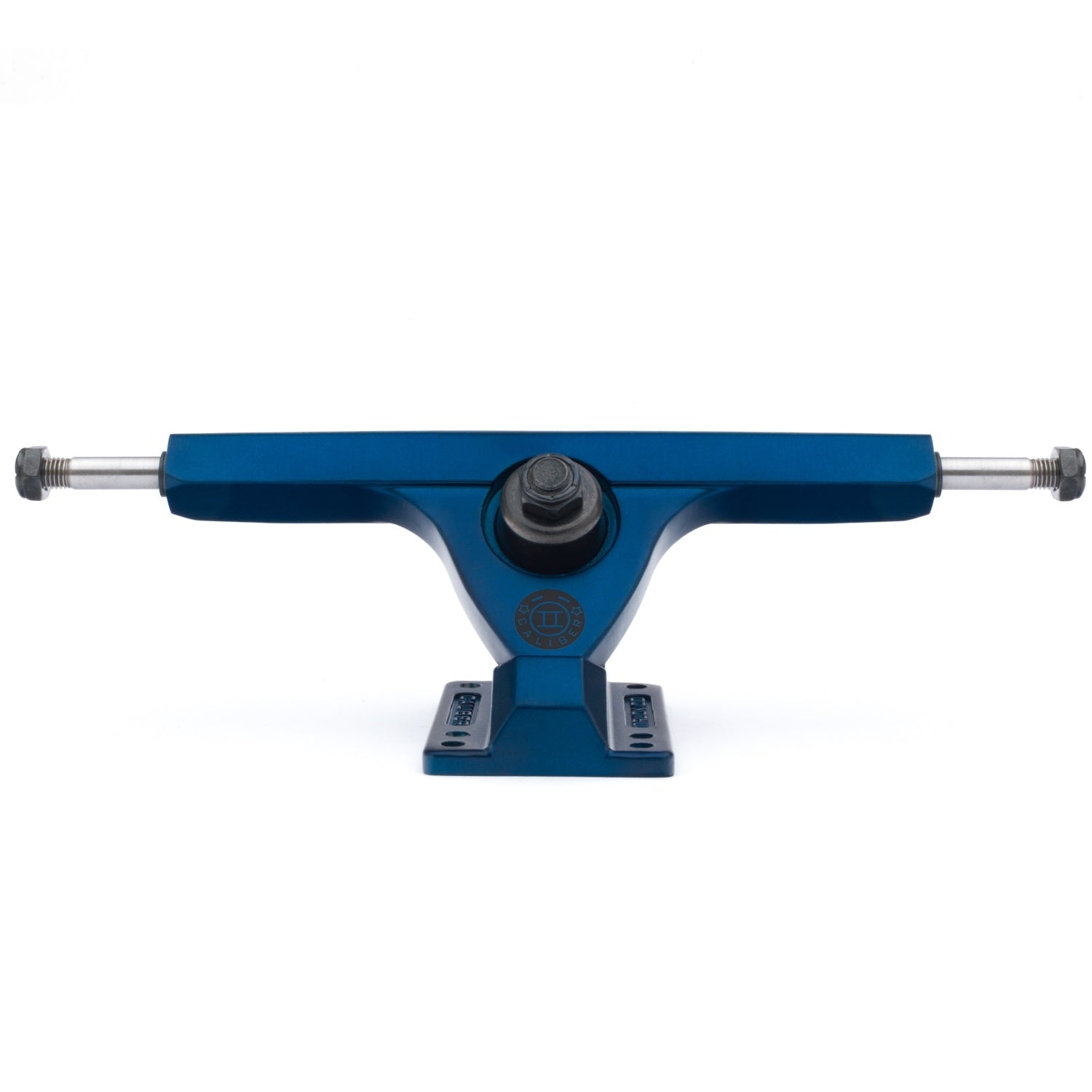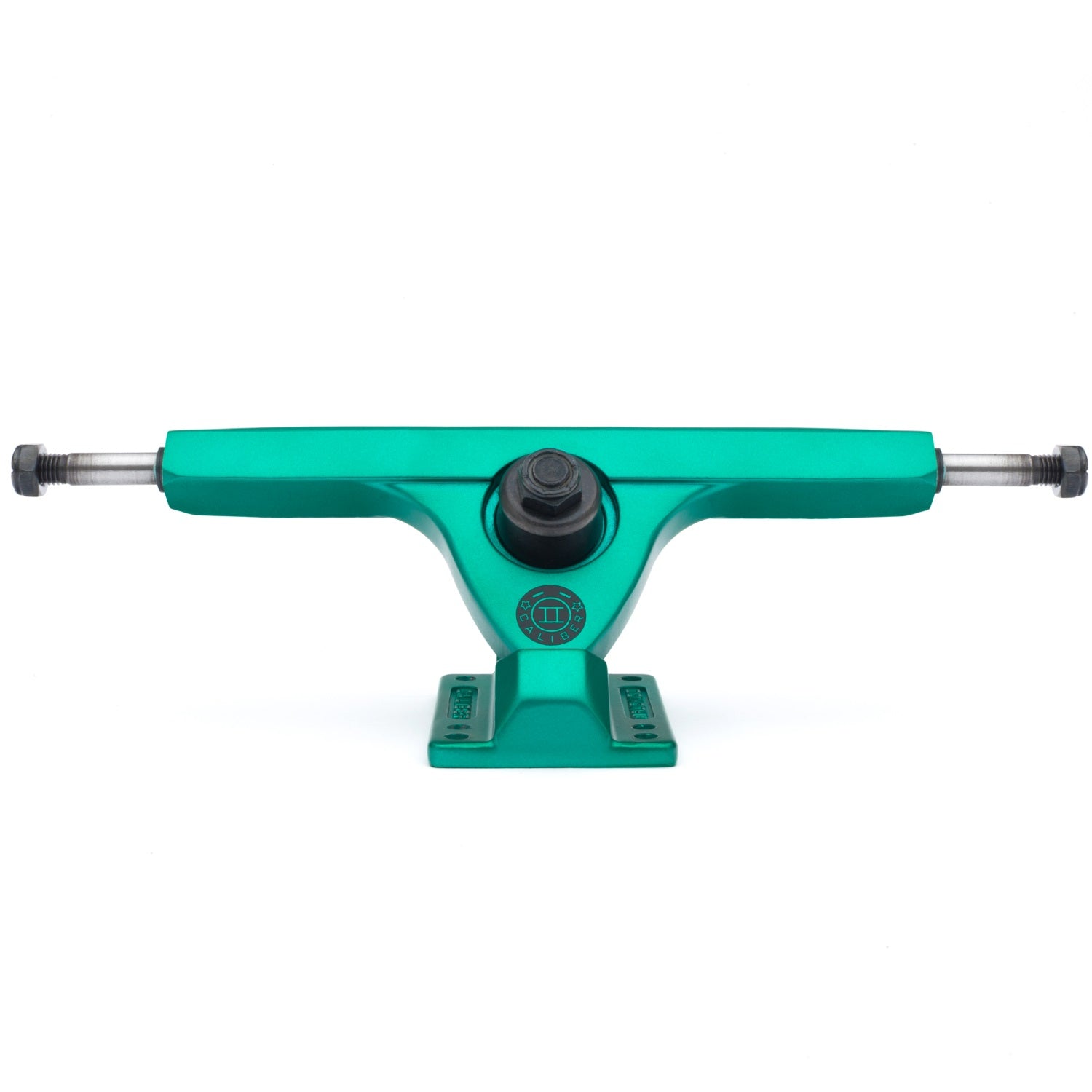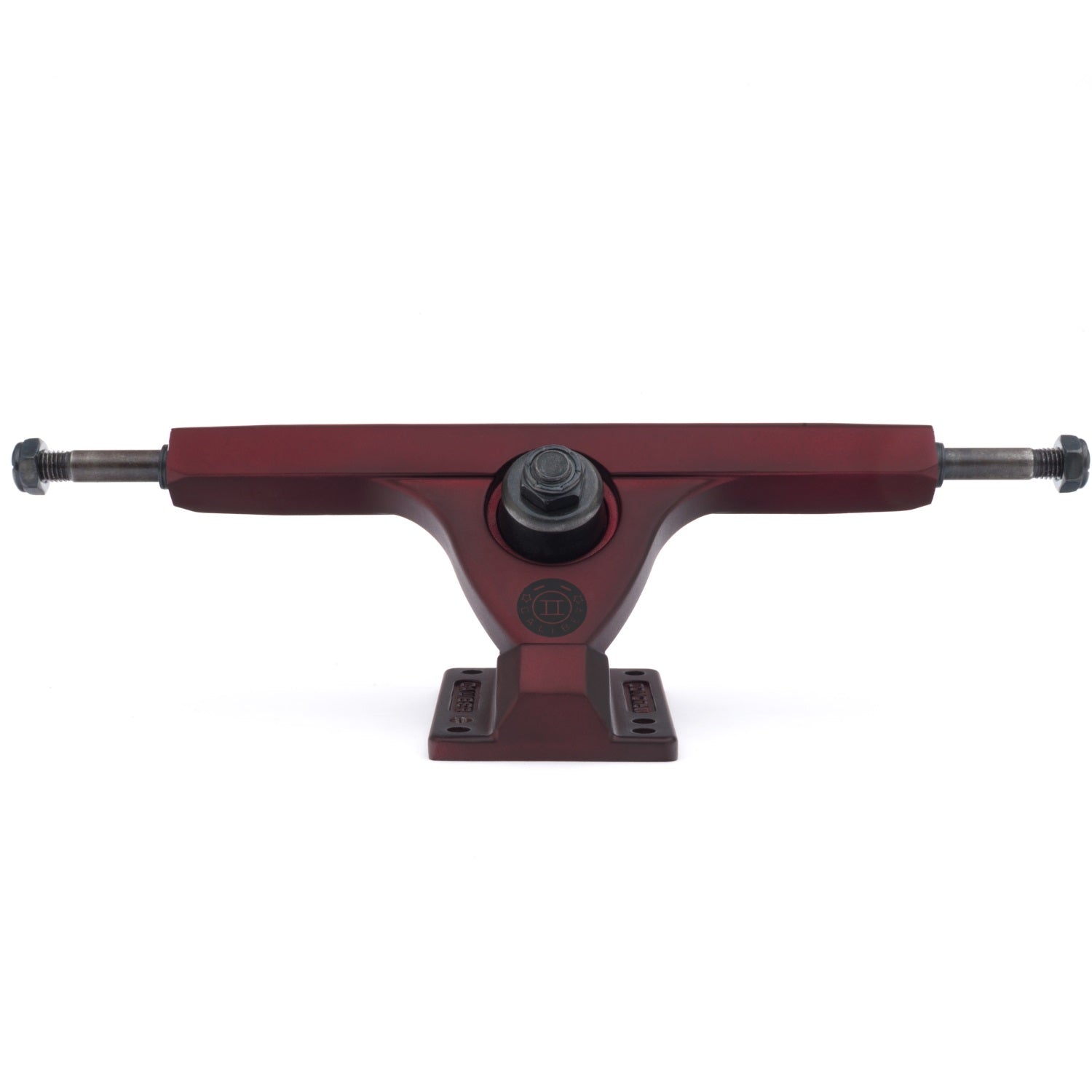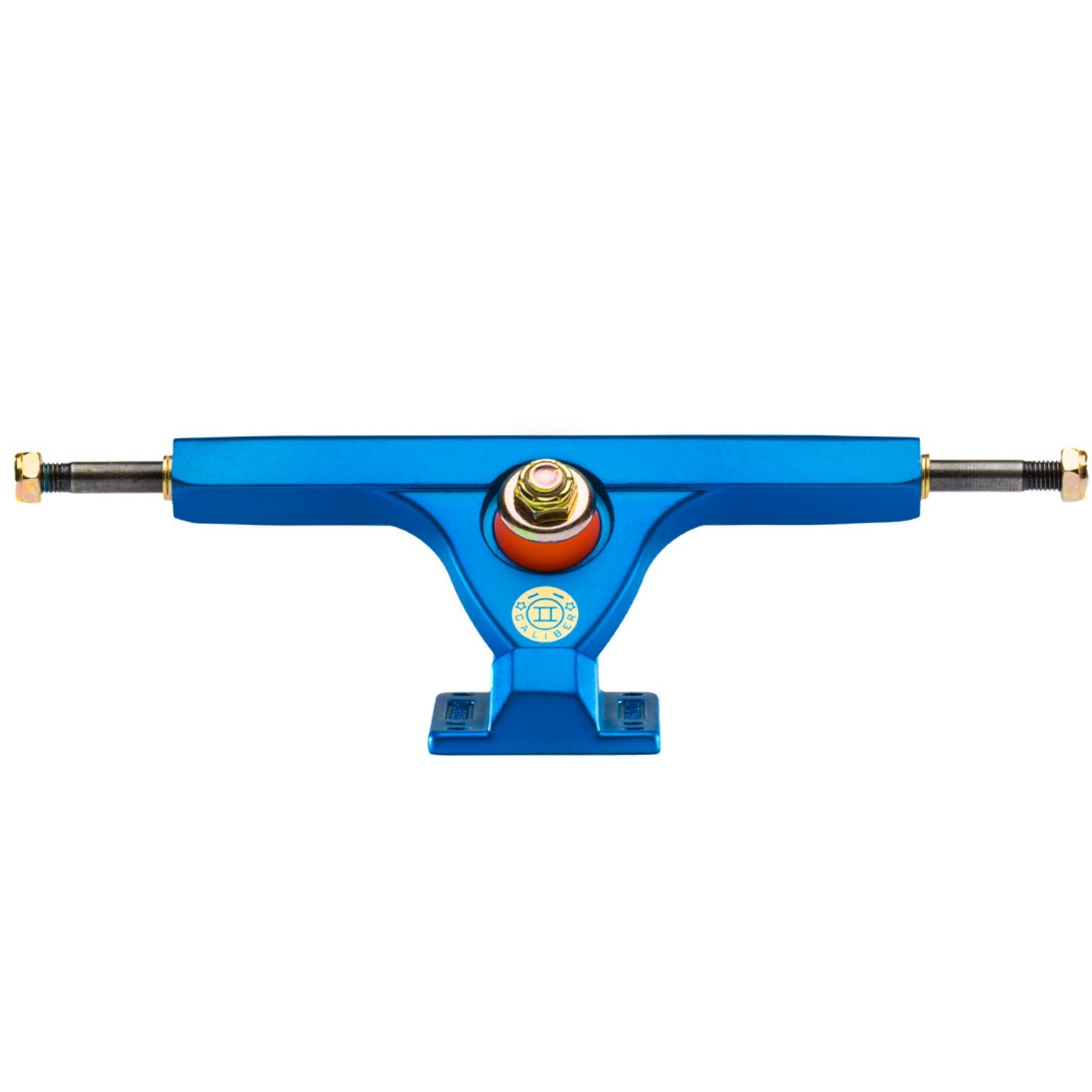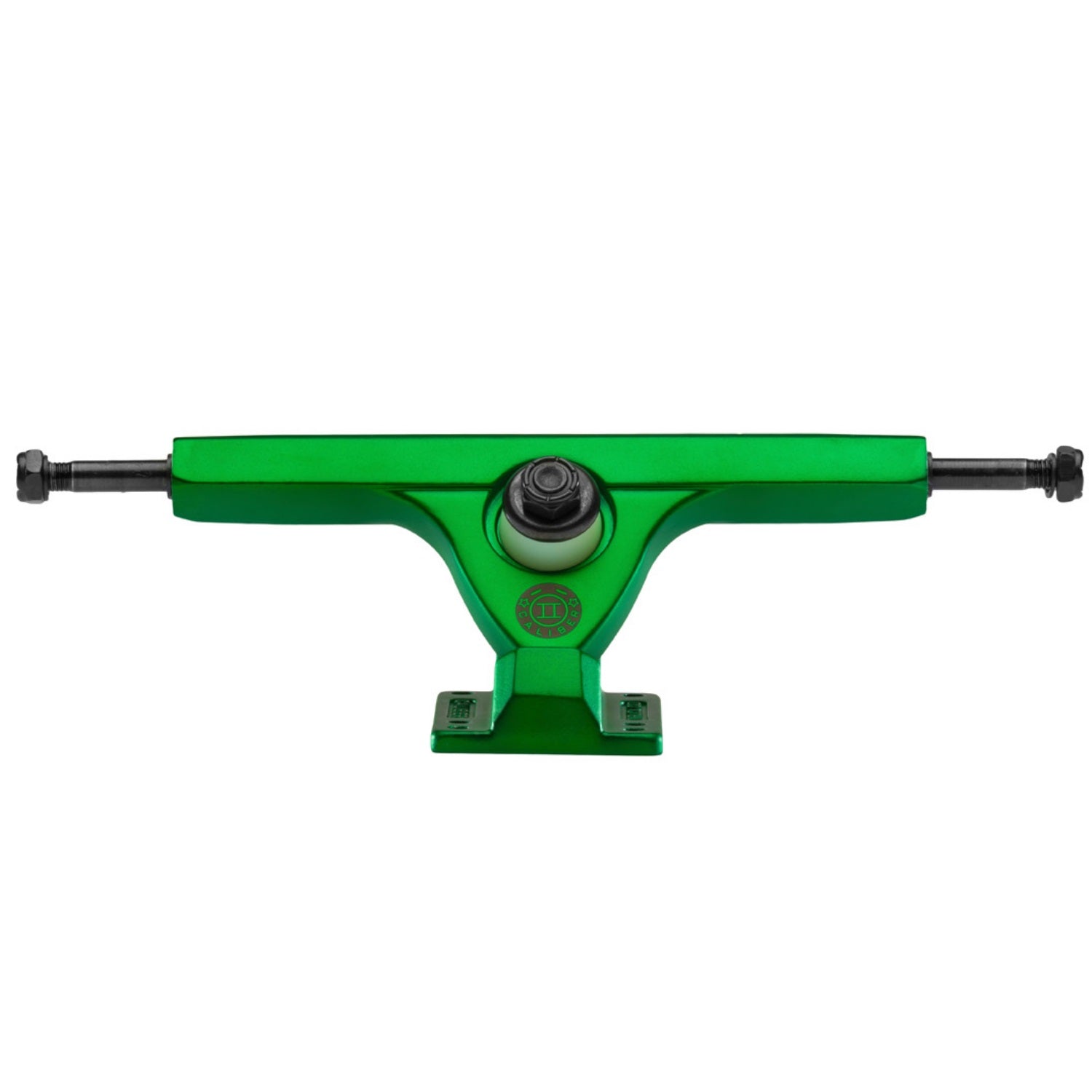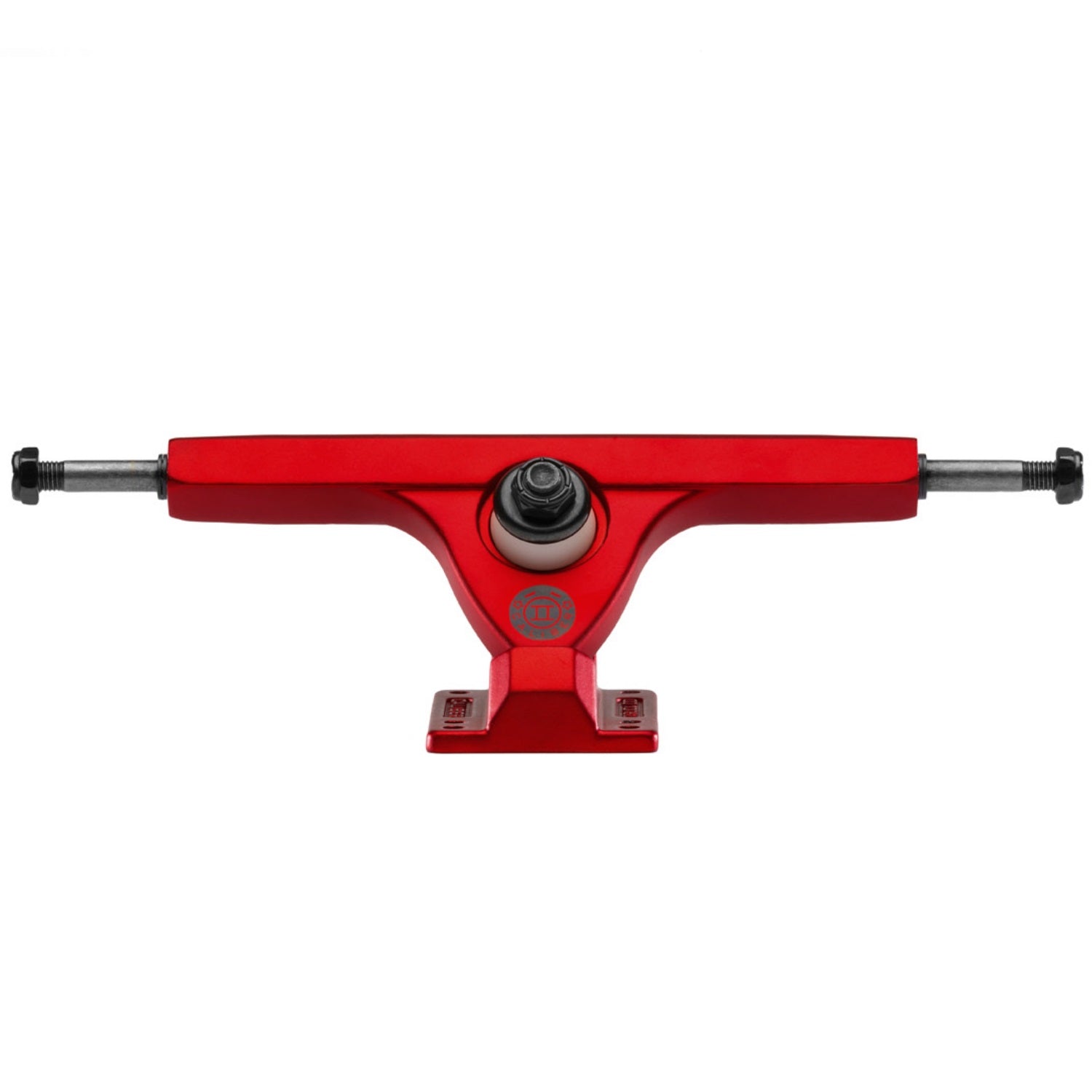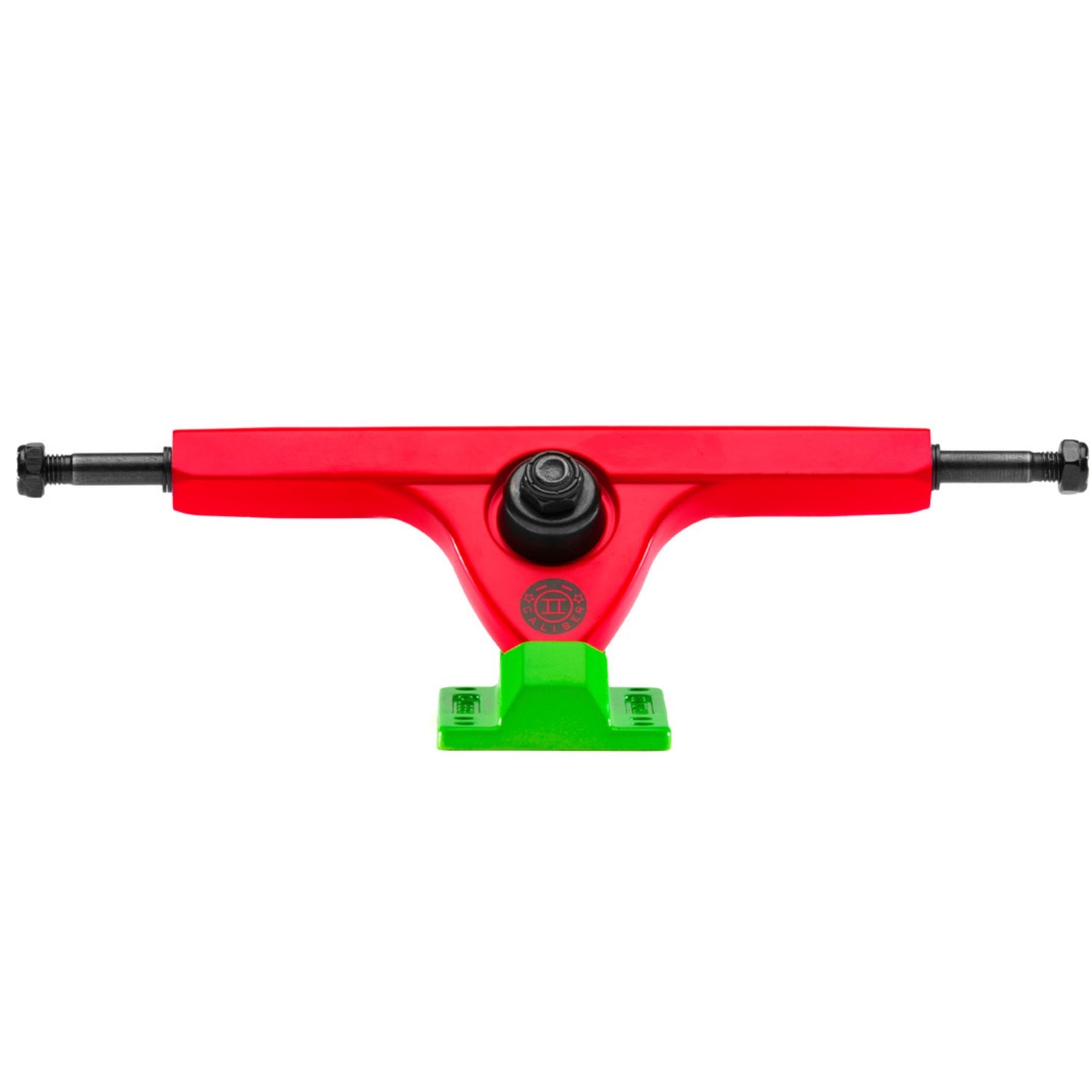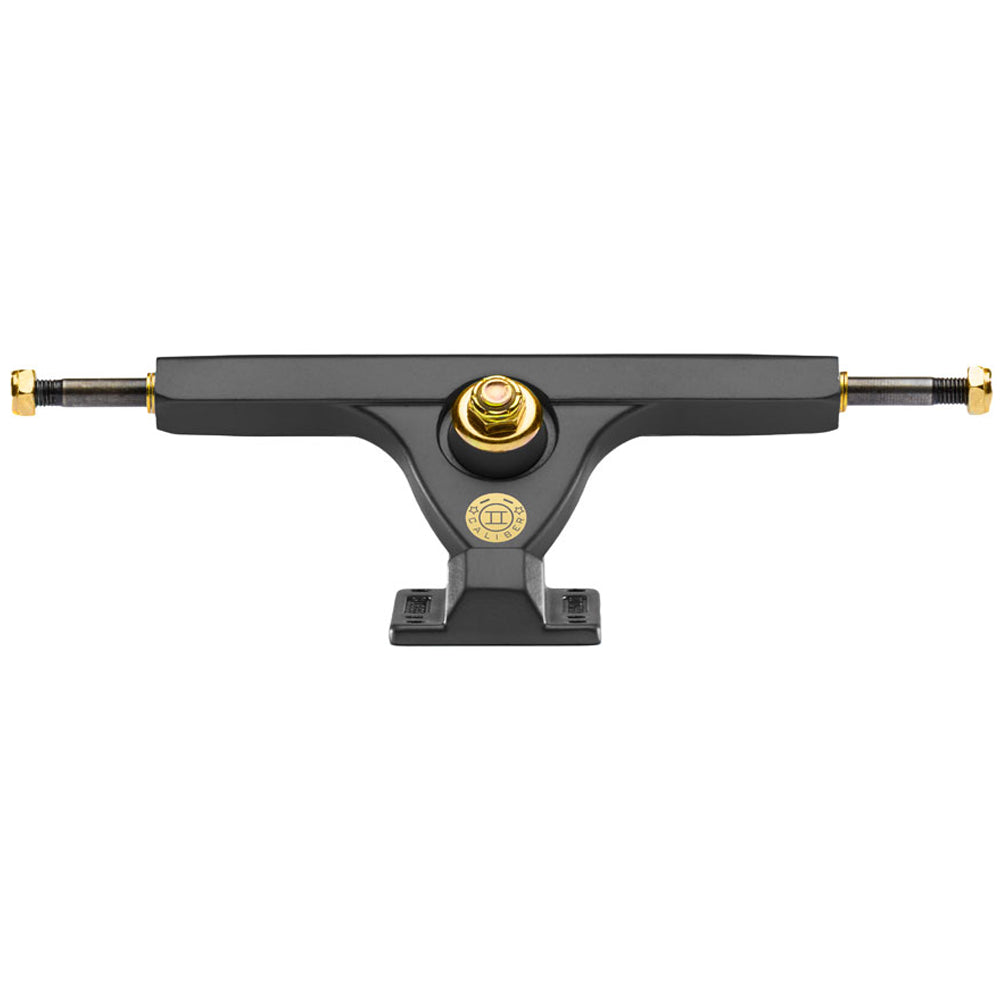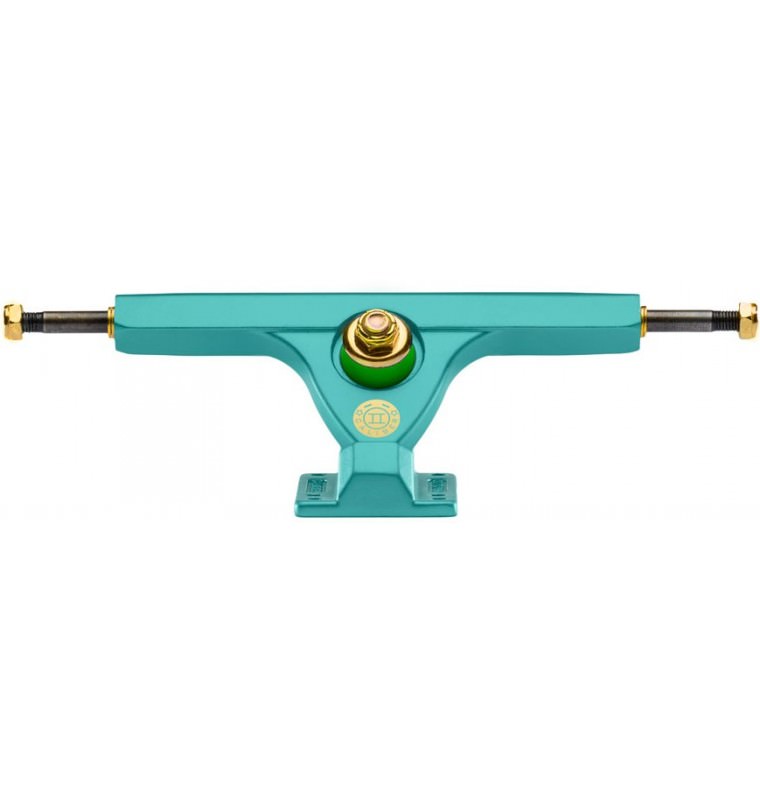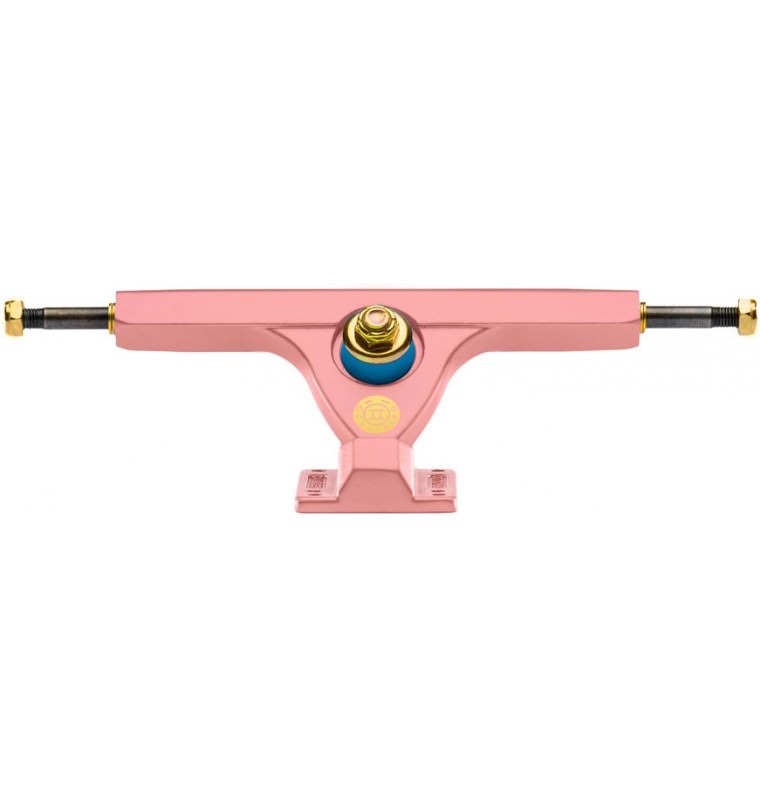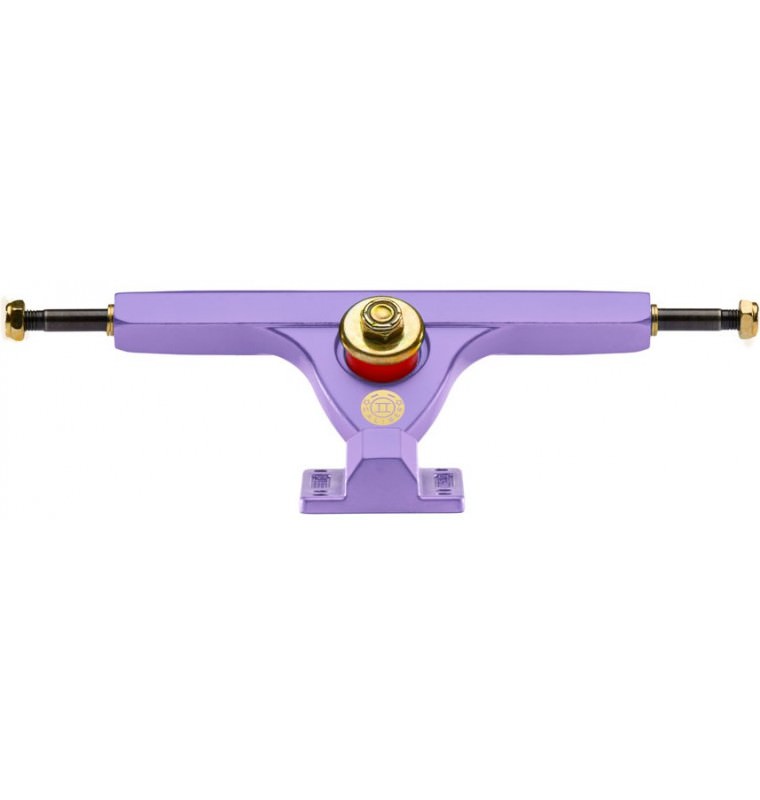 Caliber II Longboard Trucks [PAIR]
About The Caliber II Longboard Truck
Welcome to the newest line of Caliber trucks! The Caliber II truck was designed for taking on some major speed while also keeping stability. The Caliber II is great for downhill, but can also hold its' own during hard carves. These trucks come stock with Blood Orange's 89a durometer barrel bushings to help bypass rapid wobbles. Bushing seats offer a symmetrical position to maximize any form of busing setup. Furthermore, the baseplate has a pivot joint that fights side to side hanger play. This keeps the hanger tracking precisely in turns.
Inner/Outer Steps on Bushing Seat
The Caliber II has an innerstep with a higher contact area with the bushing creating more rebound and resulting in better responsiveness. The newly adjusted step diameter of 25.4mm gets rid of any and all bushing slop. For the outer step it has a 31.5mm diameter, making a no slop fit with larger bushing combinations.
Pivot with More Compact Tolerances and Renewed Chamfer
Caliber has expanded the pivot cup surface area connection with the baseplate by cutting down the pivot cup chamfer. By doing this, Caliber has created a more comfortable fit for the pivot pin and avoids side-to-side play when breaking in the pivot cup. Pivot smooth with Caliber IIs.
Circular Kingpin Hole with Restored Diameter
Caliber IIs offer a 17.4 mm kingpin hole to duplicate the specs of Caliber's precision trucks. With a circular hole, skaters are given a dependable and consistent lean, while also leaving room for appropriate clearance to evade kingpin bite.
Increased Truck Strength
Caliber IIs have increased their trucks strength by 40% from an in house treatment at the producing facility. Caliber IIs can hit rails and pop fatties with more confidence than ever before.
Pressed-In Grade 8 Hex Head Kingpins
Caliber IIs have changed their style and switched to a pressed in kingpin. By doing so, they have created a more controlled and responsive truck with no slop in the kingpin section.
Reinforced Baseplate
Thicker baseplates means more strength. Caliber IIs have thicker plates to strengthen the trucks upon impact. Again, Caliber IIs provide more confidence than ever before with hard hitting tricks.
Thinner paints for tightened tolerances
Paint often time gets in the way of core components seating correctly. From bushings to bearings to kingpins, paint may make your truck look good, but too much isn't ideal for precision fits needed for top performance. Caliber IIs have super thin paint to eliminate throwing off the tolerance. This greatly increases the overall performance of the truck on the skateboard. Look good and still preform like a pro.
Bushing Seat Details
The bushing seats have been designed to be symmetrical for the most favorable structure of any style of bushing. The inner and outer steps make accommodating many bushing types effortless and precise.
Specifications
Width

:

 

44 degree: 184mm (10 inches) / 50 degree: 184mm (10 inches)

Bushing Type and Durometer

:

 

44 and 50 degrees: Blood Orange Ultra-HR Bushings (89A)

Ride Height

:

 

44 degree: 2.3125 inches (5.8738 cm) / 50 degree: 2.375 inches (6.0325 cm)

Axle Size

:

 

8mm

Rake

:

 

No Rake

Baseplate Degree(s)

:

 

44 degrees / 50 degrees

Kingpin Style

:

 

Grade 8 Steel Reverse Kingpin

Special Features

:

 

Caliber heavily tests each and every product release to make sure it is the best of the best. The Caliber II is top notch and unmatched in terms of skate-ability and quality.
RETURN POLICY
We offer hassle-free returns within 30 days on brand new, resellable, and unused products without restocking fees.
In most cases, return shipping will be your responsibility. We can offer return labels for a fee upon request. 
Pre-paid return shipping label have a flat fee depending on the type of product you are returning: 
Wheels/trucks/bearings/etc - $7.99
Completes/decks - $16.99
Large completes/decks (over 34") - $21.99
Returns that are used, opened, or damaged are subject to a restocking fee. Products that are bought as used, open box, or mystery are final sale. 
PRICE MATCH POLICY
Stoked is confident that we provide the best products at the best prices. We price match/beat verifiably in stock products, including shipping fees. 
Please note that we cannot price match invoices, screenshots, past orders, eBay auctions, Craigslists posts, or any other unverifiable price. We have to be able to purchase the product from the approved store at the time of checking the price for the price match to apply. Price matching must also include any applicable shipping and other processing costs. 
USA SHIPPING
FREE for orders over $25 within the lower 48 states.
Affordable rates for AK, HI, and other territories.
INTERNATIONAL SHIPPING AND CUSTOMS FEES
We ship all over the world! When ordering from stokedrideshop.com, you are responsible for assuring the product can be lawfully imported to the destination.
To get a shipping rate for your country, add the items you wish to order to your cart and proceed to the "My Cart" page. Put in your address and select the shipping option that best applies to your needs.
The recipient/buyer is the importer of record and must comply with all applicable laws and regulations of the destination country. Customs delays can affect original delivery estimates.
Custom fees are not included in the price paid on stokedrideshop.com. Recipients of international shipments may be subject to import taxes, fees, and customs duties levied by the customs office of your shipping destination. Import Fees vary according to the customs regulations of the destination country.
If your country applies import fees to your order, you will be responsible for them. Check with your local post office or customs office of the destination country for more information.