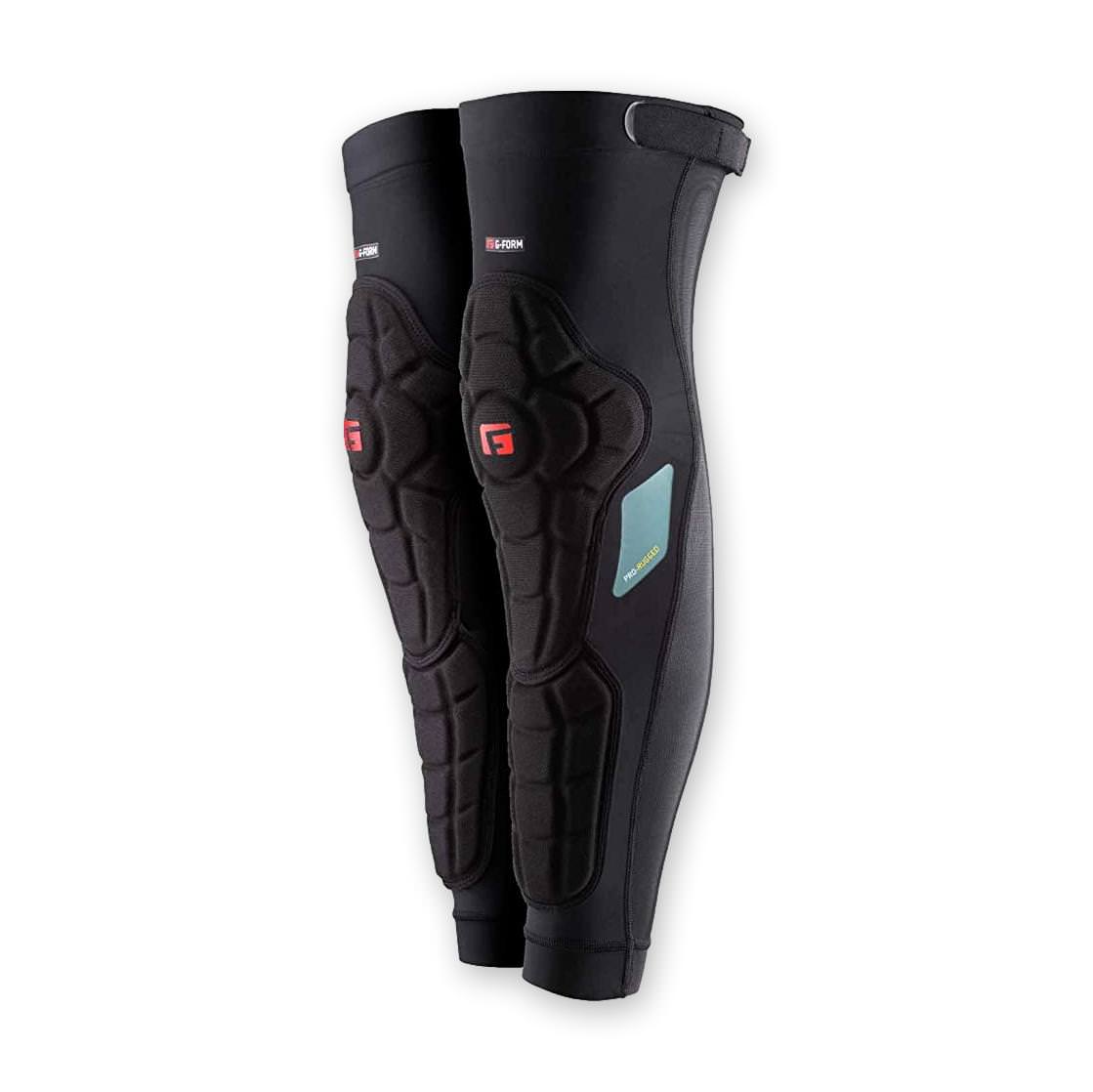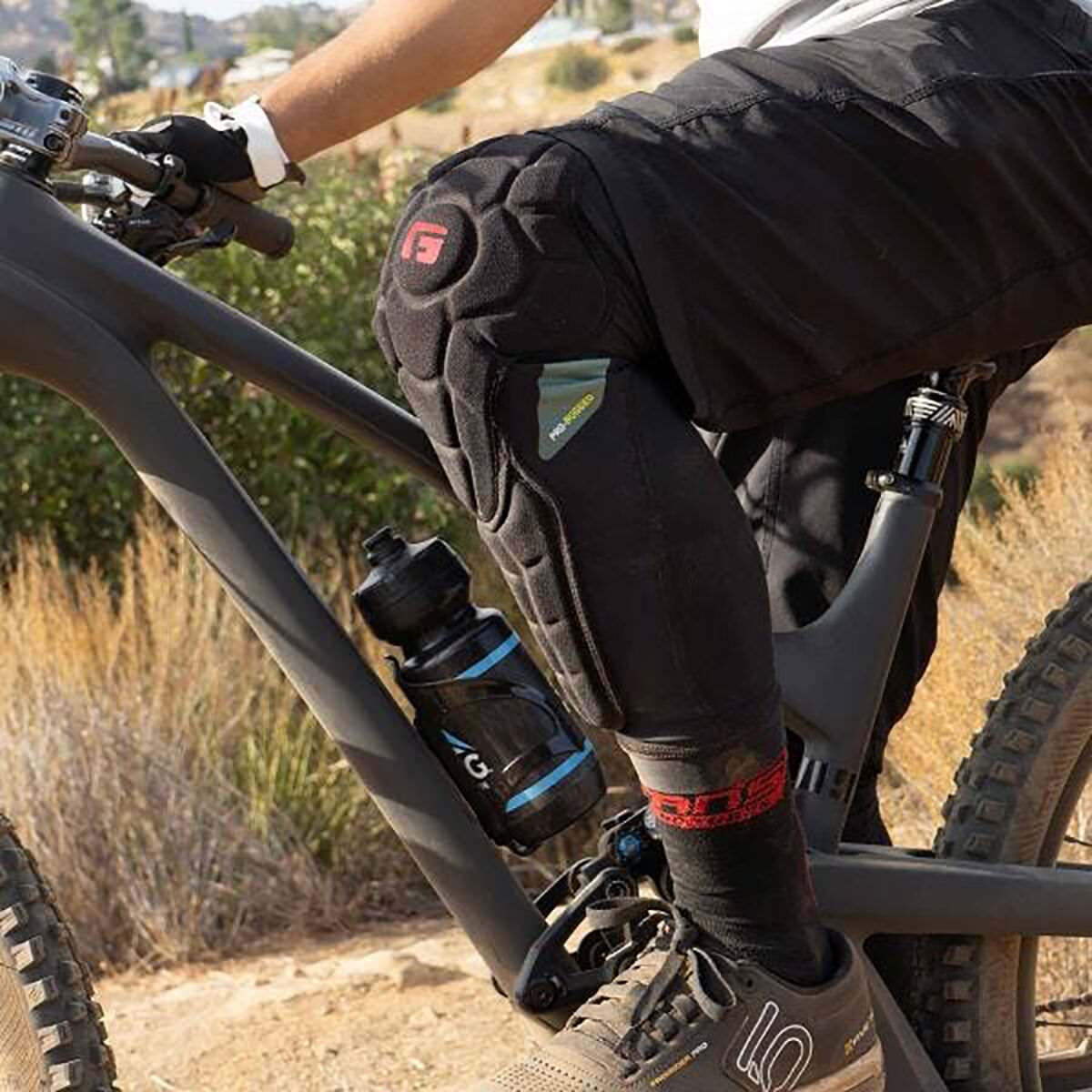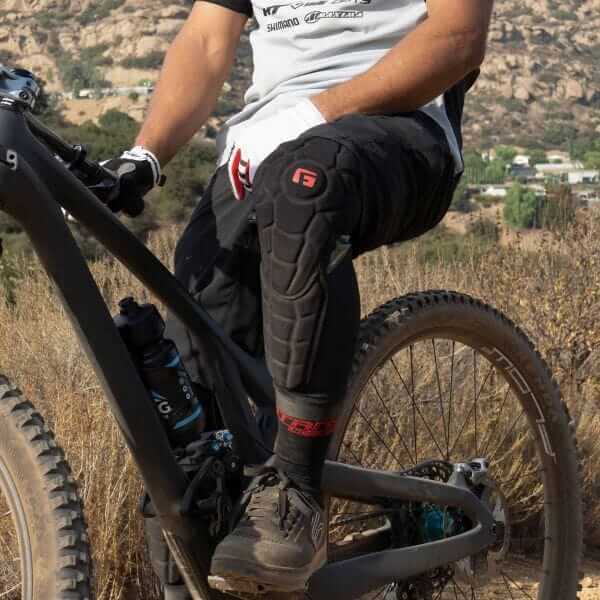 G-Form Pro Rugged Knee Shin Pads
More durability. More comfort. More customized fit. Pro-Rugged Knee-Shin Guards are made with SmartFlex™ — body-mapped, impact absorbing pads that offer form-fitting and lightweight protection that is flexible as you ride and hardens on impact. So bring on more trails with sharp branches and rocks.
Designed for high performance mountain bike riding. 
Featuring SmartFlex™: Flexible as you ride. Hardens on Impact.

Extra wide top gripper distributes pressure and keeps pads in place
Ventilated mesh back keeps you cool and dry
CE 1621-1 certified to ensure outstanding protection
Adjustable fit-strap for customized comfort
Armortex technology adds durability to pads and resists tearing or catching
Soft inner foam keeps pads secure and comfortable on knees
Extended coverage for shins
Low-profile bottom gripper keeps pads in place
Machine washable
When it comes to innovation in the world of athletic safety equipment, G-Form comes out as number 1. Constantly improving and coming up with neater concepts, G-Form has developed pads that any skateboarder can appreciate.
G-Form's Knee Shin Pads are the slimmest, sleekest, most comfortable and most breathable knee pads that you will ever find! Not much thicker than a typical knee brace, G-Form Knee pads will help keep things more comfortable for you. When you are out skating, you might even forget that you are wearing them. The slim fit is ideal for whenever you are doing maneuvers that brings your legs close together. Examples of this would include; tucking, shortboard, freestyle, and "dancing" tricks, skogging and long distance pushing, etc. No more worries about your bulky knee pads bumping into each other and making things harder than they need to be!
The Technology
G-Form Pads are sleek and fit snug, yet are very comfortable. What sets them apart from the most is the technology that goes behind the making of these pads, keeping you safe and less prone to injuries from intense impacts. Using their patented Rate-Dependent Material (RDM), G-Form has created the most technologically advanced protective equipment in the world.
So what exactly does the Rate-Dependent Material consist of and what makes it so special? To put it most simply, the foam padding in G-Form pads is comprised of molecules that slightly repel off each other. This makes the material soft and flexible. However, upon impact, these molecules act as a team and group up, or huddle together almost instantly, and create a wall of protection that absorbs the impact. After the impact, the molecules return to their normal state and you are back with a form-fitting and comfortable piece of safety equipment, and hopefully you are back up on your feet and ready to skate some more or at least well enough to get up relatively unharmed! Even with all this technology, G-Form Pads are machine washable so you can throw them in the washer machine with the rest of your clothes, hassle free!
One thing worth mentioning… while these pads are awesome and will keep you protected, they are intended primarily for impact protection – elbow, knee, and tailbone slams and collisions. They are not intended for large amounts of abrasion and will eventually tear if you drag them across pavement. If you are going to be riding real low to the ground we either recommend wearing something (leather suit or clothes) over the pads or using pads with hard plastic claps (check out our 187 pads). With that being said, you'll be hard pressed to find protective gear that is more protective, yet so sleek, than G-Form Pads.
Multiple Impacts!
The G-Form pad will protect you from repeated impacts – most bicycle helmets need to be replaced after one impact, but unlike those, G-Form technology will stay protective for every impact.
Sizing Up Your Pads
For sizing, follow the chart below or take a gander at the sizing chart image at the top of the page.
Thigh measurement should be taken at 6 inches above the kneecap while the calf measurements should be taken at the widest point of your calf.
SIZE CHART
Where to measure
Extra Small
Small
Medium
Large
Extra Large
Thigh

8" above kneecap

16.5 - 18"
(42 – 46 cm)
18 – 19"
(46 – 48.5 cm)
19 – 20"
(48.5 – 51 cm)
20 – 21.5"
(51 – 54.5 cm)
21.5 – 23"
(54.5 -58.5 cm)
Calf

Around largest point

11 – 13"
(28 – 33 cm)
13 – 14"
(33 – 35.5 cm)
14 - 15"
(35.5 – 38 cm)
15 – 16"
(38 – 40.5 cm)
16 – 17.5"
(40.5 – 44.5 cm)
RETURN POLICY
We offer hassle-free returns within 30 days on brand new, resellable, and unused products without restocking fees.
In most cases, return shipping will be your responsibility. We can offer return labels for a fee upon request. 
Pre-paid return shipping label have a flat fee depending on the type of product you are returning: 
Wheels/trucks/bearings/etc - $7.99
Completes/decks - $16.99
Large completes/decks (over 34") - $21.99
Returns that are used, opened, or damaged are subject to a restocking fee. Products that are bought as used, open box, or mystery are final sale. 
PRICE MATCH POLICY
Stoked is confident that we provide the best products at the best prices. We price match/beat verifiably in stock products, including shipping fees. 
Please note that we cannot price match invoices, screenshots, past orders, eBay auctions, Craigslists posts, or any other unverifiable price. We have to be able to purchase the product from the approved store at the time of checking the price for the price match to apply. Price matching must also include any applicable shipping and other processing costs. 
USA SHIPPING
FREE for orders over $25 within the lower 48 states.
Affordable rates for AK, HI, and other territories.
INTERNATIONAL SHIPPING AND CUSTOMS FEES
We ship all over the world! When ordering from stokedrideshop.com, you are responsible for assuring the product can be lawfully imported to the destination.
To get a shipping rate for your country, add the items you wish to order to your cart and proceed to the "My Cart" page. Put in your address and select the shipping option that best applies to your needs.
The recipient/buyer is the importer of record and must comply with all applicable laws and regulations of the destination country. Customs delays can affect original delivery estimates.
Custom fees are not included in the price paid on stokedrideshop.com. Recipients of international shipments may be subject to import taxes, fees, and customs duties levied by the customs office of your shipping destination. Import Fees vary according to the customs regulations of the destination country.
If your country applies import fees to your order, you will be responsible for them. Check with your local post office or customs office of the destination country for more information.