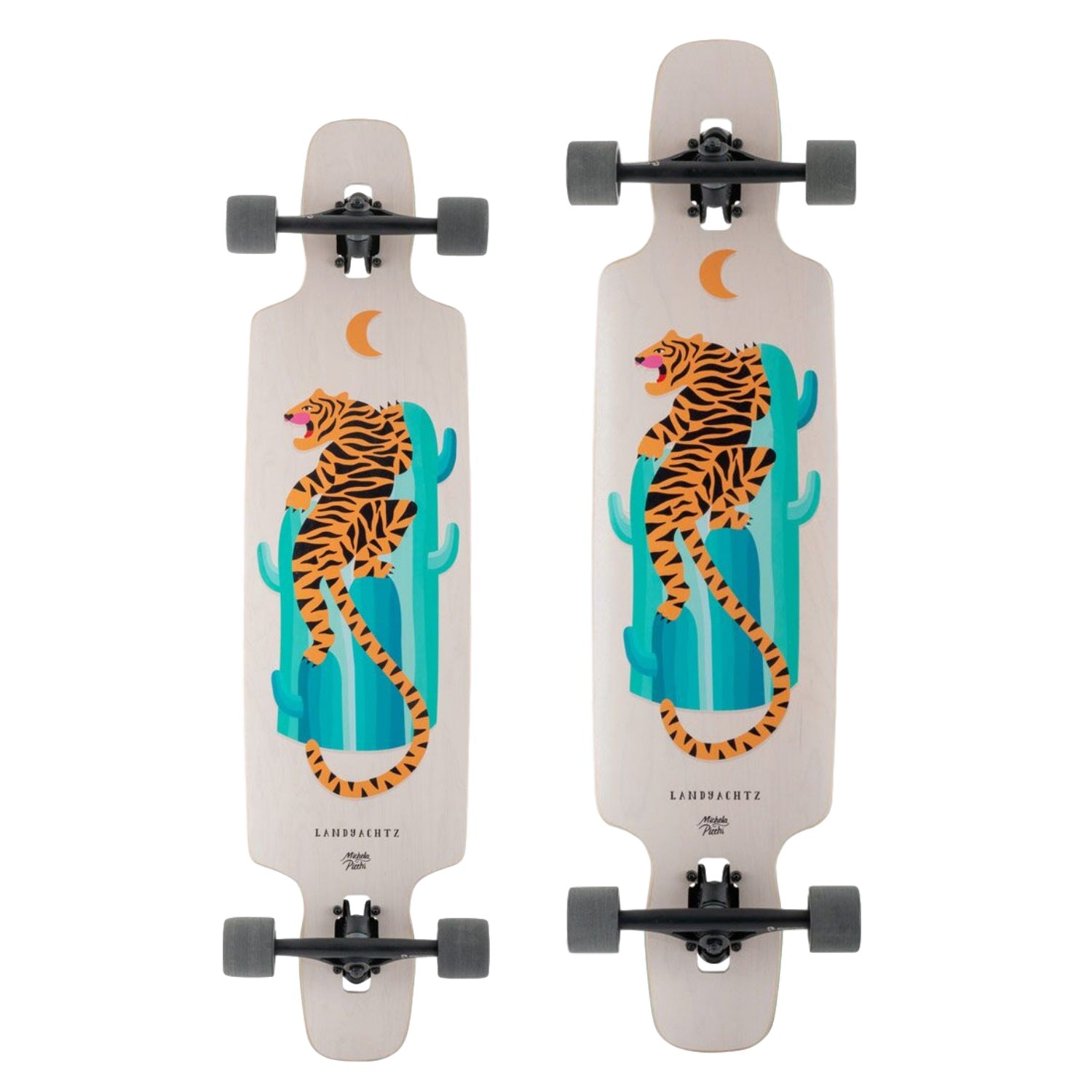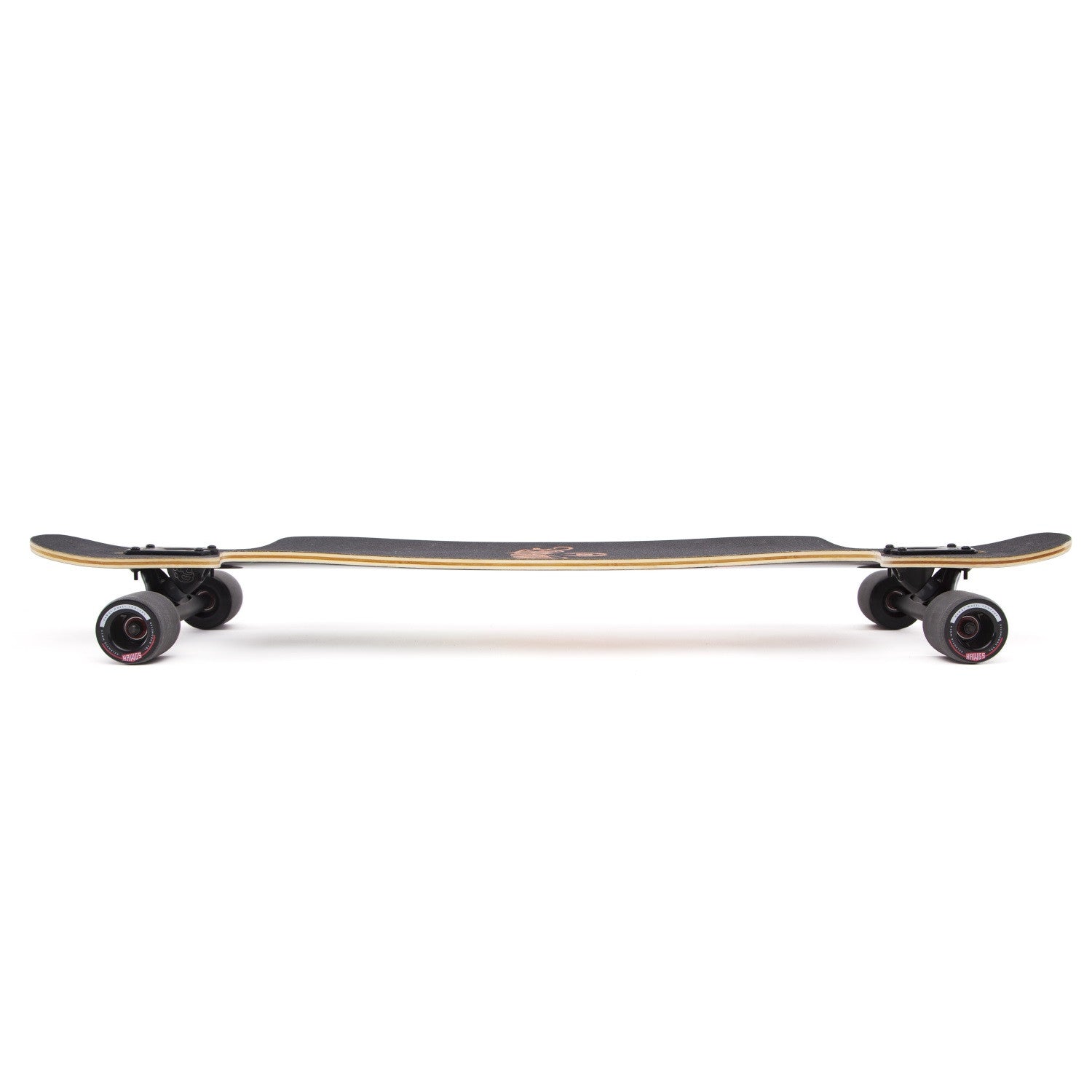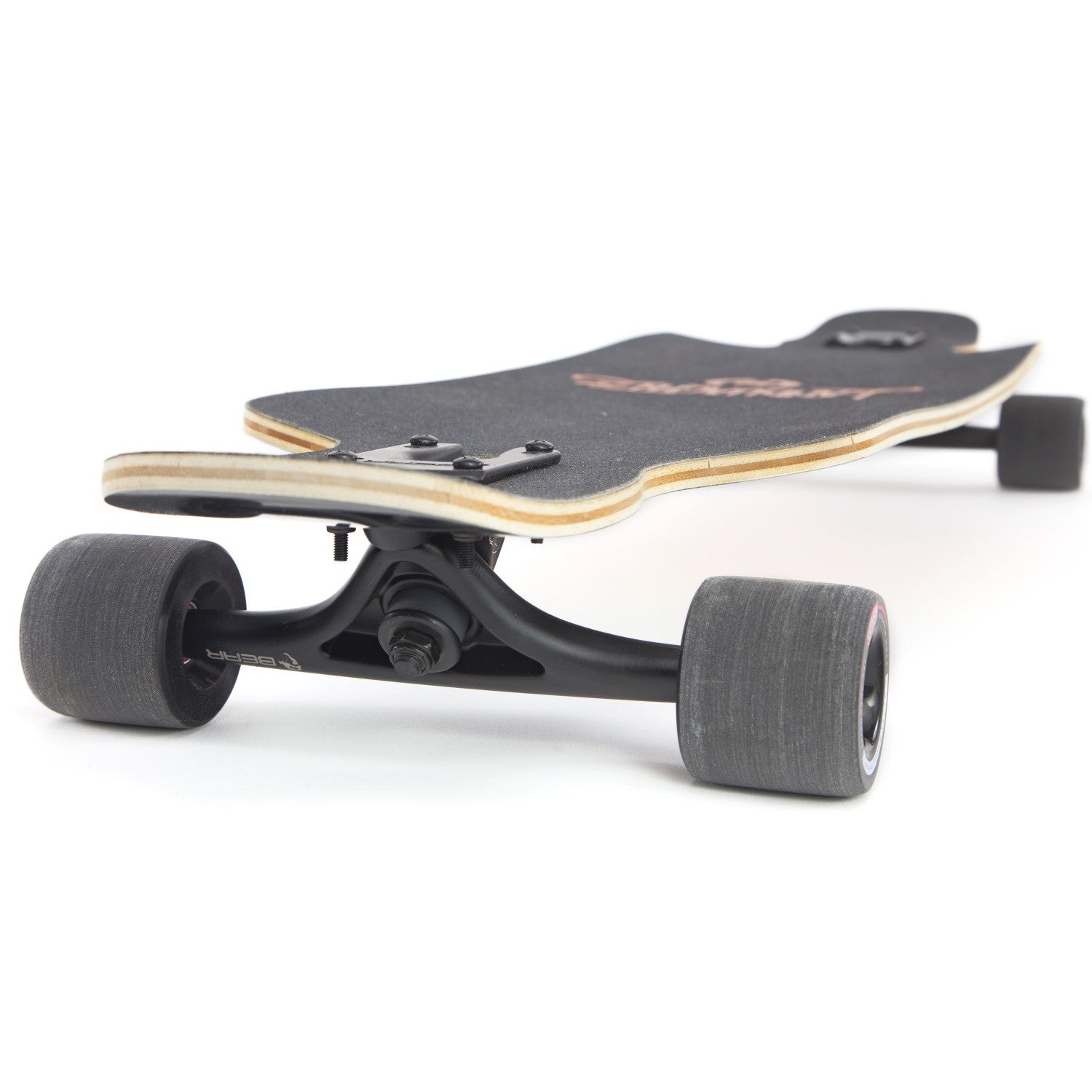 Landyachtz Drop Carve Longboard, Deck and Complete
For a freeride and freestyle setup, it doesn't get much better than the Landyachtz Drop Carve. A wonderfully snappy flex, symmetrical kicktails, and a variable concave make the Drop Carve a no brainer if you are into doing tricks and/or slides. Even if you are mostly looking for a carving or commuter board, the Landyachtz Drop Carve makes an excellent choice. You simply cannot go wrong – this board will take your riding skills to the next level.
Drop Carve – Landyachtz Longboards
A Sensational Freestyle Setup
The Landyachtz Drop Carve is a pro at handling whatever tricks you want throw its way. With Fiberglass on the inner and outer layers and bamboo in between, this board has a real nice pop to it. You'll appreciate this plentiful pop when landing early grabs, shuvits, pressure flips, all the fancy stuff. It's upturned, symmetrical tails makes locking in manuals so convenient, you won't even have to think twice before you manual that entire parking lot.
Ride and Slide
Why not combo some of your freestyle tricks with some slides? With the Landyachtz Drop Carve, you can do just that. The Landyachtz Drop Carve features a unique variable concave, with less concave in the middle, more at the ends, right before the trucks. The Drop Carve also features a subtle W-concave throughout the board. Whether you're strictly looking for some hard carves, sliding, or a mixture of both, The Drop Carve will make your feet feel right at home.
Commute
Another nice feature about the Drop Carve is that it makes for a great commuter board. The drop carve is great for skating to your friend's place, classes, the grocery store, wherever. It's relatively short wheelbase and length, drop through design, and responsive flex make this board fun when you are on the run.
37 or 40? Which to Choose…?
Choices, choices… There will be two main differences. The most obvious is the difference in length. 37 and 40 simply represents the length of the board. If you have a wider stance or want to do some cross-steps and other dance moves, you would appreciate the extra length in the Drop Carve 40.
If a wide stance isn't your thing, and you want a board that is slightly more manageable for tricks, the Drop Carve 37 would be more appropriate. If you are taking your Drop Carve on commutes, the 37 will be slightly more portable.
Another main difference between the Drop Carve 37 and the Drop Carve 40 will be, well… the way they carve. The Drop Carve 37 has a shorter wheelbase which will make it turn a bit quicker. The 40 will be slightly less nimble, but will turn a bit wider, giving it slightly better carving characteristics.
At the end of the day, you can't go wrong with either size. Both the 37 and 40 Drop Carves are great choices for freeriding, freestyle, carving, and commuting.
Comes Complete With:
Trucks: Bear 180mm 52° Grizzly Trucks
Wheels: Landyachtz 63mm Fatty Hawgs Wheels
Bearings: Bear Spaceballs Built-in Bearings
Specifications
Length

: Drop Carve 37: 36.9" / 93.73 cm | Drop Carve 40: 39.9" / 101.35 cm

Width

: Drop Carve 37: 8.6" / 21.84 cm | Drop Carve 40: 9.6" / 23.62 cm

Wheelbase

: Drop Carve 37: 23.9" / 60.71 cm | Drop Carve 40: 27.4" / 69.59 cm

Concave

: Variable concave – less aggressive in the middle of the board. Slight W-concave throughout the board.

Nose / Tail

: Yes / Yes

Rocker / Camber

: No

Construction

: Bamboo sandwiched by two layers of fiberglass

Special Features

: A superb construction with just the right amount of flex brings this board to life the second you step on it.
RETURN POLICY
We offer hassle-free returns within 30 days on brand new, resellable, and unused products without restocking fees.
In most cases, return shipping will be your responsibility. We can offer return labels for a fee upon request. 
Pre-paid return shipping label have a flat fee depending on the type of product you are returning: 
Wheels/trucks/bearings/etc - $7.99
Completes/decks - $16.99
Large completes/decks (over 34") - $21.99
Returns that are used, opened, or damaged are subject to a restocking fee. Products that are bought as used, open box, or mystery are final sale. 
PRICE MATCH POLICY
Stoked is confident that we provide the best products at the best prices. We price match/beat verifiably in stock products, including shipping fees. 
Please note that we cannot price match invoices, screenshots, past orders, eBay auctions, Craigslists posts, or any other unverifiable price. We have to be able to purchase the product from the approved store at the time of checking the price for the price match to apply. Price matching must also include any applicable shipping and other processing costs. 
USA SHIPPING
FREE for orders over $25 within the lower 48 states.
Affordable rates for AK, HI, and other territories.
INTERNATIONAL SHIPPING AND CUSTOMS FEES
We ship all over the world! When ordering from stokedrideshop.com, you are responsible for assuring the product can be lawfully imported to the destination.
To get a shipping rate for your country, add the items you wish to order to your cart and proceed to the "My Cart" page. Put in your address and select the shipping option that best applies to your needs.
The recipient/buyer is the importer of record and must comply with all applicable laws and regulations of the destination country. Customs delays can affect original delivery estimates.
Custom fees are not included in the price paid on stokedrideshop.com. Recipients of international shipments may be subject to import taxes, fees, and customs duties levied by the customs office of your shipping destination. Import Fees vary according to the customs regulations of the destination country.
If your country applies import fees to your order, you will be responsible for them. Check with your local post office or customs office of the destination country for more information.