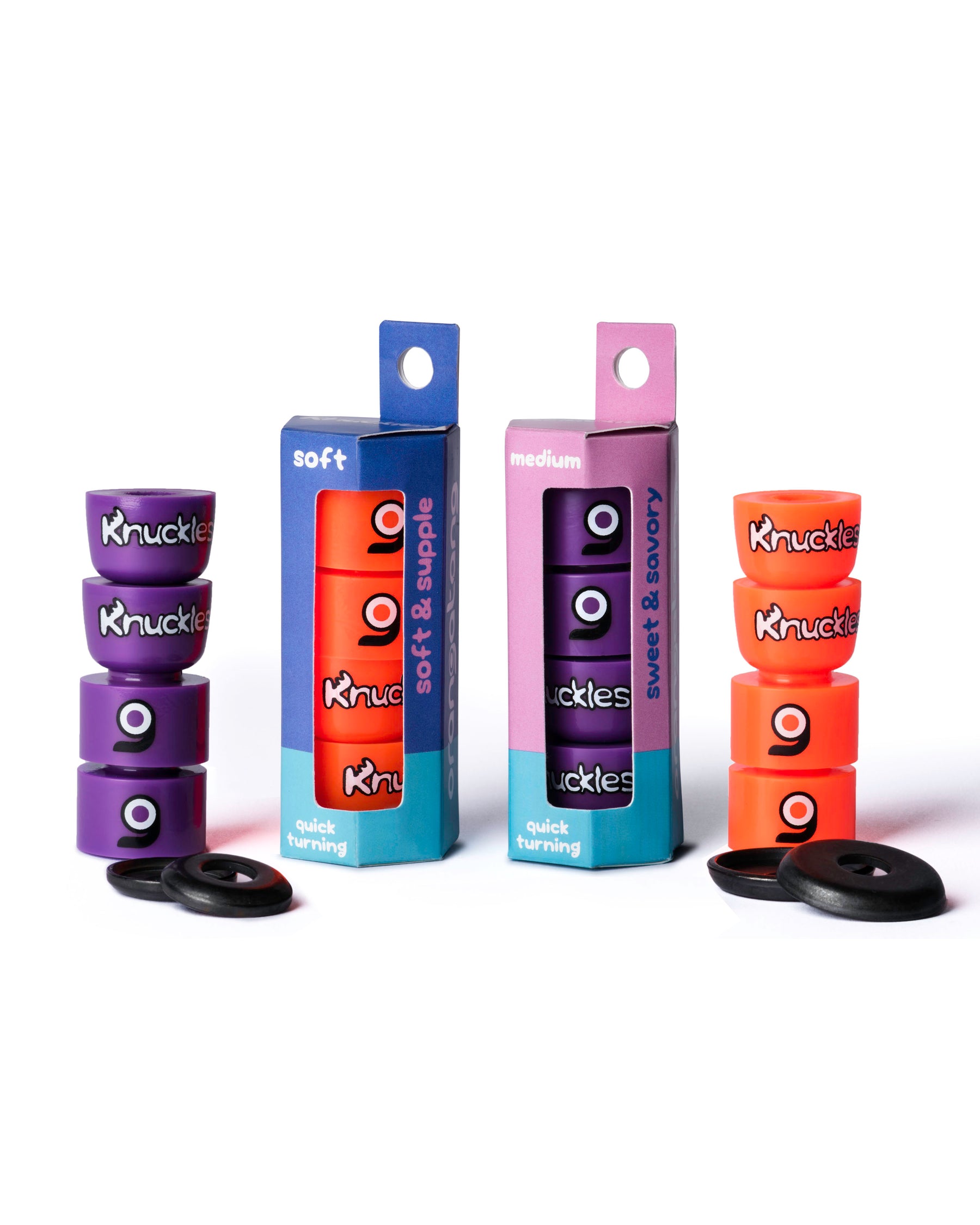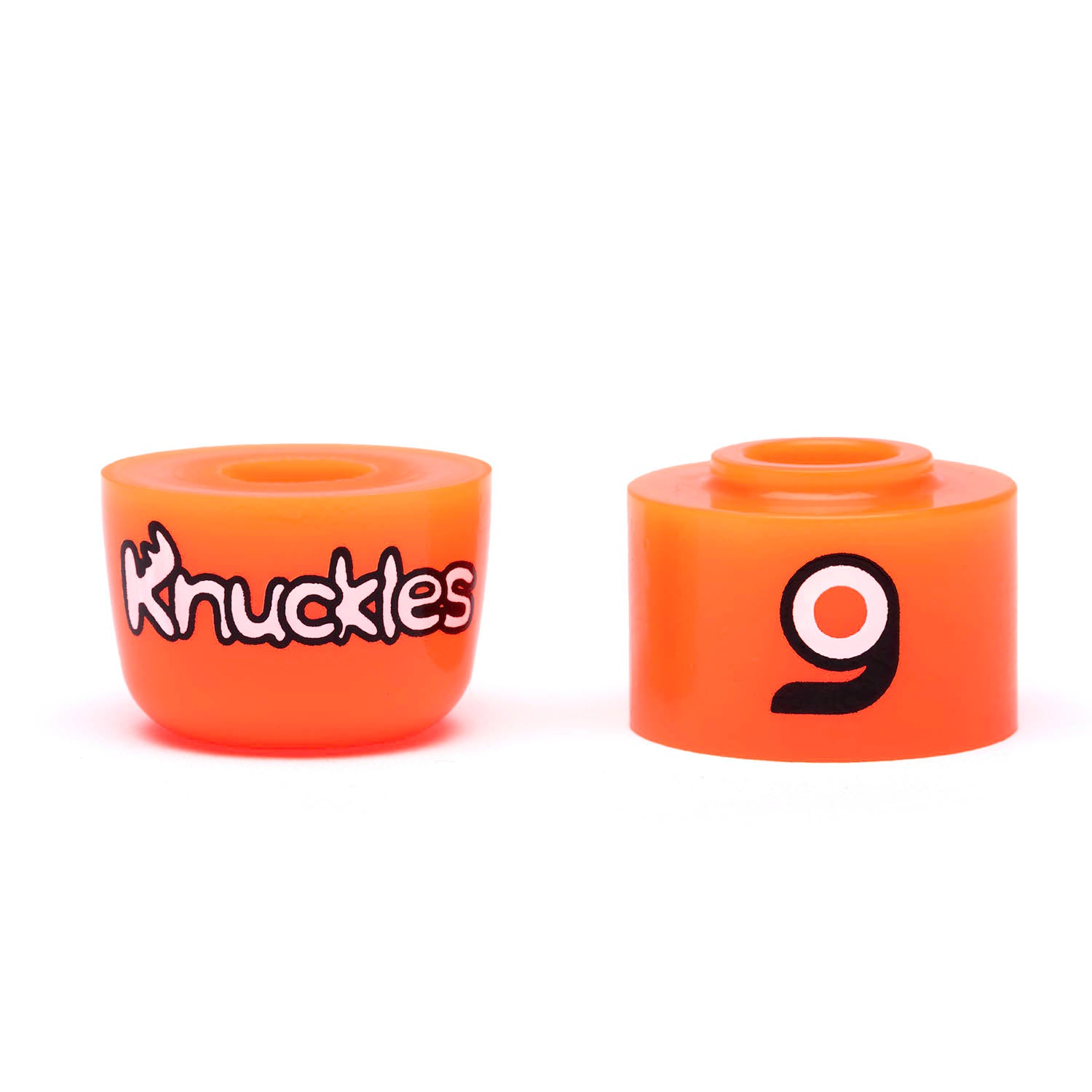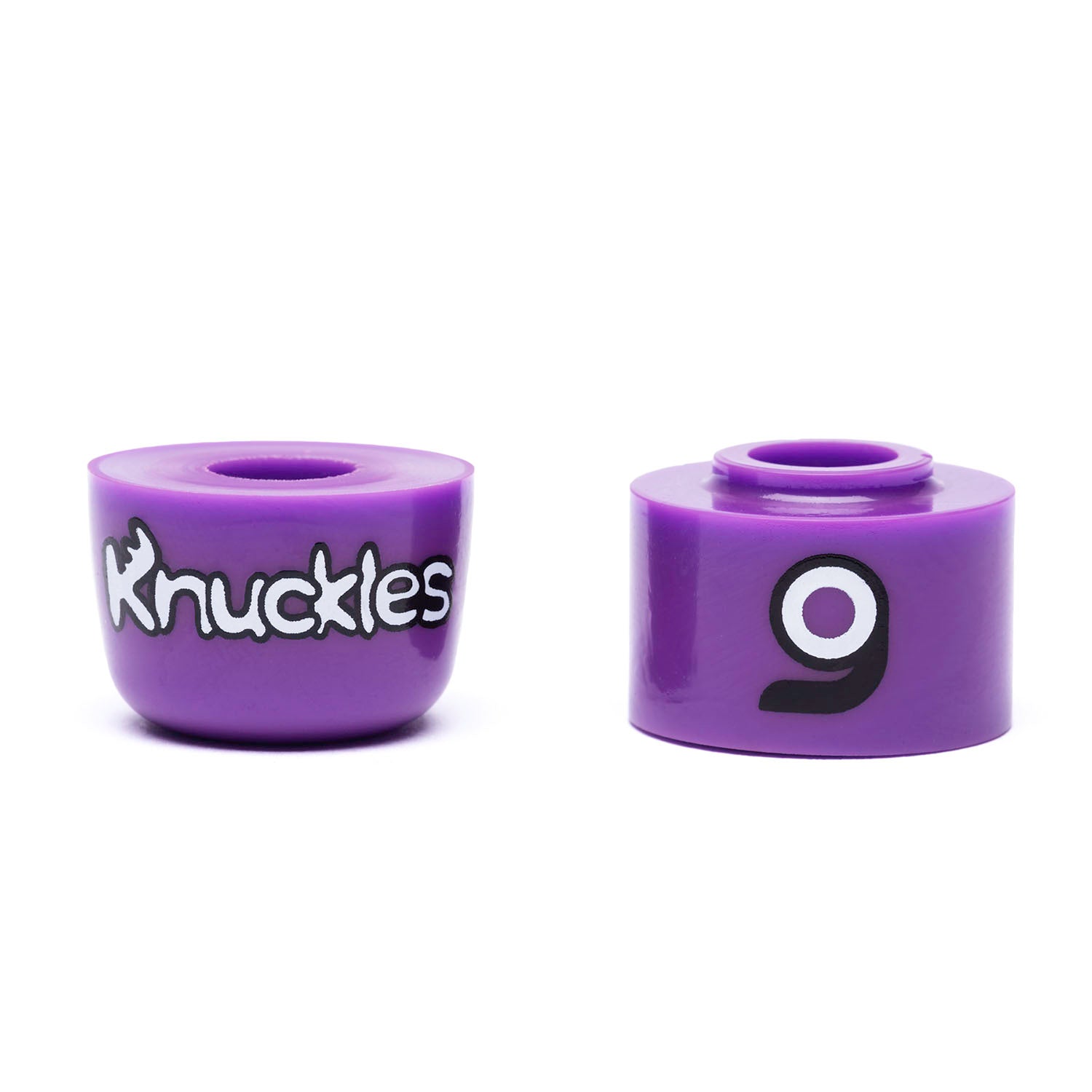 Orangatang Knuckles Bushings (All Durometers)
In stock - Ships immediately
JUICY BOUNCE, TIGHT PACKAGE
Crafted for quick turning response and smooth edge-to-edge transitions, the new Orangatang Knuckles are the ultimate high-energy bushing upgrade for carving, pumping, dancing, and freestyle longboarding.
Available in two duros: soft (orange, 87a) and medium (medium, 90a). Each pack contains two insert barrel bushings, two gumdrop bushings, two large cup washers, and two small cup washers.
The insert barrel features a small "step" to fill the gap between the kingpin and the hole of the hanger, reducing play in the assembly for a more precise response.
The gumdrop is a smooth and subtle blend between a barrel and the more traditional cone shape, providing enhanced agility. The rounded edge allows for ultra-smooth turn initiation and improved interface with the washers.
Knuckles are sized for compatibility with most trucks and feature precise tolerances for a snug fit on the kingpin. Poured in the same extremely high-rebound Randy Thane formula as the Orangatang Nipples, these two bushing options offer distinct performance characteristics.
Nipples are a great choice for riders seeking maximum rebound for pumping and carving, lively yet supportive turning, and reduced wheelbite. The wide (1" diameter) double-barrel design offers a highly defined center point with immediate resistance to turn that increases progressively with lean angle.
In contrast, Knuckles are well suited for riders seeking quicker edge-to-edge response and deeper carving capabilities. The narrower diameter (0.95") and combination of shapes provide a blend between a stable base (barrel) and a more free-turning top (gumdrop). The result is quicker and easier turn initiation with less resistance and a greater ultimate lean angle.
Recommended Weight Ranges
Below are the recommended weight ranges for riding under 20mph (32 kmh). If you want to go faster, we recommend going slightly harder. 
Soft/Medium 87a (orange): 60-160 lbs / 27-72 kg 
Medium/Hard 90a (purple): 130-190 lbs / 59-86 kg
Trucks We Recommend With Knuckles
Knuckles were designed around and work extremely well in Paris Trucks. They will also work with Randal Trucks. 
We DO NOT recommend Knuckle bushings with Calibers, Bear Grizzlys, Gullwing Chargers, or Independents. 
If you are unsure, it is best to measure your current bushings and then compare to the sizing shown below. 
What's Included
x2 Top Bushings
x2 Bottom Bushings
x4 Orangatang Washers (x2 small and x2 large cups)
RETURN POLICY
We offer hassle-free returns within 30 days on brand new, resellable, and unused products without restocking fees.
In most cases, return shipping will be your responsibility. We can offer return labels for a fee upon request. 
Pre-paid return shipping label have a flat fee depending on the type of product you are returning: 
Wheels/trucks/bearings/etc - $7.99
Completes/decks - $16.99
Large completes/decks (over 34") - $21.99
Returns that are used, opened, or damaged are subject to a restocking fee. Products that are bought as used, open box, or mystery are final sale. 
PRICE MATCH POLICY
Stoked is confident that we provide the best products at the best prices. We price match/beat verifiably in stock products, including shipping fees. 
Please note that we cannot price match invoices, screenshots, past orders, eBay auctions, Craigslists posts, or any other unverifiable price. We have to be able to purchase the product from the approved store at the time of checking the price for the price match to apply. Price matching must also include any applicable shipping and other processing costs. 
USA SHIPPING
FREE for orders over $25 within the lower 48 states.
Affordable rates for AK, HI, and other territories.
INTERNATIONAL SHIPPING AND CUSTOMS FEES
We ship all over the world! When ordering from stokedrideshop.com, you are responsible for assuring the product can be lawfully imported to the destination.
To get a shipping rate for your country, add the items you wish to order to your cart and proceed to the "My Cart" page. Put in your address and select the shipping option that best applies to your needs.
The recipient/buyer is the importer of record and must comply with all applicable laws and regulations of the destination country. Customs delays can affect original delivery estimates.
Custom fees are not included in the price paid on stokedrideshop.com. Recipients of international shipments may be subject to import taxes, fees, and customs duties levied by the customs office of your shipping destination. Import Fees vary according to the customs regulations of the destination country.
If your country applies import fees to your order, you will be responsible for them. Check with your local post office or customs office of the destination country for more information.