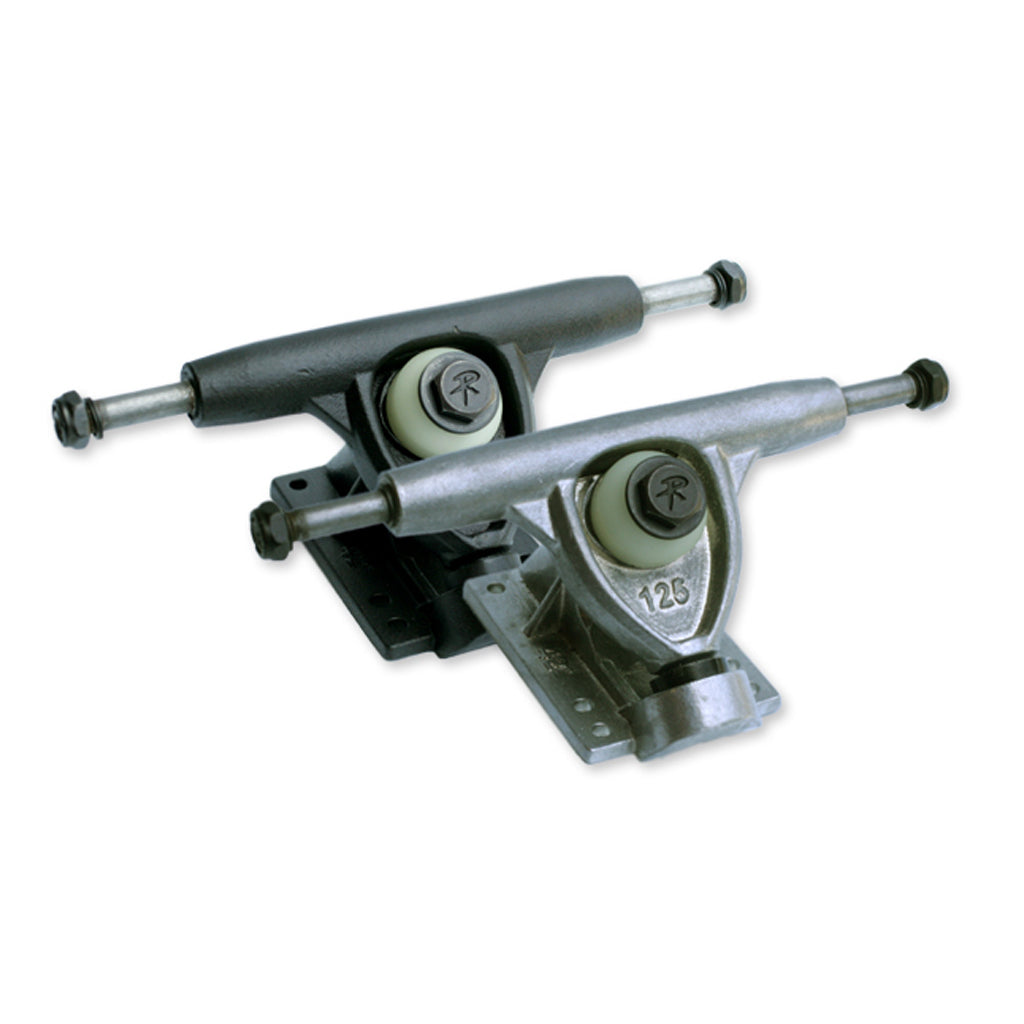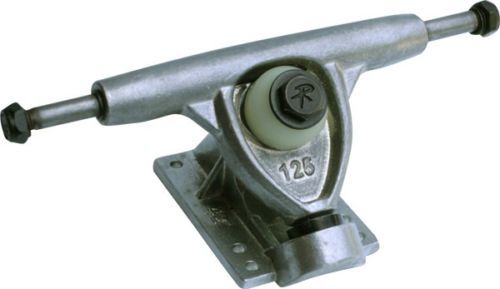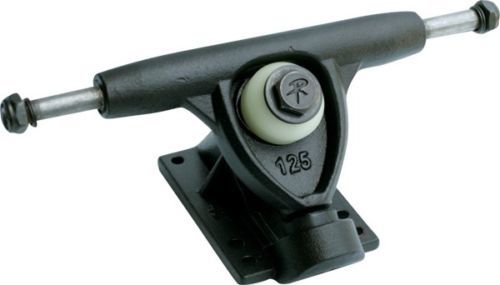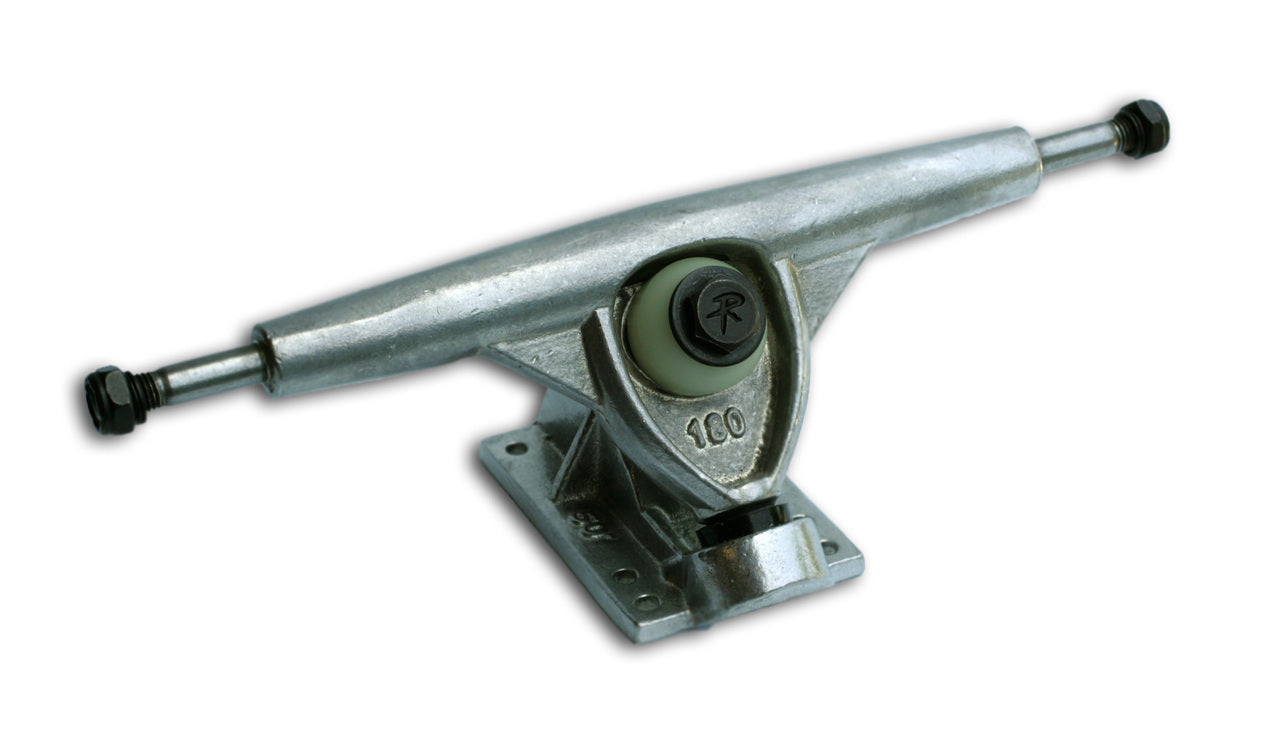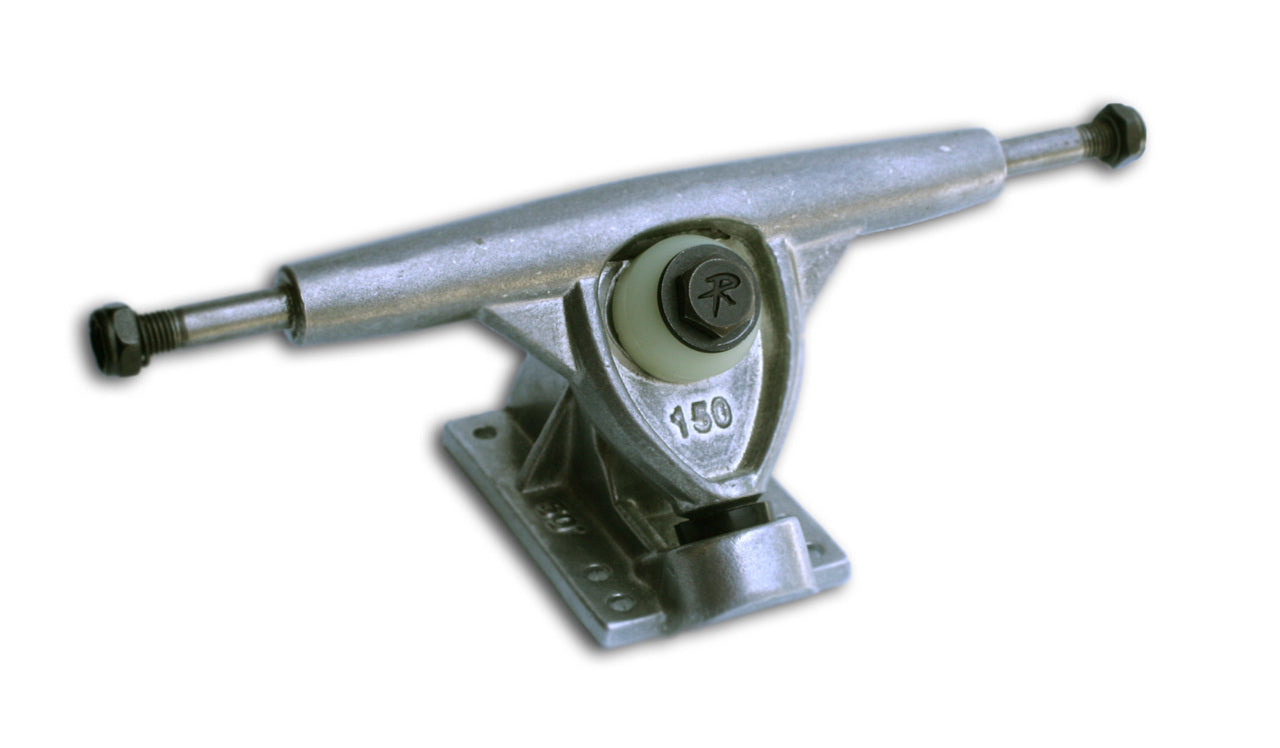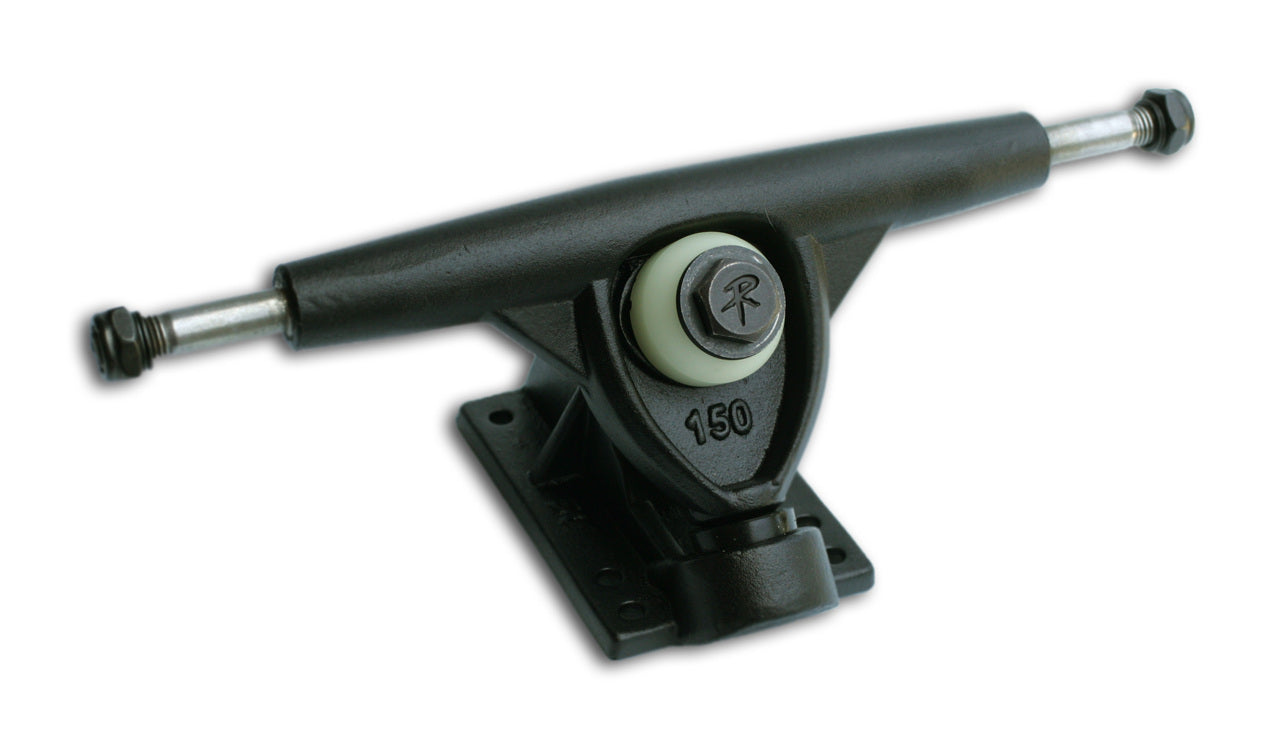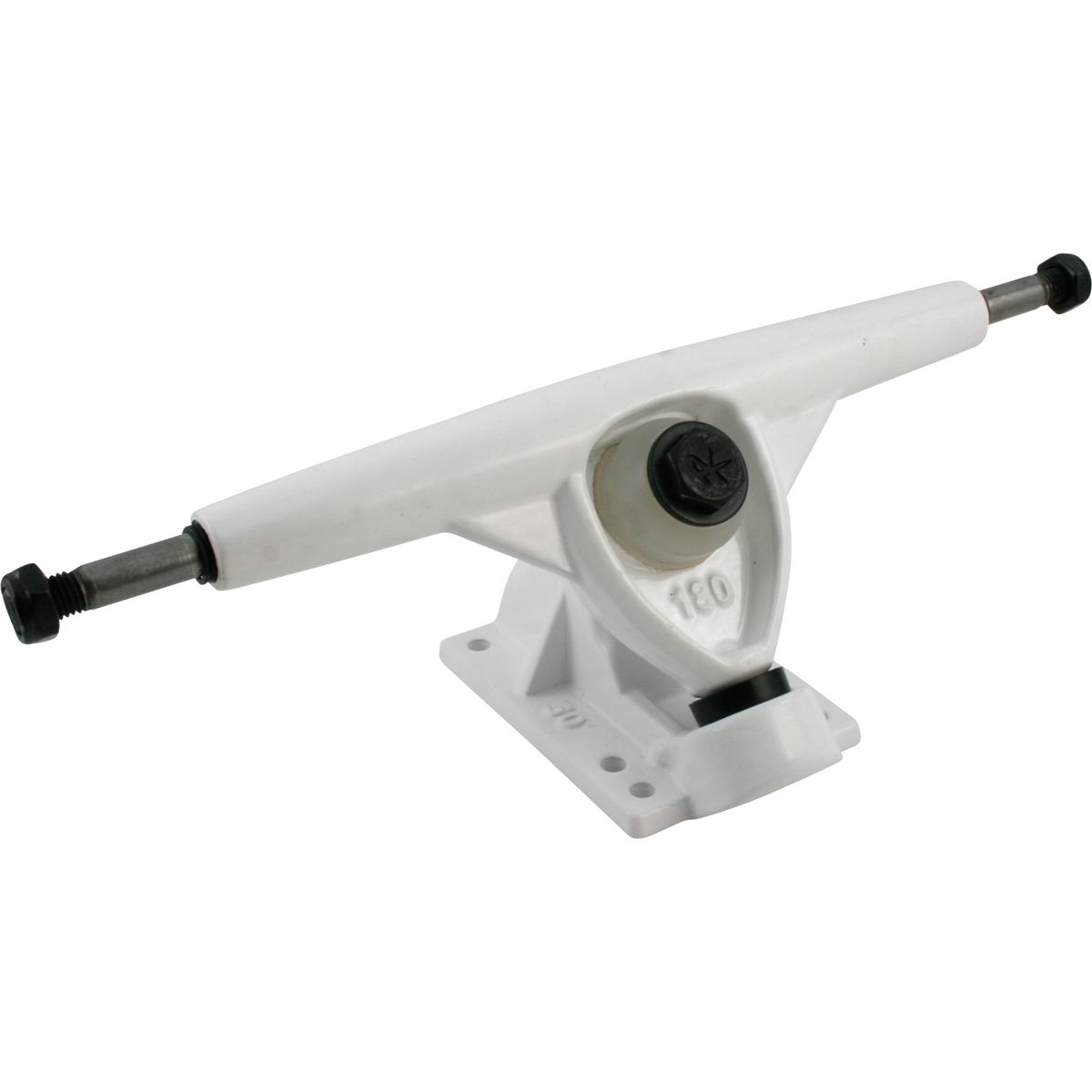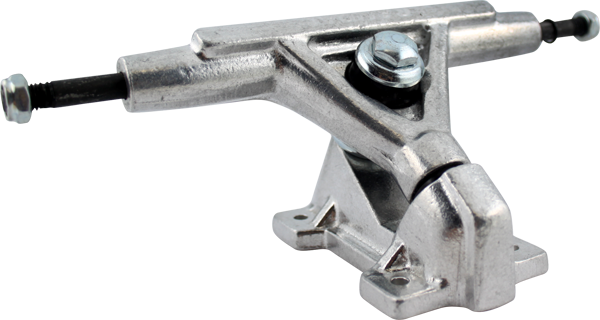 Randal Longboard Truck [All Types]
Dedication Meets Variation
No other brand in longboarding has been more historically successful than Randal. Randal has been making trucks since 1978 and are still going strong! Proudly made in the U.S.A, Randal trucks are strong, high-quality, and are offered in various hanger lengths and many different baseplate angles.
Randal Trucks - Freeriding with Lyons
Quality + Variety
Randal has been dedicated to making quality trucks for some time now. Not only do you get quality, but you get variety. With all the interchangeable baseplates and hangers out there, the uses for randal trucks are endless. Downhill, freeride, freestyle, skateparks, super giant slalom, ditches, long-distance, pumping, carving and commuting – Randal has your back.
Their 180mm trucks are excellent for downhill, freeride, dancing, and other setups where wider trucks are necessary or preferred. Their 150mm are great for long distance pumping boards, carving and commuting rigs, and more technical downhill riding. The 125mm are great when you want something for quick turning, such as a mini board. The 125s are not as stable as the 180mm, but that's not to say they can't be used for downhill riding. Some top racers prefer smaller trucks for technical downhill races.
As mentioned, Randal makes a ton of different baseplates. Higher degrees make your truck turn quicker, but lean less and will have quicker return-to-center while lower degree baseplates will be the opposite – less turn, but will lean more/longer. Lower degrees are more stable as well. With all the baseplates to choose from, Randals can be used for nearly any longboard discipline. The wide variety of baseplates also limits the need for wedged risers which can sometimes add unnecessary height to your setup. Randal baseplates are so good that they are even compatible with other hangers such as Paris!
Flipping Hangers, Bushing Setups, and So Much More!
Randal was the first truck capable of flipping the hanger. In it's "natural" state, the Randal R-IIs have positive rake; flipping the hanger gives it what is called negative rake. In short, positive rake will make a truck turn more and be more lively, while a negative rake will be more stable and won't turn as much.
Like many other trucks out there, eliminator style bushings can pose issues. With the Randal truck however, this is easily fixed. If you are using an eliminator as the bottom bushing, just stick an extra flat washer on the bottom to make up for shortness of the eliminator bushing and you should be good to go!
Oh and yes, Randal trucks actually make great bottle openers for old school soda bottles and adult beverages for those 21 and up.
Hanger Sizing
125 and 150mm Hangers = Randal RII
160 Hangers = Randal DH
180 Hangers = Randal RIII
Specifications
Width

: 125mm / 150mm / 160mm / 180mm

Bushing Type and Durometer

: 91a Kush bushings

Ride Height

: It will vary depending on the baseplate angle used and whether the hanger is flipped. An unflipped, 180mm hanger at 50° will be 2.55", while at 42°, the height will be 2.3"

Axle Size

: 8mm

Rake

: Yes, 3°

Baseplate Degree(s)

: Varies

Kingpin Style

: Reverse Kingpin (RKP)

Special Features

: Rich in history and strong in character, Randal trucks have been pivotal in the evolution and expansion of longboarding.
RETURN POLICY
We offer hassle-free returns within 30 days on brand new, resellable, and unused products without restocking fees.
In most cases, return shipping will be your responsibility. We can offer return labels for a fee upon request. 
Pre-paid return shipping label have a flat fee depending on the type of product you are returning: 
Wheels/trucks/bearings/etc - $7.99
Completes/decks - $16.99
Large completes/decks (over 34") - $21.99
Returns that are used, opened, or damaged are subject to a restocking fee. Products that are bought as used, open box, or mystery are final sale. 
PRICE MATCH POLICY
Stoked is confident that we provide the best products at the best prices. We price match/beat verifiably in stock products, including shipping fees. 
Please note that we cannot price match invoices, screenshots, past orders, eBay auctions, Craigslists posts, or any other unverifiable price. We have to be able to purchase the product from the approved store at the time of checking the price for the price match to apply. Price matching must also include any applicable shipping and other processing costs. 
USA SHIPPING
FREE for orders over $25 within the lower 48 states.
Affordable rates for AK, HI, and other territories.
INTERNATIONAL SHIPPING AND CUSTOMS FEES
We ship all over the world! When ordering from stokedrideshop.com, you are responsible for assuring the product can be lawfully imported to the destination.
To get a shipping rate for your country, add the items you wish to order to your cart and proceed to the "My Cart" page. Put in your address and select the shipping option that best applies to your needs.
The recipient/buyer is the importer of record and must comply with all applicable laws and regulations of the destination country. Customs delays can affect original delivery estimates.
Custom fees are not included in the price paid on stokedrideshop.com. Recipients of international shipments may be subject to import taxes, fees, and customs duties levied by the customs office of your shipping destination. Import Fees vary according to the customs regulations of the destination country.
If your country applies import fees to your order, you will be responsible for them. Check with your local post office or customs office of the destination country for more information.