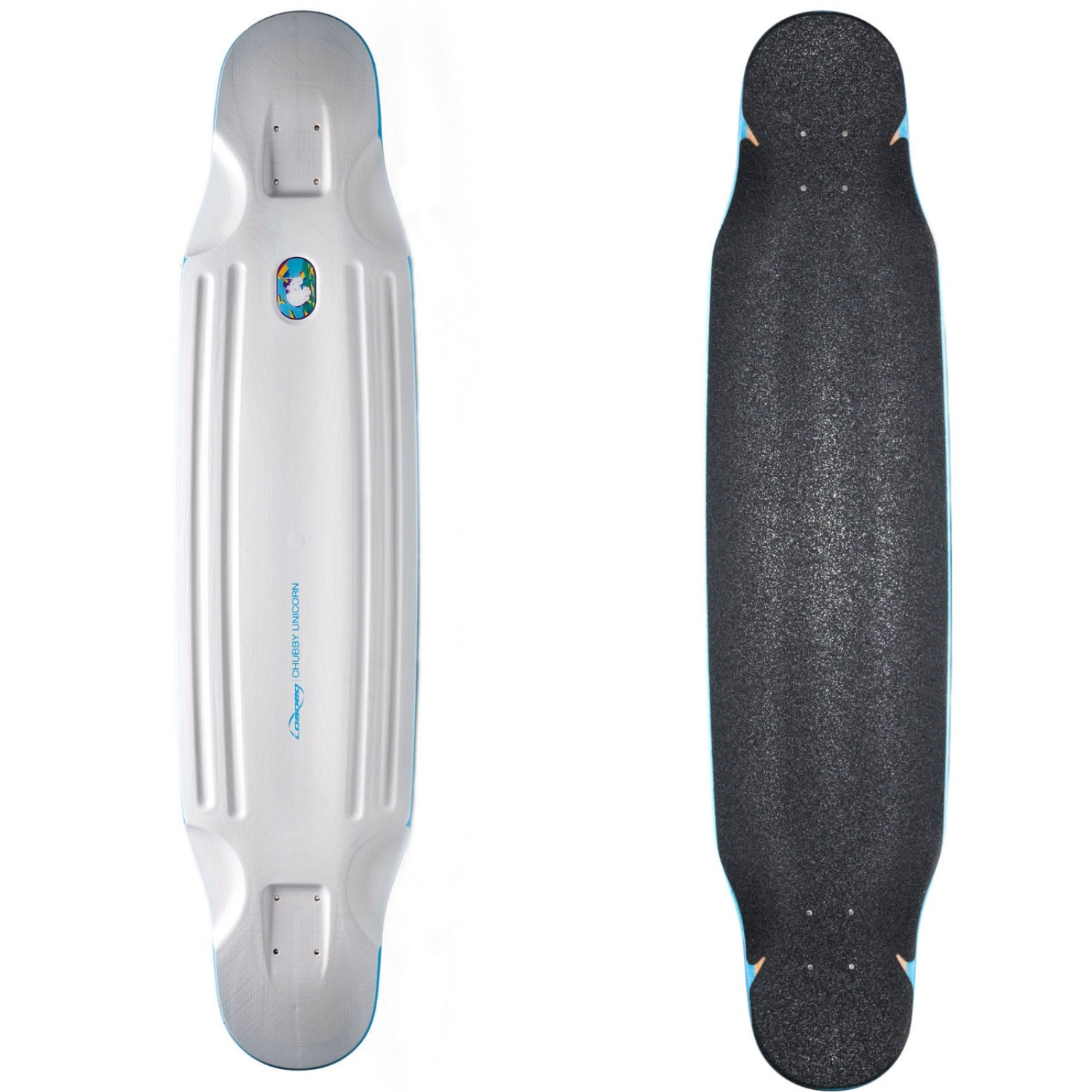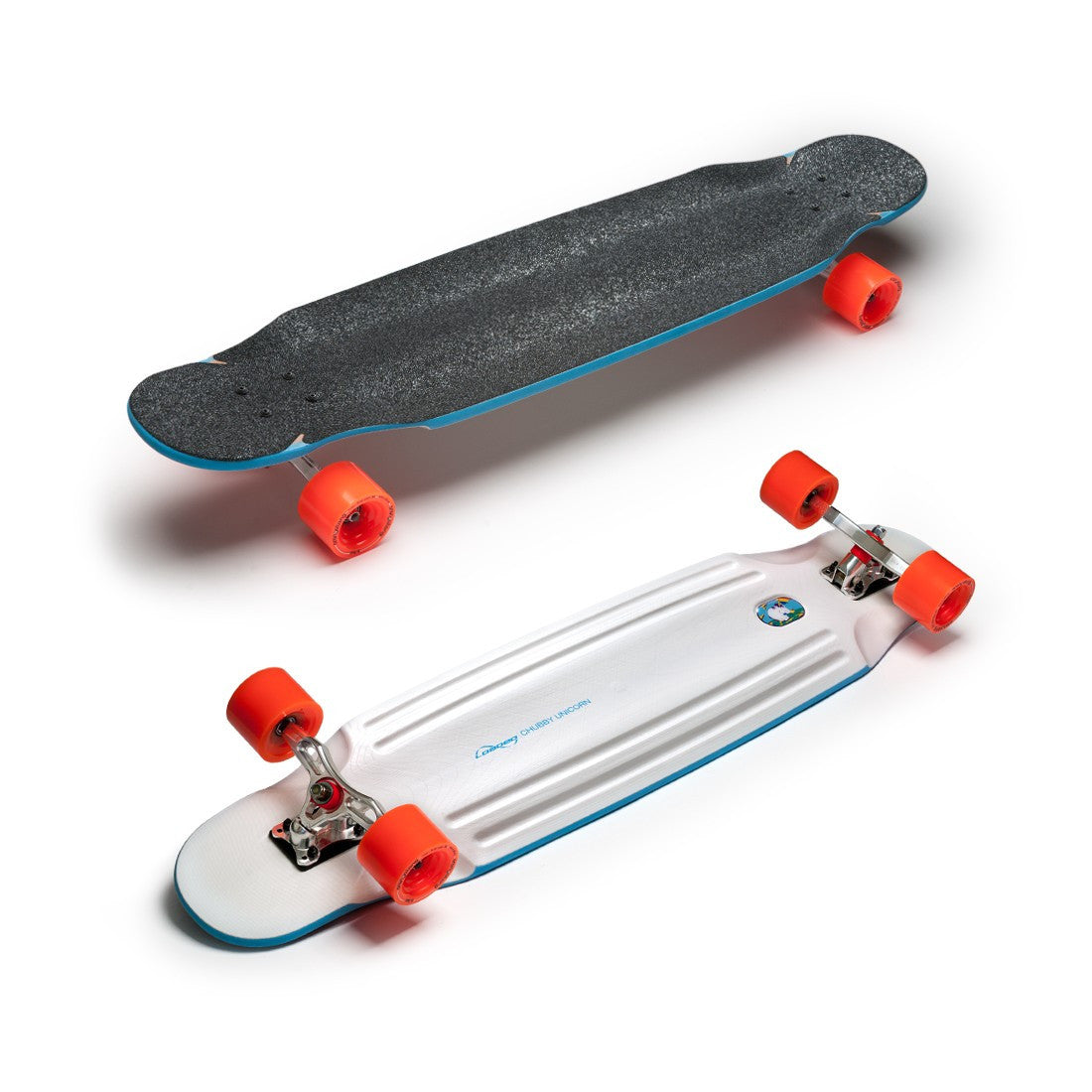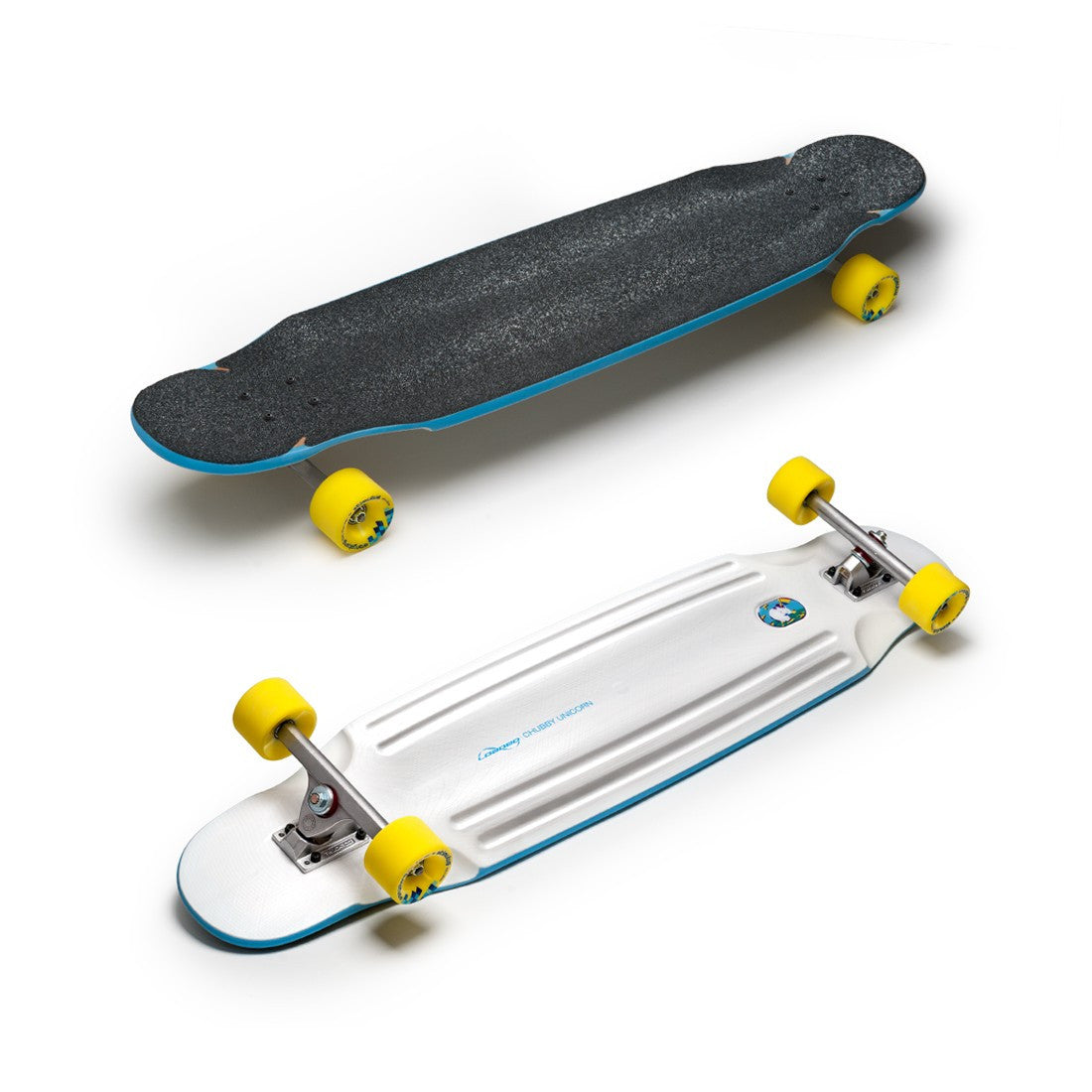 Loaded Chubby Unicorn Longboard, Deck and Complete
The Chubby Unicorn by Loaded Boards will go down as one of the most legendary longboards of our generation. A bold statement, but one we firmly believe to be true. We were hearing about the rumors of Loaded's first downhill board for years. Its delay was due to the constant improvements the Loaded crew made to the prototype deck. They would not release the board until they could make a board as perfect as possible; an unprecedented board in which there is no comparison. With years of testing and adjustments, the Chubby Unicorn was born. Like Unicorns, the Chubby Unicorn is both magical and mystical and will change the way you skate.
Board Breakdown | Chubby Unicorn
A Downhill Dream
Where to start? Well there is no question that Loaded has perfected the seamless addition of W-concave, rocker, and wheel flares in one deck. With a wide W-concave running through the middle of the deck, your feet are going to have a great locked in feeling when your feet are facing forward when in a tuck. The smooth rocker and recessed truck mounts, on the other hand, lowers the board, which adds stability.
The wheel flares are great for foot awareness. When blazing down hills, you don't have time to look down to check your foot placement. You need to keep your eyes in front of you! With perfectly placed wheel flares, you'll know where your feet are at all times and will be able to make foot adjustments without giving it a second thought. Less time thinking about your form and more time thinking about going fast!
The Chubby Unicorn features two sets of CNC'd grab rails on the bottom of the board. The outer grab rails prove to be super helpful for pre-drifts. The grab rails also make the Chubby Unicorn slightly less chubby by reducing the weight of the board
Freeride Heaven
Freeriding on a Chubby Unicorn is like skating on clouds. The Chubby Unicorn features an excellent amount of rocker, not too much, but just enough to cradle your feet nicely. The rocker is great when doing slides. Pull off stand-up slides, colemans and pendys , and some more technical slides without fear of your feet sliding.
The Chubby Unicorn also features recessed truck mounts. This mean the board is actually indented where the truck baseplates are mounted. This lowers your board to the ground. Being lower to the ground makes sliding easier and more comfortable (and also makes pushing easier).
Freestylin'
With a length of just over 42", the Chubby Unicorn has plenty of room to be used as a dancing board. Let the ergonomically designed rocker guide you as move up and down board doing cross-steps, peter pans, and whatever other new dances you whippersnappers are doing nowadays.
Lots of testing was done to make sure that, at its size, the Chubby Unicorn, would have tails with plenty of leverage and pop. The symmetrical tails are 7" long and narrower than the rest of the board, making shuvits, ollies, g-turns, flip tricks, and manuals much more manageable.
Those grab rails aren't just for pre-drifts either. The inner grab rails are great for grabbing on to when doing early grabs. Your fingers will appreciate the extra comfort room when early-grabbing over curbs and you'll have an excellent grip on the board if launching off kicker ramps is more of your style
One of a kind construction
We already mentioned several unique construction characteristics in the Chubby Unicorn: the wide W-concave, kicktails with tons of pop, recessed truck mounts, CNC'd grab rails, just the right amount of rocker. But there are more unique, and even unprecedented, features that make the Chubby Unicorn one of most legendary longboards we have ever seen.
Ultra-high-molecular-weight (UHMW) polyethylene is currently the most commonly used material in slide pucks. It is well liked due to its sliding characteristics, durability, and lightweight. So why not put it on the bottom of a deck? That's exactly what Loaded did with the Chubby Unicorn. The UHMW bottom layer makes the board more durable against abrasion and moisture damage (this DOESN'T mean it can be used a surfboard!) and even dampens vibrations from the road, make your ride even smoother. Who doesn't want that?
Another truly one-of-a-kind feature in Chubby Unicorn is its urethane sidewalls. The entire perimeter of the Chubby Unicorn is fortified with healthy dose of Loaded's Orangatang urethane. That's right, the same urethane used to make their much-loved Orangatang wheels, just in a slightly higher durometer. The urethane perimeter dampens road vibrations and also makes the board much more durable. The urethane also reinforces the strength of the tail. Lastly, the urethane perimeter adds a protective layer that will absorb impact much better than wood in case you make a boo boo and your board goes flying away from you and into a curb
Recommended Trucks and Wheels
Trucks: 180mm trucks. Lower degree baseplate if you want a bit less turn and more stability, higher degree if you want quicker turning.
Wheels: 65mm-75mm. Keep in mind that large wheels may need additional risers for wheel clearance.
Specifications
Length

: 42.25"

Width

: 9.75"

Wheelbase

: 28.25"

Concave

: W-concave

Nose / Tail

: Yes / Yes both are symmetrical and measure to be 7" long.

Rocker / Camber

: Yes / No

Construction

: Basswood, UMHW polyethylene, Orangatang Urethane, and fiberglass

Special Features

: You could write a book on the special features of this board... Urethane sidewalls, UHMW base layer, CNC'd grab rails and wheel well flares, recessed truck mounts. The list goes on and on.
RETURN POLICY
We offer hassle-free returns within 30 days on brand new, resellable, and unused products without restocking fees.
In most cases, return shipping will be your responsibility. We can offer return labels for a fee upon request. 
Pre-paid return shipping label have a flat fee depending on the type of product you are returning: 
Wheels/trucks/bearings/etc - $7.99
Completes/decks - $16.99
Large completes/decks (over 34") - $21.99
Returns that are used, opened, or damaged are subject to a restocking fee. Products that are bought as used, open box, or mystery are final sale. 
PRICE MATCH POLICY
Stoked is confident that we provide the best products at the best prices. We price match/beat verifiably in stock products, including shipping fees. 
Please note that we cannot price match invoices, screenshots, past orders, eBay auctions, Craigslists posts, or any other unverifiable price. We have to be able to purchase the product from the approved store at the time of checking the price for the price match to apply. Price matching must also include any applicable shipping and other processing costs. 
USA SHIPPING
FREE for orders over $25 within the lower 48 states.
Affordable rates for AK, HI, and other territories.
INTERNATIONAL SHIPPING AND CUSTOMS FEES
We ship all over the world! When ordering from stokedrideshop.com, you are responsible for assuring the product can be lawfully imported to the destination.
To get a shipping rate for your country, add the items you wish to order to your cart and proceed to the "My Cart" page. Put in your address and select the shipping option that best applies to your needs.
The recipient/buyer is the importer of record and must comply with all applicable laws and regulations of the destination country. Customs delays can affect original delivery estimates.
Custom fees are not included in the price paid on stokedrideshop.com. Recipients of international shipments may be subject to import taxes, fees, and customs duties levied by the customs office of your shipping destination. Import Fees vary according to the customs regulations of the destination country.
If your country applies import fees to your order, you will be responsible for them. Check with your local post office or customs office of the destination country for more information.