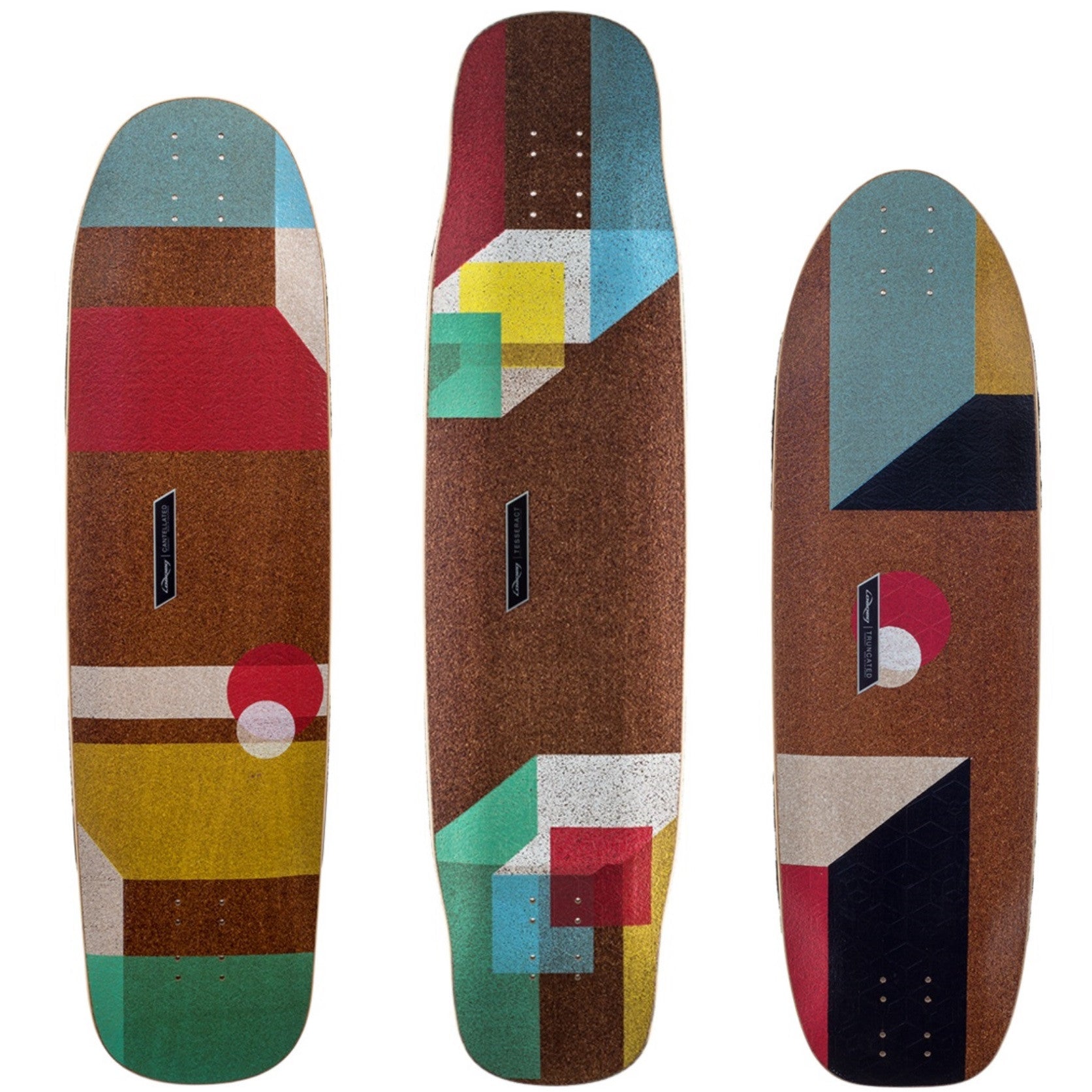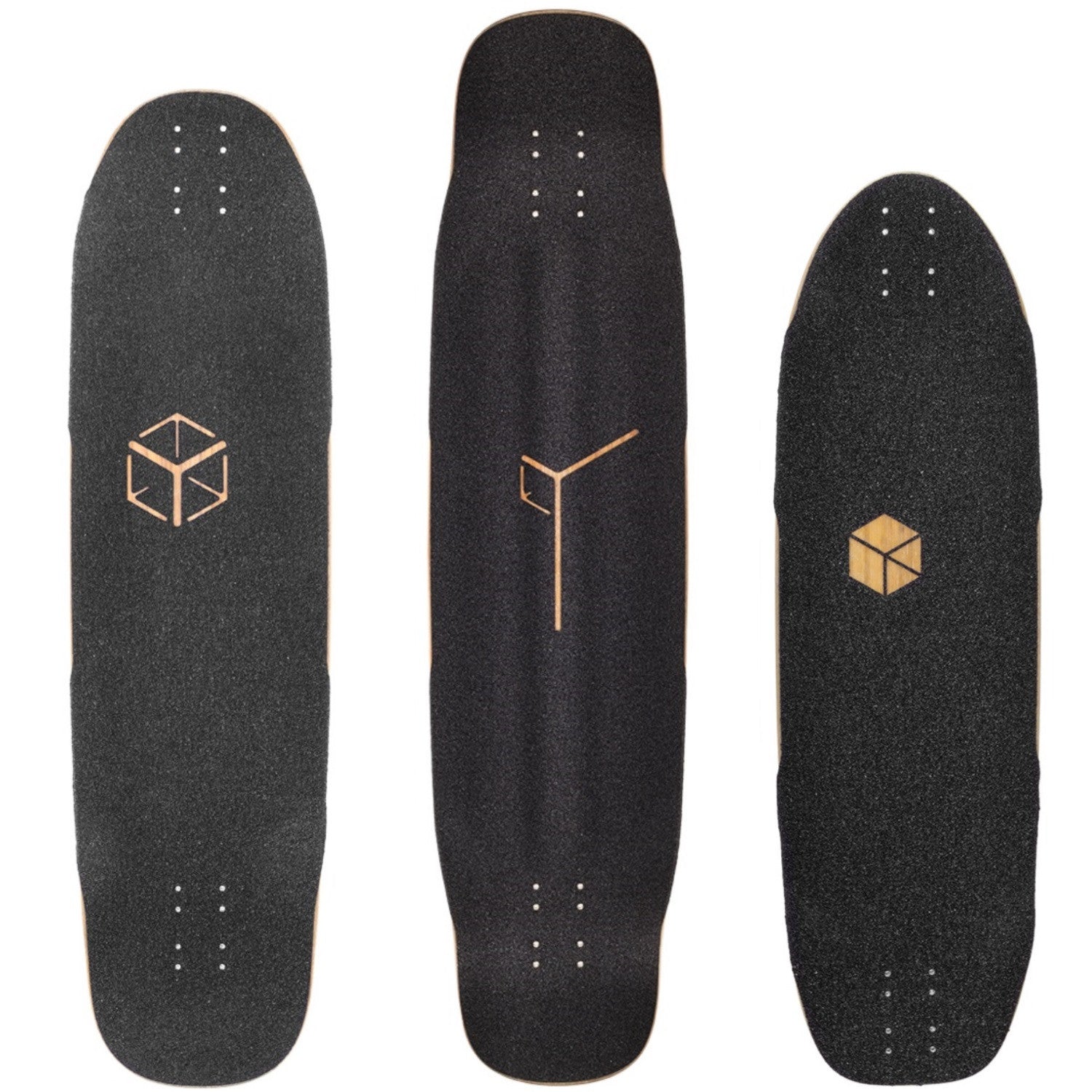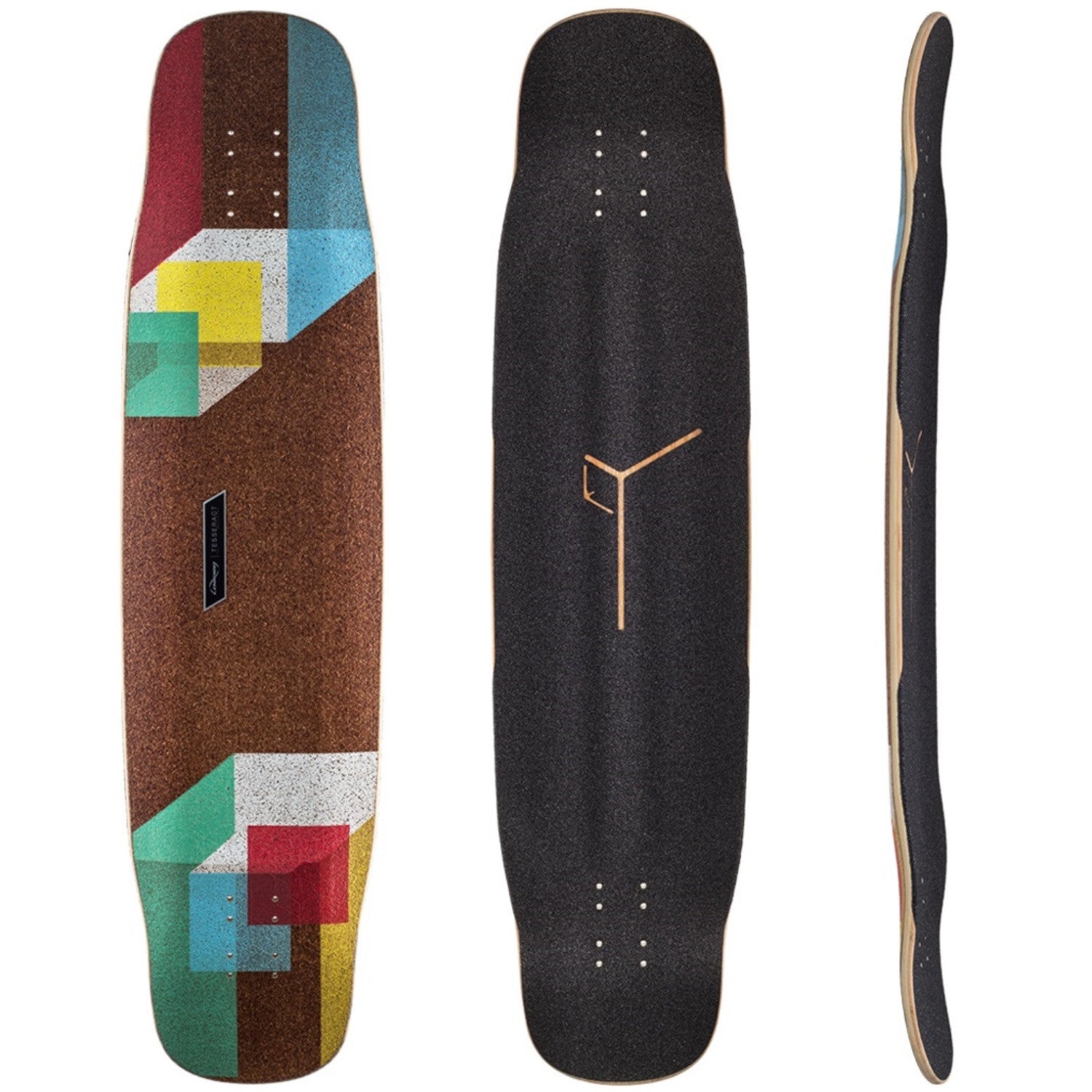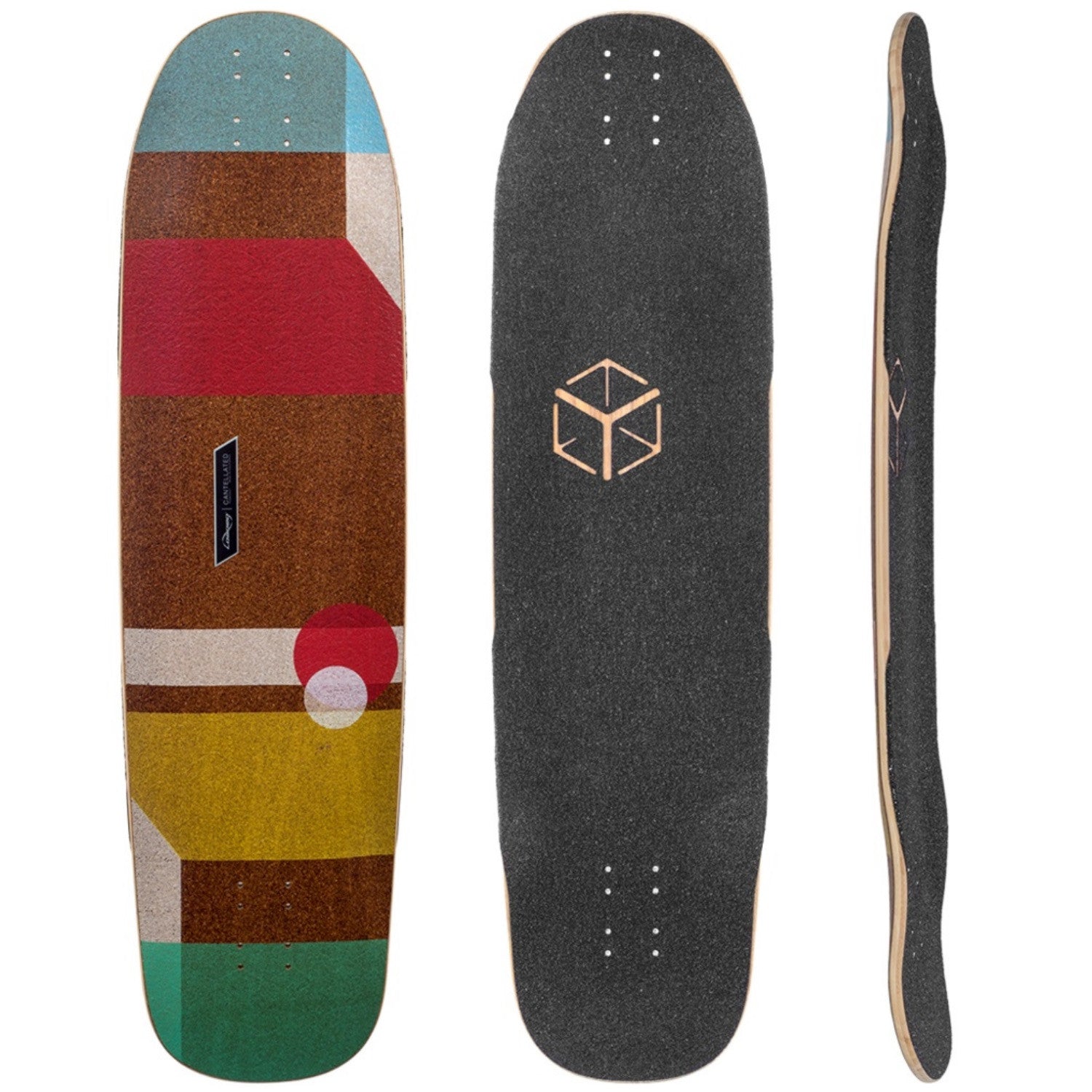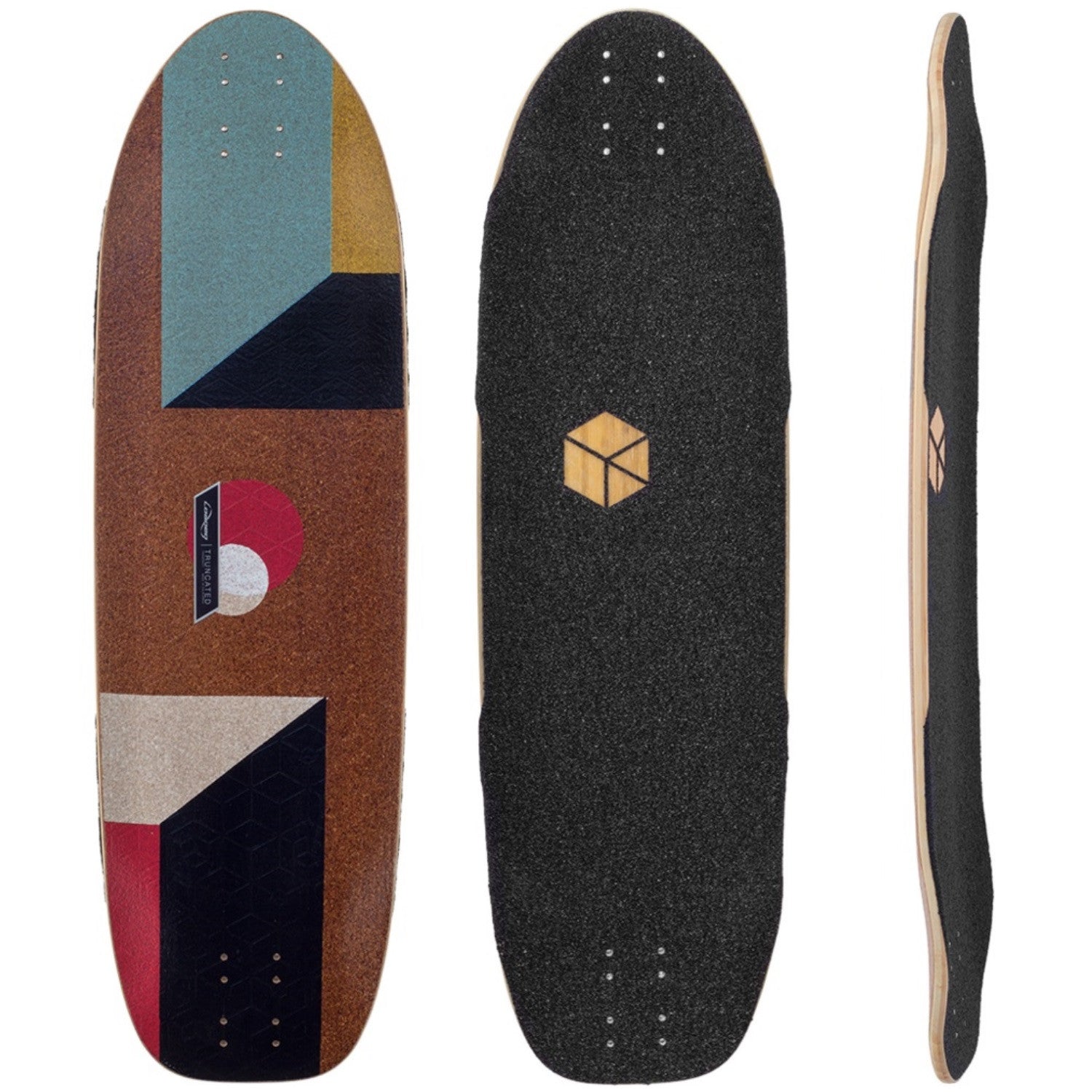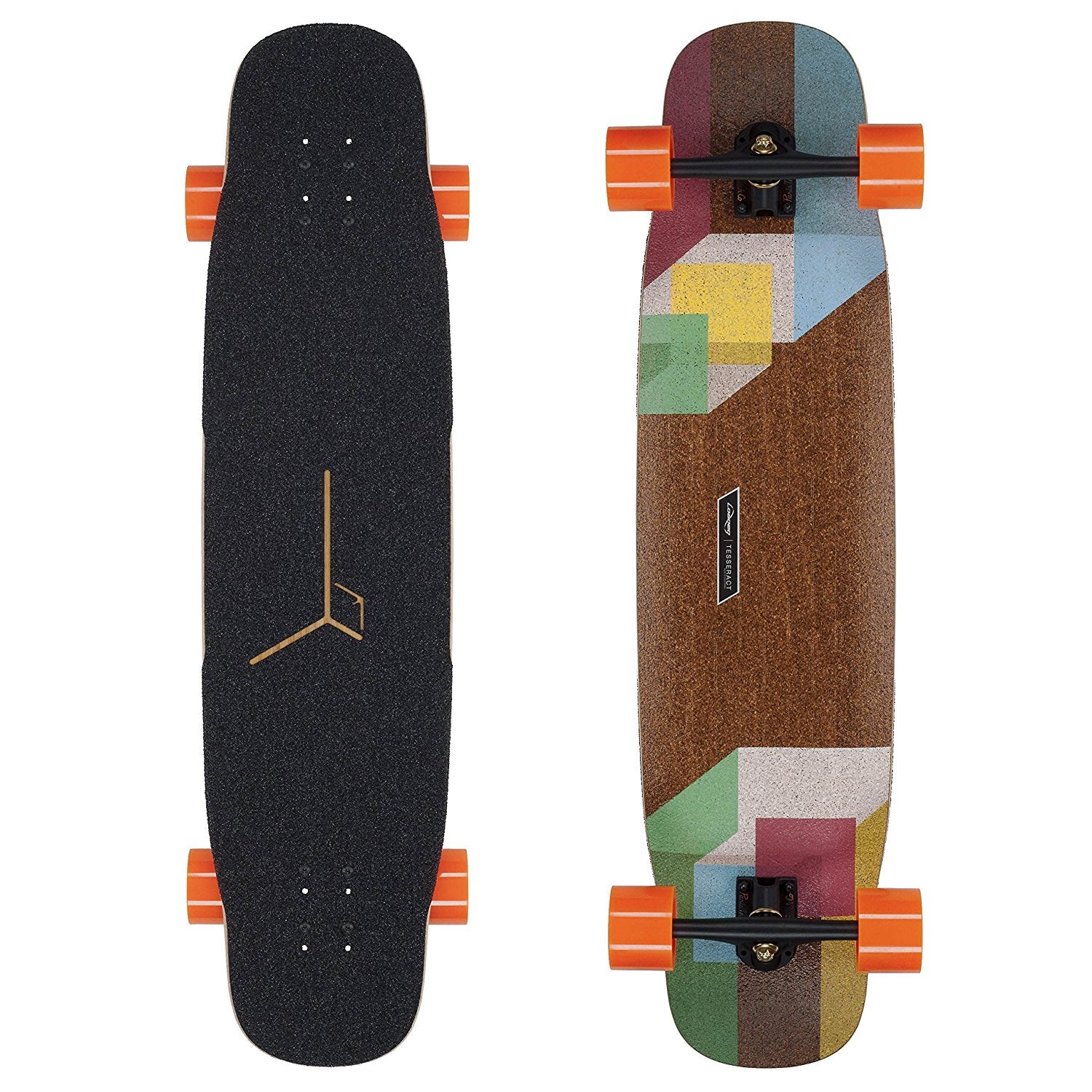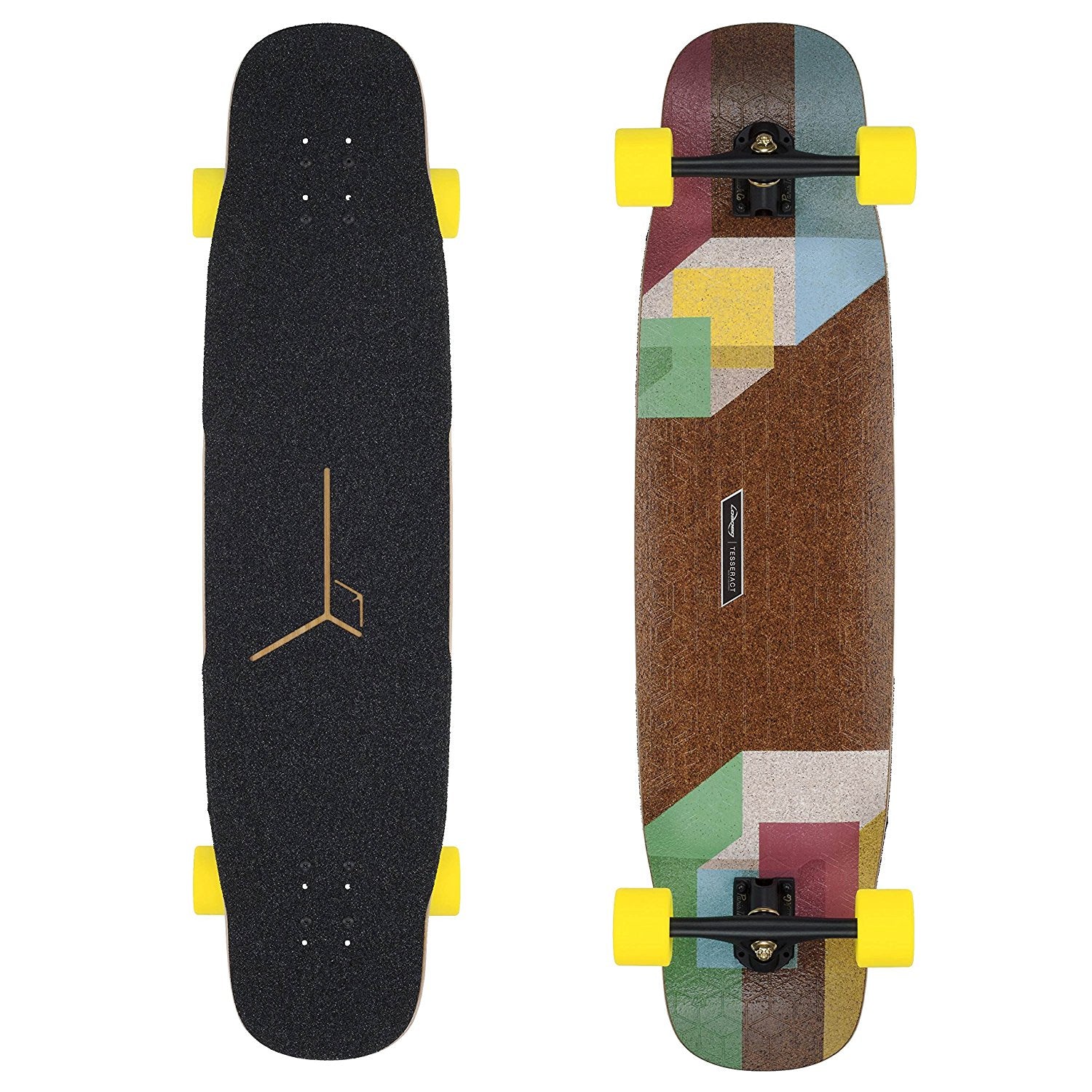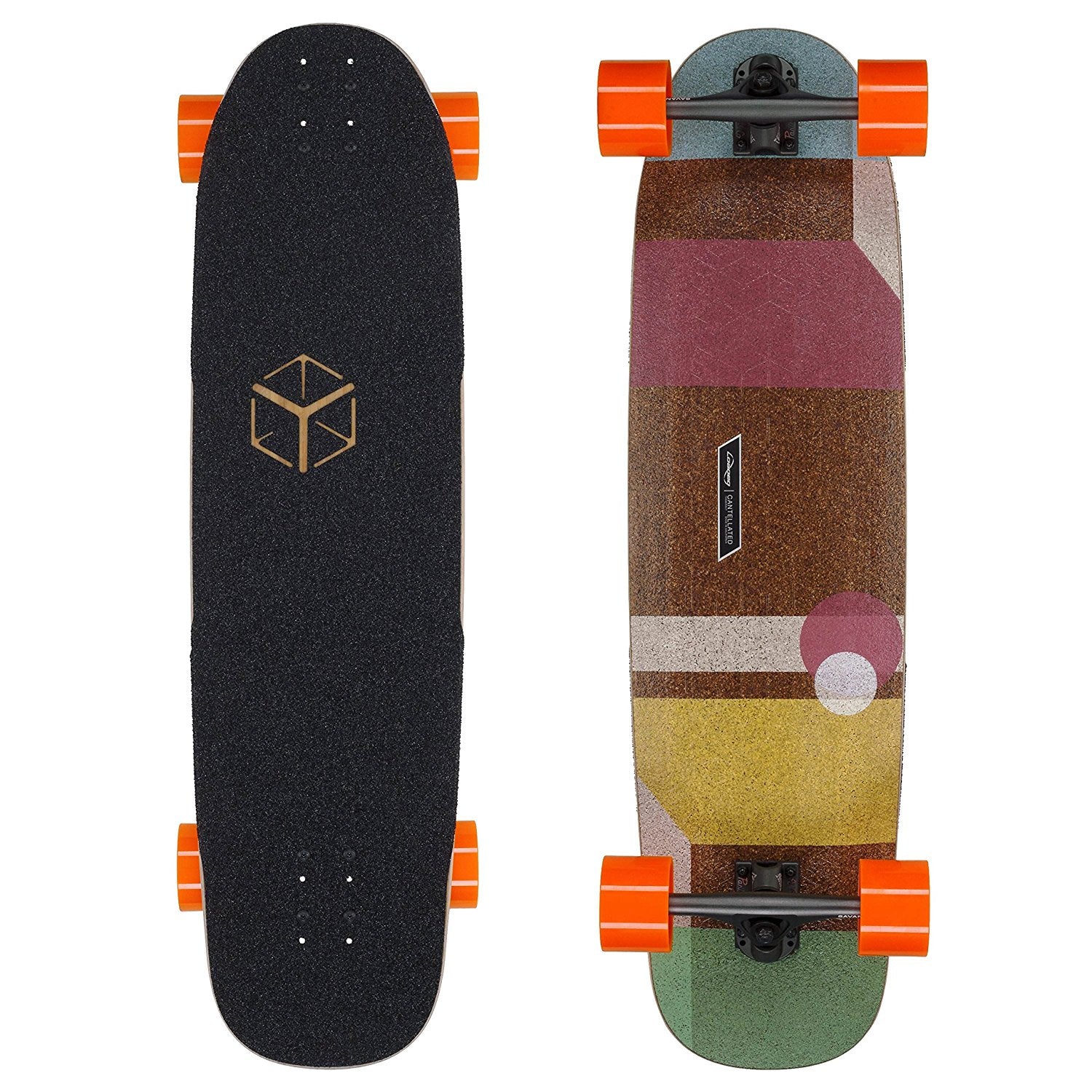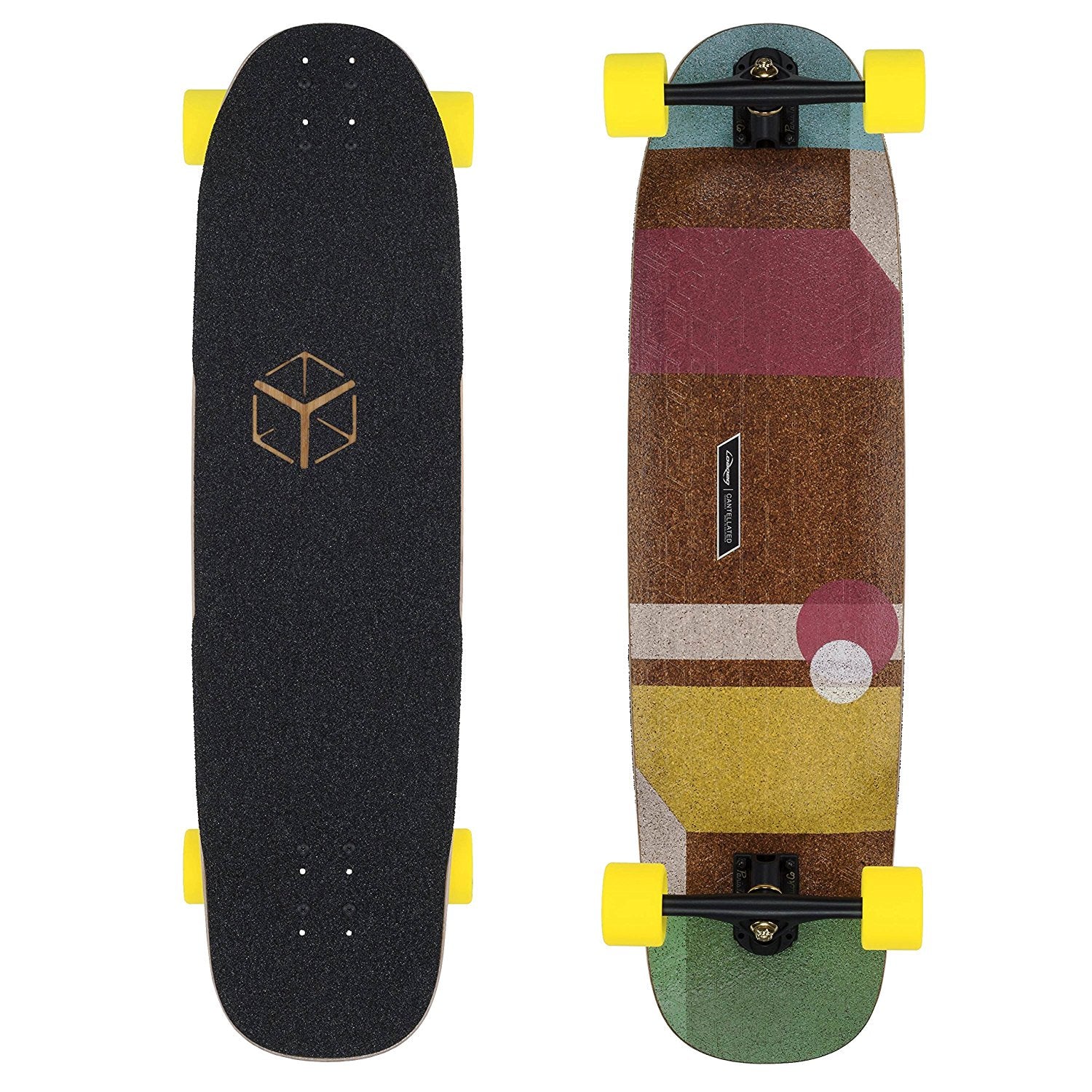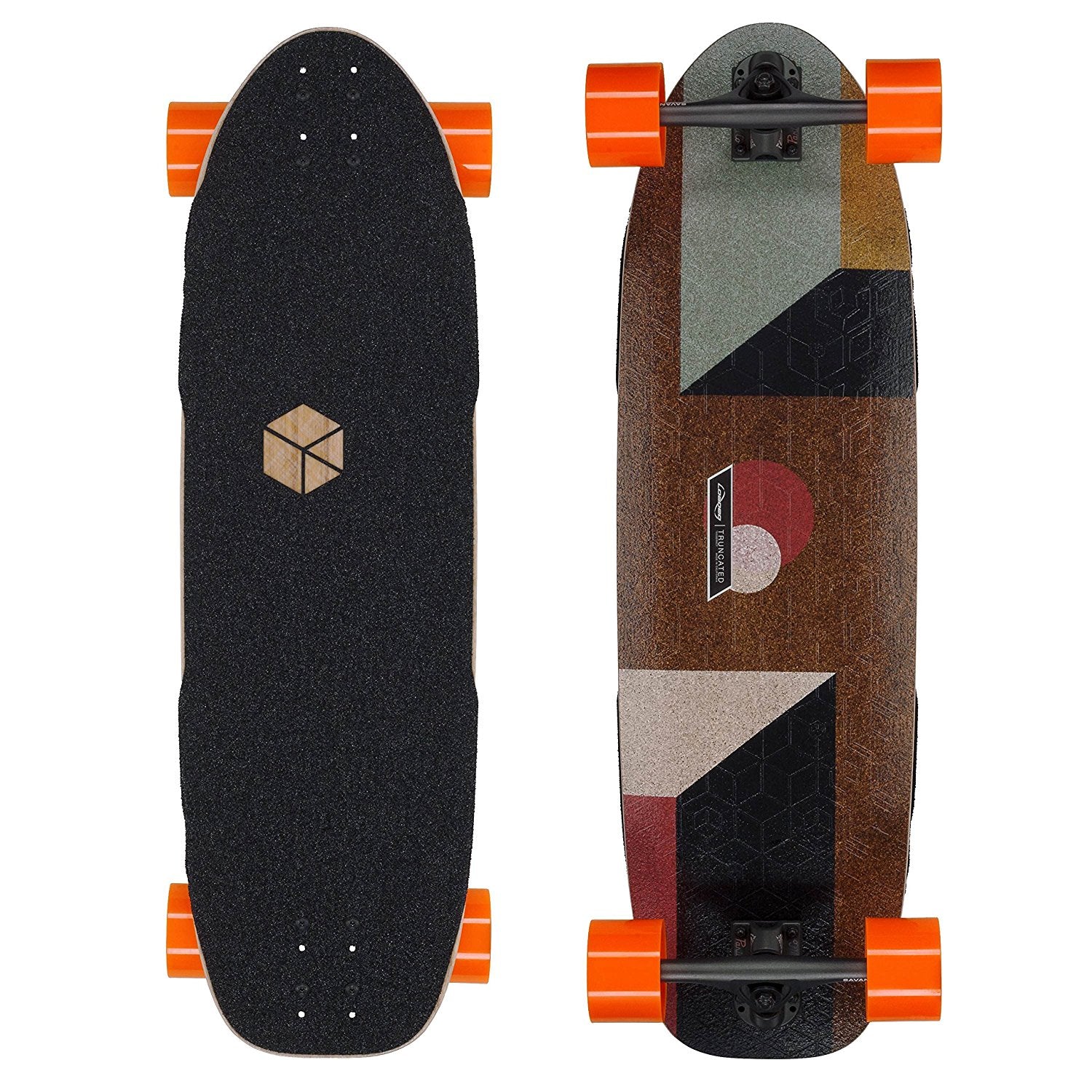 Loaded Tesseract Longboard, All Models, Deck and Complete
Looking for the Basalt Tesseract? 
The masterminds behind Loaded Boards continue to design longboards that can do it all. The insanity just doesn't stop.
The Tesseract is one of these insane boards that dominates in multiple disciplines and lends itself as a great board to skaters belonging to a wide array of riding styles.
With a W-concave, wheel well flares, and multiple wheelbase options, the Tesseract provides a comfortable platform for your feet no matter what your style is.
Loaded Boards might as well officially change their middle name to "innovative" as, with the Tesseract, they have created the first board with a layer of cork covering the bottom of the deck.
Loaded Tesseract
Excellent Design for Freeride and Downhill
With wheel-well flares placed before the kicktails and a W-concave throughout, you have yourself a deck that is going to lock your feet in very well. Not only do the wheel-well flares help keep your feet locked-in when doing some technical slides, they also are great for providing foot awareness on downhill runs. When cutting corners at high speeds, it's obviously pretty important to know exactly where your feet are on your board. Without ever needing to look down to check, you'll be able to know exactly where your feet are.
The W-concave is more pronounced in the middle of the board and fades away the closer you get to the trucks. The W-concave is nice for when you are in a tuck, and also help greatly with slides – especially toesides. In addition to the W-concave, a slight rocker throughout the board will also help your feet feel nice and secure when doing slides.
Tricks, Tricks, Tricks
With double kicktails and multiple wheelbase options, you have the option of making your Tesseract a bit more downhill/freeride oriented, trick-oriented, or a combination of both. Move those trucks in the innermost holes and you have yourself a premium freestyle board. (Even with the trucks moved to the furthest wheelbase, you'll find that you will still have a generous amount of leverage over the tails.)
The kicktails have a ton of pop and a scoop of extra concave at the end. Add this concave to the existing wheel flares and you'll have a superb locked-in feeling during manuals – most excellent for combo-ing manuals with other tricks. What is also nice about the Terresact, is that with a length of 39" there is still some room to spice up your trick combos with some cross-steps and other dance moves.
Cork Base
In the past, some boards have been designed with cork in the middle (such as the Loaded Bhangra), but never before has been it exposed on the bottom of the deck. The bottom layer of cork helps prevent severe board damage. With more traditionally used wood and fiberglass bottom layers, a scrape or crack can eventually expand throughout the board. Unlike wood and fiberglass, cork is granular, meaning it is made up of little grains. This granular makeup, plus the tough design of cork, will make sure your Tesseract survives through whatever rigorous riding you put it through.
All boards are going to get scraped and beat-up, no doubt about that. However, with a bottom layer made of cork, cracks and scrapes will remain more isolated rather than spreading throughout the board. What is also nice about the cork is that it absorbs vibrations from the road, making your ride feel ultra smooth.
Cantellated, Truncated, (regular) Tesseract... which one should I choose?
Tesseract (the original)
With a nose and a tail, aka "double kicktail", this board can do every trick under the sun while fulfilling your freeride and downhill needs of course.
Cantellated Tesseract
Depending on your style, two kicktails isn't always better than one. With the Cantellated Tesseract you can still do most of the technical slides. Though nollie shuv-its and nose manuals will be a bit tougher, the shorter length and lighter weight will make ollies and flip tricks a bit easier.
Truncated Tesseract
Not really interested in tricks, but still want a downhill/freeride board with the amazing ergonomic platform proven in the Tesseract? Well Loaded was thinking of you when they made the Truncated Tesseract. A board with amazing feel and excellent for technical downhill runs.
Complete:
Standard Complete w/ In Heat
Paris V2 Trucks - 50° | 180mm | Matte Black
Orangatang In Heat

 

Wheels - 75mm | 80a | Orange
Loaded Jehu v2 Bearings - 8mm
Standard Complete w/ Stimulus
Paris V2 Trucks - 50° | 180mm | Matte Black
Orangatang Stimulus

 

Wheels - 70mm | 86a | Yellow
Loaded Jehu v2 Bearings - 8mm
Cantellated Complete w/ Kegals
Paris

 

Savant

 

Trucks - 43° | 180mm | Gun Metal Grey
Orangatang Kegal

 

Wheels - 80mm | 80a | Orange
Loaded Jehu v2 Bearings - 8mm
Cantellated Complete w/ Stimulus
Paris V2 Trucks - 50° | 180mm | Matte Black
Orangatang Stimulus

 

Wheels - 70mm | 86a | Yellow
Loaded Jehu v2 Bearings - 8mm
Truncated Complete w/
Paris Savant Trucks - 43° | 180mm | Gun Metal Grey
Orangatang Kegal Wheels - 80mm | 80a | Orange
Loaded Jehu v2 Bearings - 8mm
Specifications
Length

: 33" | 36" | 39" (99 cm | 91 cm | 84 cm)

Width

: 9.5" (24 cm)

Wheelbase

: 24.5" - 26" (62.2 cm - 66 cm)

Concave

: Radial, W, Gas Pedals

Nose / Tail

: Yes / Yes (both are 7.25")

Rocker / Camber

: Slight Rocker, 0.33" / No

Construction

: Fiberglass and bamboo, with a cork bottom

Special Features

: This board is extremely durable due to the cork base.
RETURN POLICY
We offer hassle-free returns within 30 days on brand new, resellable, and unused products without restocking fees.
In most cases, return shipping will be your responsibility. We can offer return labels for a fee upon request. 
Pre-paid return shipping label have a flat fee depending on the type of product you are returning: 
Wheels/trucks/bearings/etc - $7.99
Completes/decks - $16.99
Large completes/decks (over 34") - $21.99
Returns that are used, opened, or damaged are subject to a restocking fee. Products that are bought as used, open box, or mystery are final sale. 
PRICE MATCH POLICY
Stoked is confident that we provide the best products at the best prices. We price match/beat verifiably in stock products, including shipping fees. 
Please note that we cannot price match invoices, screenshots, past orders, eBay auctions, Craigslists posts, or any other unverifiable price. We have to be able to purchase the product from the approved store at the time of checking the price for the price match to apply. Price matching must also include any applicable shipping and other processing costs. 
USA SHIPPING
FREE for orders over $25 within the lower 48 states.
Affordable rates for AK, HI, and other territories.
INTERNATIONAL SHIPPING AND CUSTOMS FEES
We ship all over the world! When ordering from stokedrideshop.com, you are responsible for assuring the product can be lawfully imported to the destination.
To get a shipping rate for your country, add the items you wish to order to your cart and proceed to the "My Cart" page. Put in your address and select the shipping option that best applies to your needs.
The recipient/buyer is the importer of record and must comply with all applicable laws and regulations of the destination country. Customs delays can affect original delivery estimates.
Custom fees are not included in the price paid on stokedrideshop.com. Recipients of international shipments may be subject to import taxes, fees, and customs duties levied by the customs office of your shipping destination. Import Fees vary according to the customs regulations of the destination country.
If your country applies import fees to your order, you will be responsible for them. Check with your local post office or customs office of the destination country for more information.