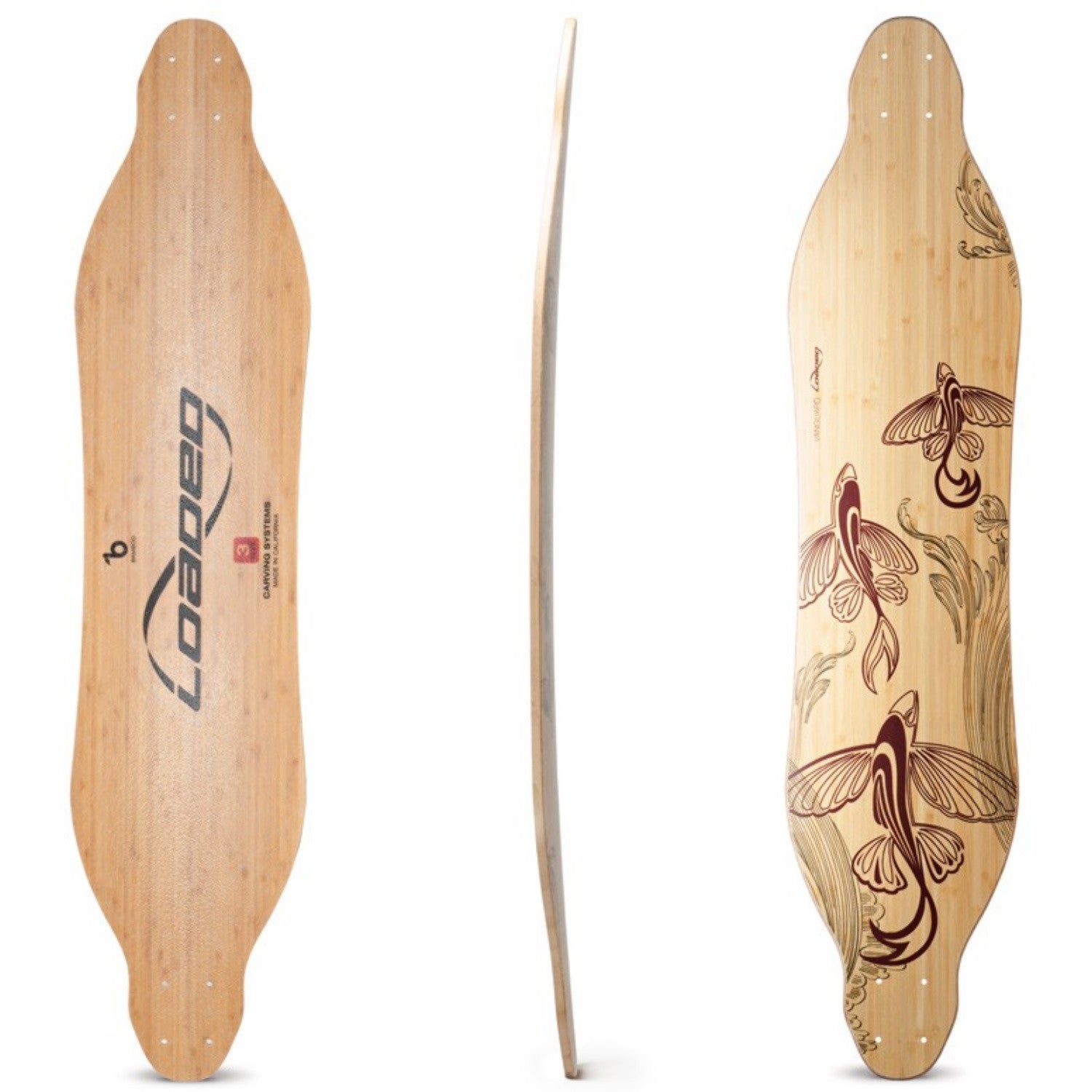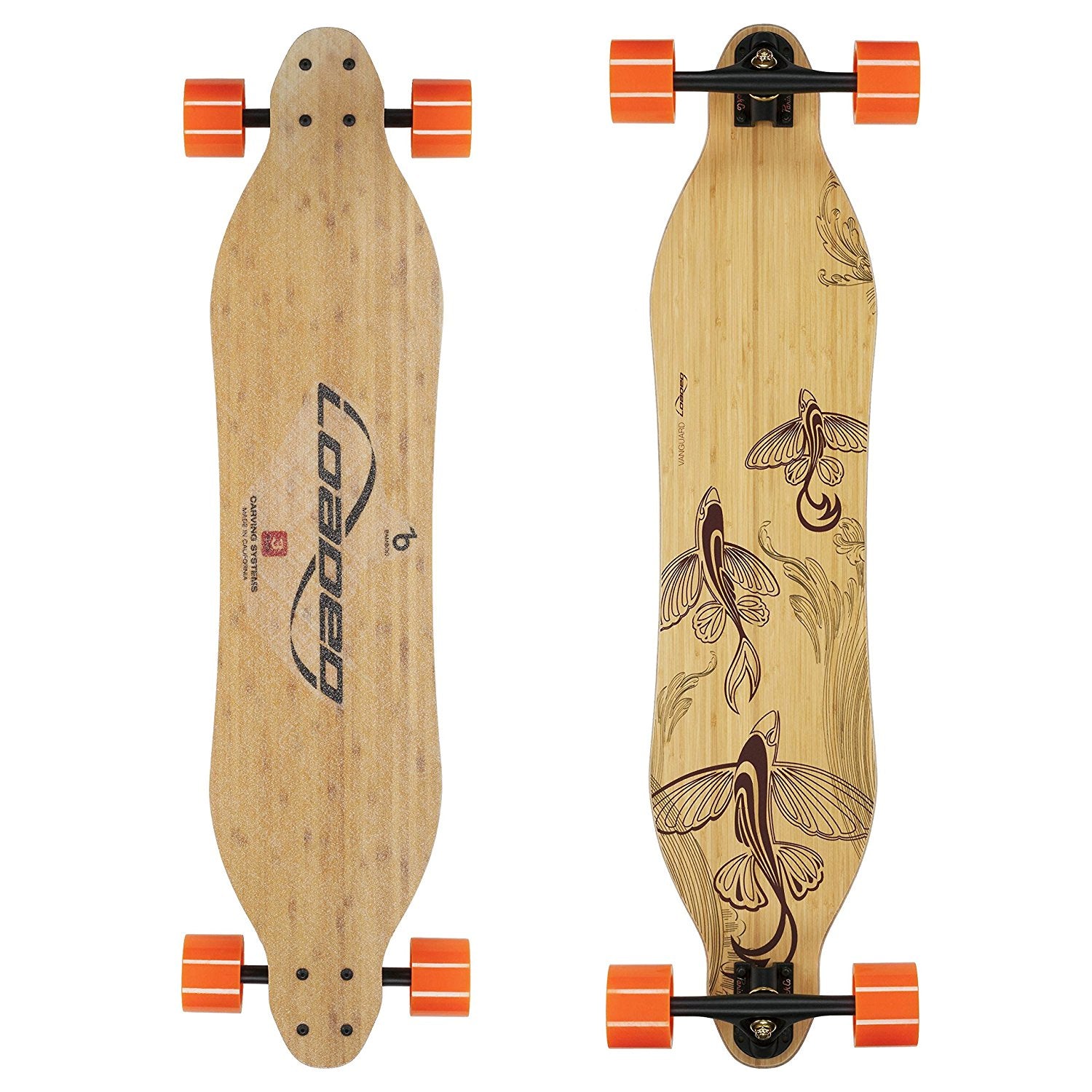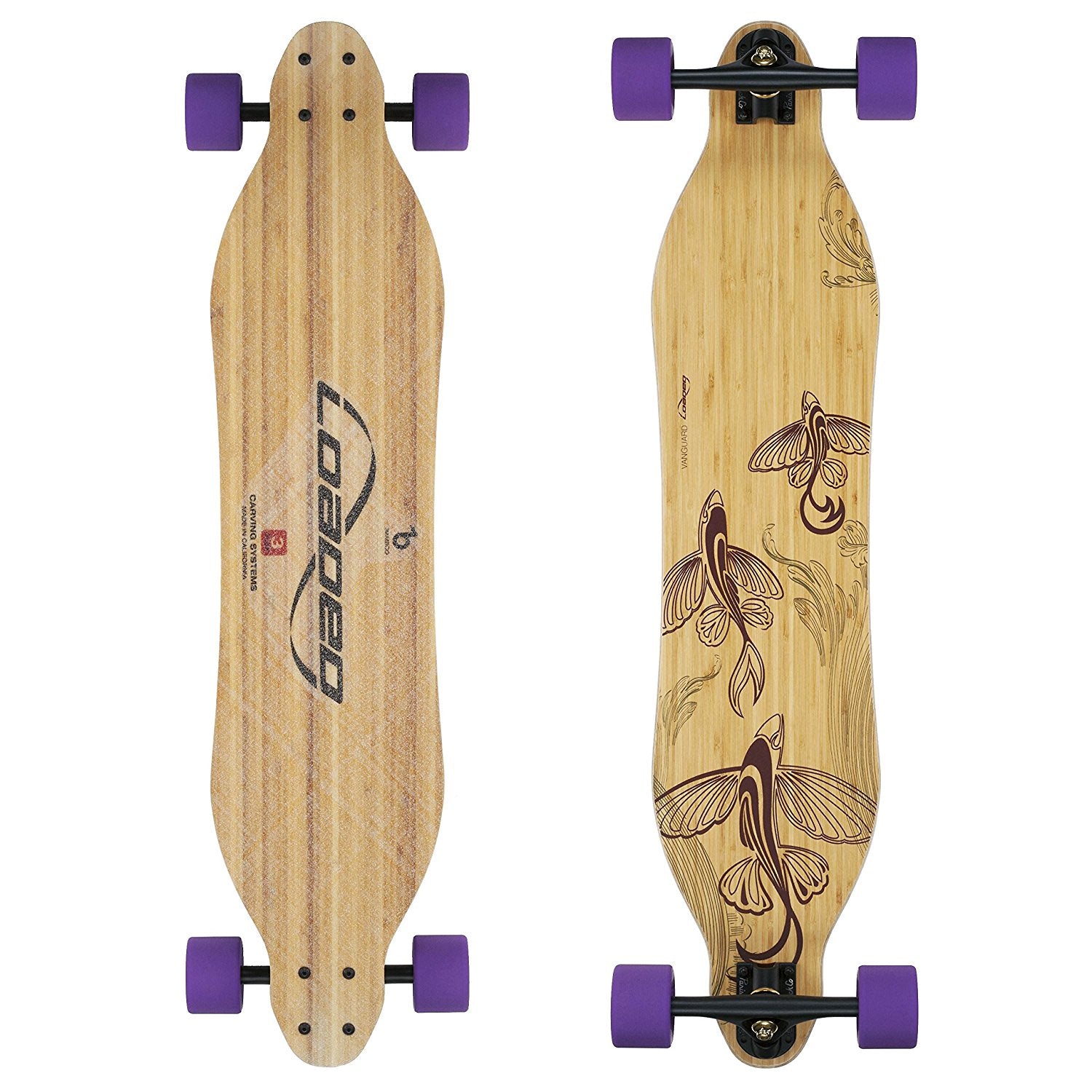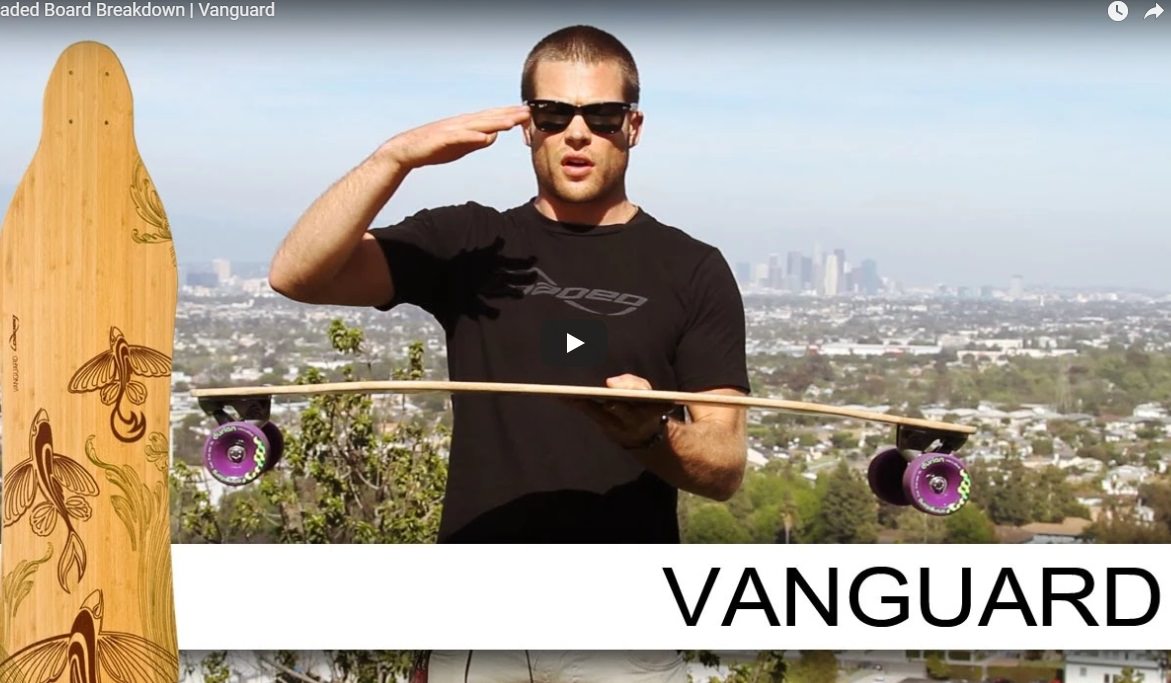 Loaded Vanguard Longboard, Deck and Complete
The Vanguard is the original longboard from Loaded Boards. Own a piece of history with the Loaded Vanguard, the board that launched Loaded into an incredible industry leader.
The symmetrical shape allows for a balanced platform and all around riding. Weighting and un-weighting the deck through turns allows the board to flex and store energy. This energy is then released when the turn is completed, creating a truly one of a kind experience.
You could say this board is "loaded" with potential energy.
Board Construction
The Loaded Vanguard is made from bamboo and fiberglass, creating an incredibly strong and resilient skateboard deck.
The deck contains epoxy and tri-axle fiberglass that sandwich a vertically laminated bamboo core. This is then pressed together under intense strain to form the concave and convex cambers. The liveliness and responsiveness paired with the high energy potential make this deck unbelievably fun.
Choosing a Flex Pattern
First, we recommend deciding whether you want the 42" or 38" model. The 42" is more of a cruiser, while the 38" is more maneuverable and quick.
After deciding on a length, match your weight to the flex chart below. If you are in between flexes, we recommend going stiffer if you want a more stable ride and softer if you want a more maneuverable and lively ride.
Additionally, if you want to do tricks on your Vanguard, you should probably choose a stiffer flex as the stiffness aids in landings and board pop-ability.
Flex Ratings
Loaded offers five flexes integrated within two lengths for a highly personalized ride.
Flex Rating
Length
Recommended Weight Range
Flex 1
42" (107 cm)

175 - 230+ lbs (80 - 105+ kg)

Flex 2
42"

 (107 cm)

150 - 210+ lbs (68 - 95+ kg)

Flex 3
38"

 (98 cm)

150 - 200+ lbs (68 - 90+ kg)

Flex 4
38"

 

(98 cm)

120 - 170+ lbs (55 - 77+ kg)

Flex 5
38"

 

(98 cm)

80 - 140+ lbs (35 - 65+ kg)
Speed and Downhill
We recommend keeping speeds under 25 mph on the Vanguard. The flexiness of this deck that makes it so much fun to carve also makes it very twitchy with speed. This board was designed for carving pleasure, not speed!
Vanguard Complete In Heat built with:
Complete In Heat

Paris V2 Trucks - 50° | 180mm | Black
Orangatang In Heat Wheels - 75mm | 80a | Orange
Loaded Jehu v2 Bearings - 8mm
Vanguard Complete Durian built
 

with:
Complete Durian

Paris V2 Trucks - 50° | 180mm | Black
Orangatang Durian Wheels - 75mm | 83a | Purple
Loaded Jehu v2 Bearings - 8mm
Graphic Inspiration
The first Vanguard was designed by Alex Liki of Sao Paulo, Brazil for the Vanguard Graphic Contest. The graphic was then reworked by Pablo and Diana of Nana Studios.
It is meant to encompass the flow and lively feel of the Vanguard.
Specifications
Length

: 38" (Flex 3, 4, and 5) or 42" (Flex 1 and 2)

Width

: 8.5"

Wheelbase

: 31.50" or 35.00" (depending on length)

Concave

: Mild

Nose / Tail

: No / No

Rocker / Camber

: No / Yes

Construction

: Bamboo / Epoxy / Fiberglass

Special Features

: Five (5) flex ratings for full custom ride
RETURN POLICY
We offer hassle-free returns within 30 days on brand new, resellable, and unused products without restocking fees.
In most cases, return shipping will be your responsibility. We can offer return labels for a fee upon request. 
Pre-paid return shipping label have a flat fee depending on the type of product you are returning: 
Wheels/trucks/bearings/etc - $7.99
Completes/decks - $16.99
Large completes/decks (over 34") - $21.99
Returns that are used, opened, or damaged are subject to a restocking fee. Products that are bought as used, open box, or mystery are final sale. 
PRICE MATCH POLICY
Stoked is confident that we provide the best products at the best prices. We price match/beat verifiably in stock products, including shipping fees. 
Please note that we cannot price match invoices, screenshots, past orders, eBay auctions, Craigslists posts, or any other unverifiable price. We have to be able to purchase the product from the approved store at the time of checking the price for the price match to apply. Price matching must also include any applicable shipping and other processing costs. 
USA SHIPPING
FREE for orders over $25 within the lower 48 states.
Affordable rates for AK, HI, and other territories.
INTERNATIONAL SHIPPING AND CUSTOMS FEES
We ship all over the world! When ordering from stokedrideshop.com, you are responsible for assuring the product can be lawfully imported to the destination.
To get a shipping rate for your country, add the items you wish to order to your cart and proceed to the "My Cart" page. Put in your address and select the shipping option that best applies to your needs.
The recipient/buyer is the importer of record and must comply with all applicable laws and regulations of the destination country. Customs delays can affect original delivery estimates.
Custom fees are not included in the price paid on stokedrideshop.com. Recipients of international shipments may be subject to import taxes, fees, and customs duties levied by the customs office of your shipping destination. Import Fees vary according to the customs regulations of the destination country.
If your country applies import fees to your order, you will be responsible for them. Check with your local post office or customs office of the destination country for more information.